Joe MacGown

Scientific Illustrator/Curatorial Assistant
Department of Entomology & Plant Pathology

Mississippi State University, Box 9775
Mississippi State, 39762=9775
TEL (662) 325-9551
FAX (662) 325-8837
email: jmacgown@entomology.msstate.edu
I was born in Maine and lived there until the age of ten, at which point my family moved to Mississippi. I spent many of my young days in Maine collecting insects, exploring the woods, and drawing everything I could see (and many things that no one ever sees). When we moved to Mississippi my interests in art and nature continued. After graduating from High School, I attended the Memphis College of Art for a while, but decided it wasn't for me. I worked the night shift at a local grocery and did some free lance artwork on the side for the next few years. In March of 1988, I started working part time at the Mississippi State Entomological Museum doing basic museum tasks. Eventually, this job became a full time permanent position (for more personal info, go to my personal website).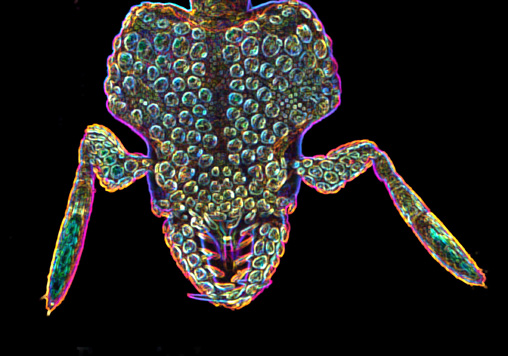 Photograph of the head of Pyramica hexamera, an exotic Japanese ant now found in the southeastern United States. The photo was taken with a digital camera on a microscope using Image Pro Plus software, then manipulated in Adobe Photoshop to emphasize the peculiar setation, which is thought to be sensory in nature.
Currently, my work for the Museum focuses on ants of the southeastern United States with an emphasis on surveying the region to ascertain what species are actually here. Exotic species, undescribed species, new state records, and rarely collected species are documented as they are discovered. Since I began working with ants in 2001, the Formicidae collection has grown tremendously from a cabinet with many undetermined species to six full double cabinets with pinned material and a double cabinet with species stored in ethanol. I have developed a web site for the ants of the Southeast, with keys to species, faunal lists, species pages, and other information (Ants of Southeast Web Site).
Aside from the ant research, I have a wide variety of job responsibilities here at the Museum. I identify insects for the public, other researchers, and pest control operators. I currently curate the Culicidae, Formicidae, and scarab collection, which numbers over a hundred drawers at the present time. Another integral part of the job is collecting insects (and their relatives) for our collection. We have conducted numerous arthropod surveys in threatened habitats in the Southeast that I have participated in. I have been a member of our annual William H. Cross collecting expedition 25 times. I also collect insects on my own whenever the opportunity arises and enjoy watching the activities of insects in my spare time. I have pinned, pointed, and labeled hundreds of thousands of insects. After the labeling is completed, I help sort the insects to either order or family at which point they are placed in the collection. I am the webmaster for the Mississippi Entomological Museum site. I draw all of the scientific illustrations needed for publications written by researchers in the museum, and occasionally others in our department (for more info on scientific drawings). These drawings range from tortricid genitalia to habitus drawings of scarabs, hydrophilids, nitidulids, etc., to termite wings. In addition to drawing insects, I have also done various botanical and other illustrations and have exhibited non scientific artwork in regional and international exhibitions. I take many of the digital photos of insects that are used for our web site and in various publications. Occasionally, I talk to groups of students about either entomology or scientific illustration.