1987-1988 William H. Cross Expedition, Panama
Written by John MacDonald
I. Introduction
The 1987 William H. Cross Expedition of the Mississippi Entomological Museum was made to Panama, with Mr. John MacDonald serving as expedition leader. John was accompanied be Mr. Terence Schiefer, Museum Curator. This third annual Cross Expedition was conducted to further honor the ideals and life of William H. Cross.
The expedition was made under the goals and procedures established by the William H. Cross Committee, which for 1987 included Dr. Richard L. Brown, Chairman, Mr. Terence L. Schiefer, Dr. Gerald T. Baker, Dr. Michael Ellsbury, Dr. T. B. Davich, Mrs. Lou Cross, and Dr. Gordon Snodgrass, the 1986 Expedition Leader. The Expedition Committee allocates a portion of the annually accrued interest from the Expedition Fund in the Mississippi State University Development Foundation, and selects the Expedition Leader and other participants.
II. Expedition Leader
The Expedition Leader must be regionally or nationally recognized as a collector and/or specialist with some taxon of Arthropoda, have a broad knowledge of natural history, and have demonstrated collecting excellence. The Expedition Leader has responsibilities of recommending localities for collecting, providing expertise in specialized collecting techniques to accompanying participants, and identifying material in specialty group collected during the expedition.
Mr. John MacDonald, born in 1957, has developed one of the largest private collections of Panamanian butterflies during the last fifteen years. John began collecting tropical butterflies and other insects in 1976 when his father was stationed with the U.S. Army in Panama. John began working in the Department of Entomology at Mississippi State University in 1979, and since 1982, he has been a Research Assistant for Dr. Robert Combs. During this time John has worked extensively with caprophagous Scarabaeidae and Tabanidae. John accompanied Dr. William Cross on two collecting trips to Mexico in 1981 and 1982. John has made five return trips to Panama of 2-3 weeks each. John has made several large donations of butterflies and other insects to the Mississippi Entomological Museum during recent years, and his private collecting is housed in the Museum.
III. Itinerary
Dec. 29 – arrival in Panama, collecting at Cerro Paraiso
Dec. 30 – Cocoli, Gatun Lake Lookout
Dec. 31 – Gatun Lake Lookout, Ridge Road
Jan. 1 - Skunk Hollow Road
Jan. 2 - Ft. Sherman Palm Jungle, West Creek Trail, Cerro Campana
Jan. 3 – Cerro Campana, El Valle
Jan. 4 – El Valle
Jan. 5 – El Valle, Hill 162
Jan. 6 – Cerro Puncta
Jan. 7 – Cerro Puncta, Bambito, Cerro Campana
Jan. 8 – Cerro Campana, Hill 162, Cocoli, Cerro Luisa, Cerro Paraiso
Jan. 9 – Darien, Tirao, Meteti
Jan. 10 – Darien, Hill 162, Cocoli, Cerro Paraiso
Jan. 11- Cerro Paraiso, departure for U.S.
IV. Historical Narrative (journal of John MacDonald)
Dec. 29, 1987
After driving to New Orleans, we flew AIR LACSA to Panama City, with a stop in San Jose, Costa Rica. Our cost for a round trip ticket was $443.00 each. We arrived in Panama between 3 and 4 PM. The car rental company presented a bit of a problem due to their quoting prices on a wrong model and not including the cost for mandatory insurance. As a result, we had to pay about $200 more than we expected. Without too much delay or other surprises, we were able to leave the airport (Aeropuerta de Omar Torrijos) and head for our first campsite at Cerro Paraiso. On the way we stopped at a roadside market and bought some bananas, tangerines, and got some water. Cerro is located just across the Canal from the town of Paraiso. It has a lookout tower, which is a good place to take pictures of ships in the Canal. Cerro Paraiso is a good place to camp because it is relatively secluded and good for collecting, and it usually has a nice breeze to drive away most biting insects and keep one cool. We arrived about an hour before sunset, which barely gave us enough daylight to get settled and set up our black light trap for the night. We had some trouble with our light connections, but we used an extra light to get it working. We slept very well after we got settled in for the night.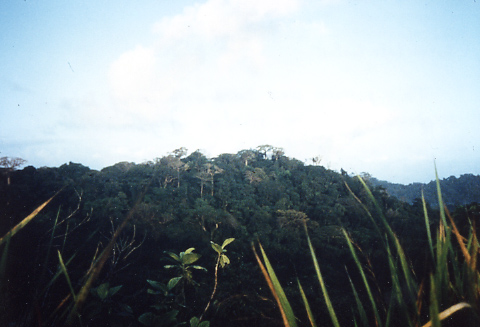 Gatun Lake Lookout-a good place for both howler monkeys and insects.
Dec. 30, 1987
In the morning I (John) retrieved some butterfly extension poles I had left in a hidden location from my previous trips to Panama. Extension poles are very essential pieces of equipment to the serious tropical collector. We spent most of the morning pinning up the black light sample and left shortly after noon to go to Cocoli, a nearby locality that usually has been excellent for collecting. We collected until 3:30 pm, a time of the day when there is more or less of a lull in insect activity. We went to a store in Balboa (Diable Heights) to get some supplies and then headed for Atlantic side of the Isthmus to Gatun Lake Lookout. We arrived at dusk and set up the black light but had to turn it off later in the night because of rain. It was quite windy at this area.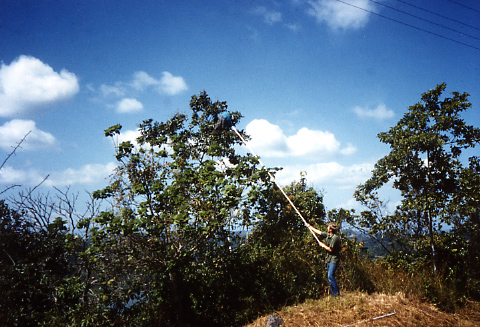 John MacDonald illustrating the use of an extension pole with butterfly net.
Dec. 31, 1987
This morning we could hear howler monkeys from three different directions. Their howling and the tropical setting with thick morning mist still hanging on the trees created a very primeval atmosphere. Toucans were common around our campsite. We pinned up the black light sample, and left before 11:00 AM in order to spend the day collecting at Ridge Road. Ridge Road has been one of the MacDonald family's favorite collecting places on the Atlantic side of the Canal Zone. This jungle road is a military training area only a few miles across the canal from the civilian community of Gatun. Ridge Road extends for several miles winding up and down through the jungle and along the spine of the hills in at least two places. We parked the car about 3 miles down the road and set up a malaise trap nearby. We collected along the road as we walked towards the longest of the two ridgeline areas. After collecting along the ridgeline most of the afternoon, we returned and got the car in order to camp in the ridgeline area. We set up the black light but turned it off about 3:00 am because of the rain.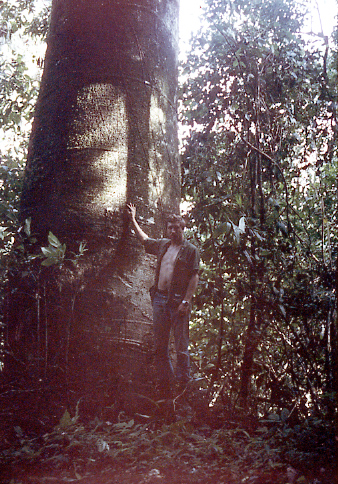 John, posing beside a big tree on Ridge Road.
Jan. 1, 1988
We awoke about 5:30 AM to get an early start on pinning the trap sample. We left about 10:00 to check Gatun Lake for bathing, but some swimmers were there. On the way to Skunk Hollow Road we stopped for water at Black Tank Road. Skunk Hollow, which we sometimes refer to as Fortification Road, is another military training area located on the Ft. Sherman Military Reservation. The last section of this road winds up a hill to an open grassy area where helicopters sometimes land. There are several concrete bunkers in the vicinity for troops to use in their training. The road narrows to a trail just past the open area, and follows the ridgeline as one goes uphill. Although this area has been excellent for collecting in the past, it was not very productive this time (apparently due to a lack of sunny weather.) We put out two pitfall traps, and I looked around for some butterfly shots with the camera. In the evening we set up camp in the open area near the bunkers, and set up the black light. We noticed many mosquitoes in this area (which may be due to the cloudy and calm weather.)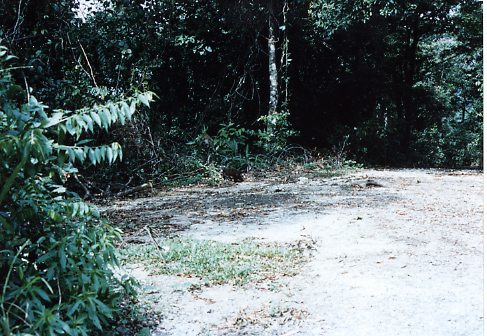 Skunk Hollow Road
Jan. 2, 1988
We were greeted at dawn by birdwatchers doing their Christmas bird count. Terry was quite enthralled with the birds he was getting to see in the tropics, and he had been bird watching about an hour each morning. There was no way I could let him miss the opportunity to be a part of the Christmas count with the other birdwatchers, and so I took care of the black light sample. We left about 9:00 AM and went to a palm tree area near Limon Bay, a locality that I call the Ft. Sherman Palm Jungle. We stayed here for less than an hour because we saw so few insects. We then went to Tiger Trail, also known as West Creek Trail, where we arrived about 10:00 and met more birders. Tiger Trail runs along the slope of a hill just past the Gatun Dam area. Butterfly collecting was only fair here, and so we did some general collecting, including sweep sampling. At about 1:30 we decided to go to the Ft. San Lorenzo, an old Spanish fort that guarded the mouth of the Chargres River. We explored the fort, took some pictures, and then decided to go to Cerro Campana. Before we left the Atlantic side we retrieved our pitfall traps. On our way to Campana we passed through the Balboa area where we purchased food and gasoline. We arrived at Cerro Campana at dusk and set up camp and the black light for the night. Cerro Campana is a bell shaped mountain of about ½ mile elevation (Campana is the Spanish word for bell). It is a park area that was established to protect a fragile cloud forest.
Jan. 3, 1988
After awaking at dawn and pinning the light trap sample, we collected around the park. At 11:00 AM we went to an area outside the park where we had some excellent collecting, although we also found that we were the ones being collected by the local population of seed ticks. At 3:50 we left Campana and headed for El Valle, arriving at about 5:00 PM. This is another cloud forest of about the same elevation as Campana. The forest is a little more extensive here, but the area is not a park.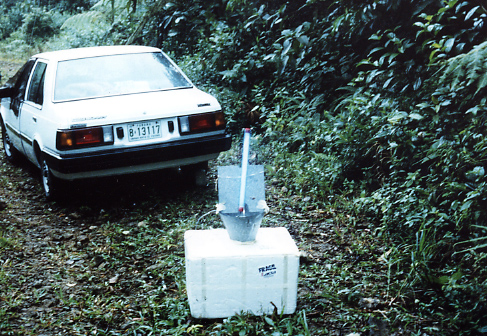 Blacklight/boxtrap at Cocle, El Valle.
Jan. 4, 1988
This was a fairly routine day. We worked on the light trap sample and did some general collecting in the El Valle area. We set up a malaise trap near a lookout point uphill from our campsite.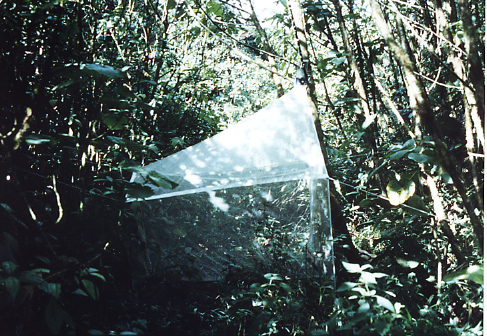 Malaise trap in a cloud forest at Cocle, El Valle.
Jan. 5, 1988
As usual we awoke early and worked on the black light sample. Today would be our day to go back to Canal Zone and reconfirm our plane reservations. Overall Terry seemed to enjoy the bird watching and collecting in this area better than most of our previous stops. My big blooper for the trip occurred when I locked the keys in the car. We finally were able to get the door open by bending it open enough to use a stick for pulling up the door knob. We retrieved the malaise trap, which had a very good catch, and we left El Valle at 1:30 PM. It took about an hour to get out of the mountains and onto the main highway, and we arrived in Balboa at 3:45. We were unsuccessful in reconfirming our flight because the airline's computers were down. We purchased more supplies and mailed some post cards. We drove to Hill 162, set up camp, and did a little collecting before dark. Hill 162, as named on the map, is apparently 162 meters in elevation. We didn't set up the black light, as we had planned to spend only part of the night here before driving to El Volcan, some 7 hours away.
Jan. 6, 1988
We left Hill 162 about 2:00 AM and drove to Cerro Punta, arriving about 10:00 AM. We went to the Finca Fernandez, where we met two of the Fernandez brothers. They showed us the Resplendent Quetzal and the Emerald Toucanet. We then collected in the area of the farm for the rest of the day and set up the black light in the evening. The Fernandez Finca is a predominately oak forest on the slope of El Volcan (the highest mountain in Panama). The finca is at 2190 meters elevation, and the summit elevation is 3475 meters.
Jan. 7, 1988
We arose at dawn and worked on the light trap sample, which was one of the largest catches we'd had on the trip. We left Cerro Punta at 10:00 and collected at two areas down the road. The first area was along the roadside just before the town of Cerro Punta, at an elevation of about 1,850 meters. The second stop was a small wooded area next to river at the town of Bambito, where the elevation was 1,585 meters. We spent more time at the Bambito location because the collecting was better, especially for glassy wing butterflies (Ithomiidae). We left at 2:00 and drove to Puerto Armuelles to try and locate a banana entomologist, Clyde Stevenson, who works for the Chiriqui Land Co., and who I had met previous year. We arrived only to discover that he was out of the country for three months. I decided that we should return towards the Canal Zone instead of exploring Boquete on the opposite side of El Volcan from Cerro Punta. We arrived at Cerro Campana about 10:30 PM and set up the black light, even though it was much later than we usually got the light started.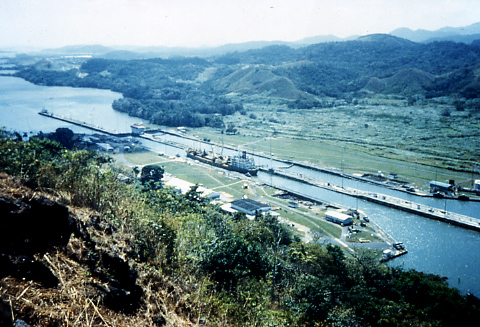 View of Panama Canal taken from Cerro Luisa.
Jan. 8, 1988
After waking and working on the light trap sample, we drove to Hill 162 and arrived at 9:30. We stayed about an hour and set out a pitfall trap with feces for dung beetles. We drove to Cocoli and set out another dung beetle trap. We then drove to Cerro Luisa, directly across the canal from Cerro Paraiso (Figs. 10, 11). These two hills are adjacent and are connected by the same high voltage cables. I had wanted to black light at Cerro Luisa, but had not done so because it is frequented by the local populace (Cerro Paraiso, on the other hand, is farther for people to drive to, and the road going up is rougher, hence it makes a much better campsite for those who prefer to keep a low profile.) We collected at Cerro Luisa until 3:00 PM, and then drove into Balboa where we purchased supplies and reconfirmed our plane reservations. A crafts area by the post office had various souvenirs, including sea shells carved with artwork, wood crafts, etc. We were interested mostly in the molas, which artworks are made by the endemic San Blas Indians with pieces of cloth sewn together, usually depicting some type of wildlife, such as birds, fish, lizards, and turtles. After shopping we went to Cerro Paraiso where we camped for the night. For our evening meals we would warm a large can of ravioli, spaghetti, etc. For our lunches we would usually fix sandwiches from potted meat, tuna, peanut butter, or even Velveeta cheese. For breakfast we usually would have granola bars and/ or some fresh fruits from the local markets. In between meals we might have more fruit, granola bars, or plantain chips, the latter to which I became quite addicted.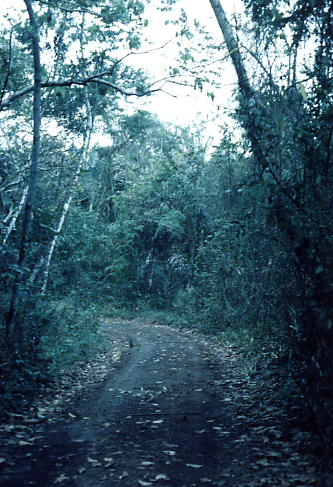 Cocoli, which is used as a military training area.
Jan. 9, 1988
We had a rather light trap sample this morning, and we had plans to do a lot of traveling on this day as well. We worked with haste and papered some of the smaller material, so that we were able to leave by 9:30 for the Darien (eastern Panama). We stopped at a relatively undisturbed spot 42 km past the Bayano Bridge at a logging road that went about ¼ miles into the forest. Good collecting spots were hard to find due to the forest clearing along the highway. Large tracts of roadside land were fenced for cattle, yet only a mile or less in the distance we could see what appeared to be undisturbed forest that we couldn't reach. We had several hours of slow and tedious driving on a rocky, gravel road. Our next stop was 104 km past the Bayano Bridge, or 5 km past Tirao in the Darien. The collecting was poor, but at least we could say we collected in the Darien. We drove farther down the road to look for a better spot and stopped about 5 km west of the town of Meteti. There was another logging road, but we could't get our car down it far enough to camp. Neither could we get the black light into the woods because it ran off the car battery. Fortunately we had brought a couple of 6-volt batteries which we used for the light trap in the woods. We returned to the road where we met two Panamanians who appeared to be messing with the car. Although we were suspicious, they appeared friendly and invited us to visit and sleep at their house. We followed them to the house of their boss where we met two other local men. They served us supper and insisted on us drinking with them. Terry didn't drink beer, and it seemed they wanted to get me drunk. The situation and conversation seemed a little peculiar at times, and so we decided to leave. I think we did the right thing by playing it safe and spending the night in the car as we had done previously.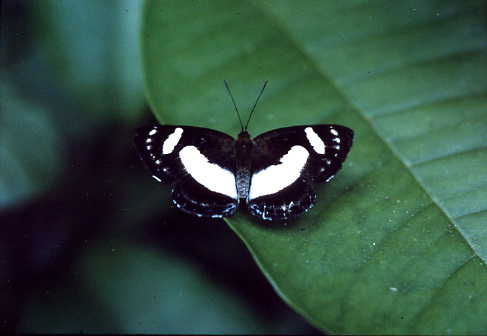 A male Thisbe irenea perching on a leaf.
Jan. 10, 1988
Early this morning we retrieved our black light trap and drove about 20 km, down the road where we felt more comfortable about stopping to work on the trap sample. After we finished pinning moths, we drove back to the logging road 42 km east of the Bayano Bridge where we had stopped the previous day and collected about an hour. We headed back to the Canal Zone, stopping to get gasoline and water in Balboa. We ate lunch on Hill 162 and picked up dung beetle traps. At Cocoli we retrieved our traps and began organizing our belongings for tomorrow's departure. We drove to Cerro Paraiso to spend the night.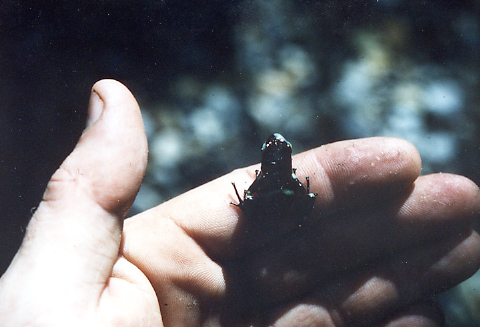 A common poison dart frog.
Jan. 11, 1988
We awoke at dawn and collected a few crepuscular butterflies and skippers. We finished packing and left for the airport about 9:00 AM. We arrived to find that our flight was delayed until 3:15, or almost 4 hours later than scheduled. We returned to New Orleans and went through customs without any problems, and finally arrived back in Starkville late the next morning. In addition to the cost for our plane tickets, we had spent $108 for gasoline, $102 for food, and about $470 for car rental for 14 days of excellent collecting in Panama.
V. Arthropods Collected
Pinned Papered Alcohol
Odonata 37
Orthoptera 72
Hemiptera 13
Homoptera 18
Neurotera 9
Coleoptera 26
Trichoptera 37
Lepidoptera 1242
Rhopalocera 348
Heterocera 3401
Diptera 323
Hymenoptera 107
Unsorted orders 2,600
Total pinned, papered, and in alcohol: 8322 specimens.