1986 William H. Cross Expedition, Smoky Mountains-Elkmont, Cades Cove, Laurel Falls, Alum Cave Bluff, and Newfound Gap, Tennessee
Written by Richard L. Brown and Wai Pang Chan
I. Introduction
The 1986 William H. Cross Expedition of the Mississippi Entomological Museum was made to the Great Smoky Mountains National Park, with Dr. Gordon L. Snodgrass serving as expedition leader. This second annual Cross Expedition was conducted to further honor the ideals and life of Bill Cross. The expedition was made under the goals and procedures established by the William H. cross Expedition Committee. This expedition was made possible in large part by the continued support of Mrs. Lou Cross and family, and by the generosity of Mrs. Martha W. Hutchins, who provided the use of Laurel Lodge in Elkmont.
II. The 1986 William H. Cross Expedition Committee
The Expedition Committee administers the Expedition, allocates a portion of the annually accrued interest from the Expedition Fund for support, and selects the Expedition Leader and other participants. The Committee for 1986 included the following:
Dr. Richard L. Brown, Chairman, Mississippi State University
Dr. Gerald T. Baker, Mississippi State University
Dr. Michael Ellsbury, USDA
Dr. T. B. Davich, USDA
Mrs. Lou Cross
Dr. Paul Lago, 1985 Expedition Leader, University of Mississippi
III. Expedition Leader
The Expedition Leader must be regionally or nationally recognized as a collector and/ or specialist with some taxon of Arthropoda, have a broad knowledge of natural history, and have demonstrated collecting excellence. The Expedition Leader has responsibilities of recommending localities for collecting, providing expertise in specialized collecting techniques to accompanying participants, and identifying material in a specialty group collected during the expedition.
Dr. Gordon L. Snodgrass, Research Entomologist at the Southern Field Crop Insect Management Laboratory, USDA, ARS, in Stoneville, Mississippi, was selected as the 1986 Expedition Leader. Dr. Snodgrass, a native of Arkansas, obtained his B.S. in Biology from Arkansas Tech University, and M.S. and Ph. D. degrees in Entomology at Mississippi State University. He taught high school biology and science, and served as football and track coach at Lepanto High School in Arkansas from 1968 to 1974. Gordon's dissertation research, initiated in 1976 under direction of Dr. Cross, was concerned with the efficiency of pheromone traps for boll weevils, and behavior of boll weevils. From 1979 to 1981 he worked with Dr. Cross as a member of the biological evaluation team for the boll weevil eradication trial experiment in North Carolina, and the optimum pest management trial experiment in Mississippi. The majority of this work involved the use of pitfall traps and required identification of a wide range of adult and immature arthropods. It was during this time he became interested in systematics of Carabidae. From 1981 to 1984 Gordon conducted research on species of Miridae found on wild and cultivated host plants in the Mississippi Delta, and authored many publications on mirids and their host plants. Gordon is an avid fisherman, hunter and sports fan. He and his wife, Mary Jane, have two children.
IV. Expedition Participants
Dr. Gordon L. Snodgrass, Southern Field Crop Management Laboratory, Stoneville, MS. Expedition Leader
Dr. Richard L. Brown, Associate Professor of Entomology, Director Mississippi Entomological Museum, Mississippi State University
Dr. Gerald T. Baker, Assistant Professor, Department of Entomology, Mississippi State University
Mr. David Adamski, graduate student, Department of Entomology Mississippi State University
Ms. Brenda Booth Brown, Route 2, Box 912, Starkville, MS
Mr. Wai Pang Chan, graduate student, Department of Entomology, Mississippi State University
Mr. Randle Furr, Jr., graduate student, Department of Entomology, Mississippi State University
Mr. Guy Head, high school student, Starkville Academy
V. Contributors to the William H. Cross Expedition Fund (see 1985 Expedition report)
VI. Acknowledgements
A special thanks is extended to Mrs. Martha Hutchins for allowing our expedition group to stay at their family's cottage, Laurel Lodge, in Elkmont. This cottage and surrounding locale were prominent in some of the natural books written by the late Dr. Ross E. Hutchins. We are grateful to Stuart E. Coleman, Chief, Resource Management Division, for his permission to collect arthropods in the Great Smoky Mountains National Park. Dr. Charles R. Parker, Research Fisheries Biologist at the Park, greatly assisted in selection of collecting locations. Dr. William Watson, Department of Forestry at Mississippi State, is thanked for his loan of a video camera used during the trip. Mr. Terence Schiefer, curator of the Mississippi Entomological Museum, provided assistance in processing material, identifications, and assembling data. Mrs. Patricia Ramey Miller, Dr. Douglas Ferguson, Dr. Ronald W. Hodges, and Dr. Don R. Davis also provided identifications of specimens.
VII. Itinerary
27 Aug. – Starkville, MS to Elkmont, Tennessee; collecting in Elkmont vicinity
28 Aug. - collecting at Elkmont
29 Aug. – collecting at Cades Cove and Elkmont
30 Aug. – collecting at Chimneys and Elkmont
31 Aug. – collecting at Laurel Falls and Elkmont
1 Sept. – collecting at Alum Cave Bluff and Newfound Gap
2 Sept. – collecting at Elkmont
3 Sept. – return to Starkville, MS.
VIII. The Great Smoky Mountains and Elkmont as described by Dr. Ross E. Hutchins
The late Dr. Hutchins wrote several books based on natural history observations made in Elkmont and the surrounding Smoky Mountains, including Hidden Valley of the Smokies (1971, Dodd, Mead & Co.) and Trial to Nature's Mysteries (1977, Dodd, Mead & Co.). Dr. Hutchins described this area as follows: "The Great Smoky Mountains National Park lies partly in Tennessee and partly in North Carolina, and is divided approximately down its center by a high divide, the highest point of which is Clingmans Dome with an elevation of 6,642 feet. The Slopes of these great mountains are ribbed with deep forest-filled valleys having bright streams flowing down them through lush growths of rhododendrons, laurels, and numerous other trees and shrubs."
"Only at two locations in the park do people still live. One is Cades Cove, located near the park's southern end. The other is along Jakes Creek, the place known at Elkmont. Those whose cottages may be seen at Elkmont are members of the Appalachian Club, a group that has long been dedicated to continuing the old manner of life in the mountains." The Appalachian club was founded in 1907, with most of the original founders coming from Knoxville to build a clubhouse-hotel and rustic cottages. Today 31 of the original 47 cottages remain and are occupied mostly by children and grandchildren of the original founders.
IX. Historical Narrative (Based in part on Journal of Wai Pang Chan, Appendix J).
Aug. 27 – Most of our group left at 6 am, as scheduled, with Dave Adamski, Wai Pang Chan, and Randy Furr in Randy's pick-up, and Richard and Brenda Brown in their car. It was about eight hours of driving, and we went by way of Hwy 82E to Tuscaloosa, I-59 through Birmingham to Chattanooga, I-75 to Lenoir City, and Hwy 321 to Maryville, where we stopped for lunch. We stopped at Townsend for groceries and headed for Elkmont, which is on the western side of the Great Smoky Mountains National Park. The last part of the trip was a winding, steep road alongside a meandering creek. The change in topography, vegetation, and physical features was staggering, and we felt as though we had entered a lush island of moss, ferns, and huge trees covered with lichen. The temperature dropped dramatically as we drove to higher elevations. We reached Laurel Lodge in Elkmont at 5 pm, and proceeded to unload vehicles and prepare for the evening's collecting. We set up four sheets for black lighting, one up the slope in front of the cottage and three along the trail behind the cottage. A box light-trap was placed behind the cabin and a malaise trap was placed in the woods across Jake's creek. Richard put out a dozen pitfall traps along the creek. Collecting was excellent in the early part of the night, but the light rain and cold temperatures reduced the number of things flying towards midnight.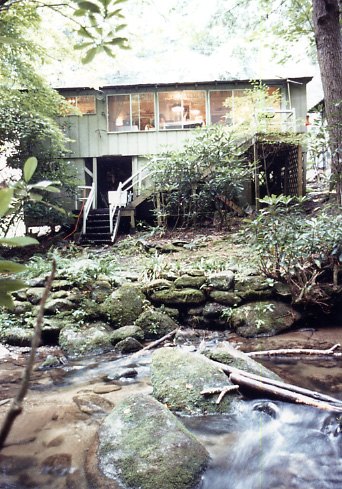 Jakes Creek and rear of Laurel Lodge.
Aug. 28. It rained all day, and the temperature stayed around 55 degrees F. We spent the morning pinning insects collected the night before. After lunch, Richard visited Dr. Charles Parker at the Upland Field Research Laboratory. Dr. Parker, who works with Trichoptera, suggest several collecting sites and reminded us to notify the Ranger Station of our collection site each night.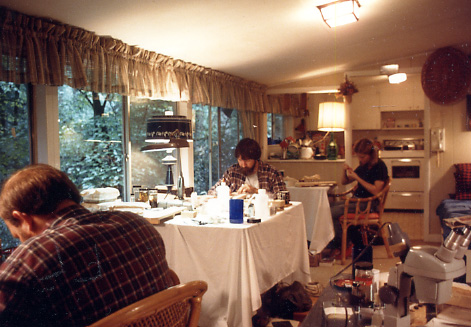 Randy, Dave, and Brenda pinning moths.
Gerry Baker and Guy Head arrived at 5pm, bringing more supplies and another black-light sheet. After spending some time in getting a fire going in the grill, we realized the hamburger meat was still frozen, and so we ended up eating tuna casserole. We collected the second night in the Elkmont area, with Brenda moving her sheet down the road to the side up to Cucumber Gap trail, Guy setting his sheet on the front porch of the cottage, and the others in the same locations as the night before, one on the ridge in front of the cottage, and one on the creek behind. The temperature was lower, reaching 52 degrees before midnight, and fewer insects were flying. Some of the notable taxa collected in the Elkmont area included: Cryptocercidae (a wood eating cockroach), Gnorimoschema gallaeastrella, Hydria undulata, Lophosia labeculata, Probole nyssaria, Bomolocha manalis, Catocala flebilis, Eosphoropteryx thyatyroides, Endopiza liriodendrana, and Hulda impudens.
Aug. 29 – In the morning we drove one and half hours to Cades Cove, a pastoral scenic spot in the southwestern part of the Park. We did some sweeping and set up a malaise trap about half way around the 11-mile loop near Abrams Creek. The field had many composites in bloom, and butterflies and skippers were numerous. On our way back to Elkmont, we began to experience the busy traffic of the Labor Day weekend. In the late afternoon, we took our tuna salad sandwiches and left for night collecting at Cades Cove. Along the loop-road there were many deer and raccoons, which were centers of attention for all the people who would stop their cars to take photos. It was a very slow procession of cars, which prevented us from having more time for general collecting before dark. Fog and coldness came with the night, and insects were not too active. We kept our eyes out for wild boars, as they were common in this area, and around midnight we hauled our weary bodies back to the cottage for hot soup and crackers. The Lepidoptera that we collected were characteristic of more disturbed areas, and was more similar to the fauna in Mississippi. These included: Pyrrharctia Isabella, Feltia herilis, Leucania Ursula, Orthodes crenulata, Endothenia hebesana, and Atteva punctella.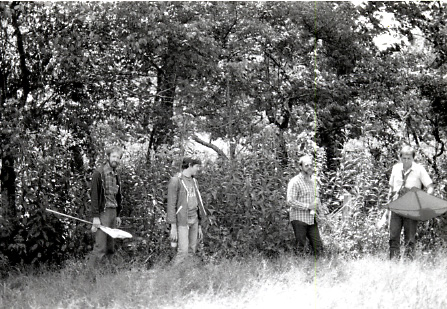 Collecting at Cades Cove, Richard Brown, Guy Head,
Randy Furr, and Gerry Baker (l to r) .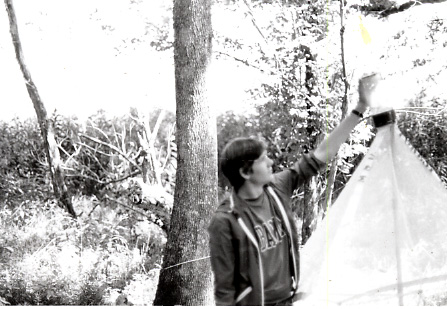 Guy assembling a malaise trap at Cades Cove.
Aug. 30. Randy, Gerry, Guy, and Pang visited Chimneys in the morning, which was about 6 miles up Newfound Gap road towards the Gap. The terrain at Chimneys was rough and steep, and sweeping was limited to areas along a trail near the picnic area. Following dinner we all went to Chimneys for night collecting. A baby bear was loitering in the picnic area, and a ranger stopped to tell us to be on the watch for a male and female. After some discussion, we decided to stay and collect at our sheets that were spaced out along the trail. Richard put out banana-molasses-stale beer bait on tree trunks (while wondering if it might also attract bears), and several Catocala, including C. cerogama, C. nebulosa, and C. ultronia, were collected at this bait. The collecting was excellent, and we captured many different species that we hadn't seen at Elkmont or Cades Cove. Richard collected Merope Tuber and some Nicrophorus that were feeding on dead snails. Interesting Lepidoptera that were collected here, but not elsewhere, included: Plagodis kuetzingi, Semiothisa pomiscuata, Acronicta lobeliae, A. morula, Hyperstrotia secta, Nycteola frigidana, Evergestis unimacula, and Endopiza piceana. The rare Scopula ordinata (Geometridae) was collected here as well as at Elkmont.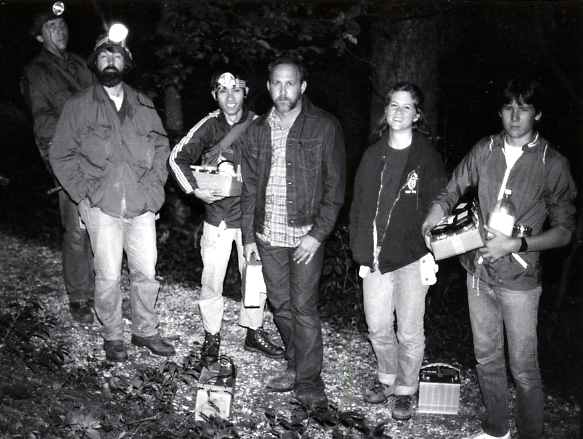 Night collecting at Chimneys, Gerry Baker, Dave Adamski, Pang Chan, Randy Furr,
Brenda Brown, and Guy Head (l to r).
Aug. 31- It rained again, and temperatures remained low. It was very pleasant to sit in front of the large windows overlooking Jake's Creek, pinning moths while the rain came down. In the afternoon, Randy, Gerry, and Pang went to check Clingman's Dome to look for potential sites for night collecting. The turnoff to the Dome was missed because of the dense fog. Because of the heavy traffic, low visibility, and general bad weather, the visit to the Dome was cancelled. The collection site for the night was changed to Laurel Falls, which is reached by a 2 and half-mile trail from Little River Road. Placements of sheets along this were determined in part by the weight of the car batteries, which became especially heavy after the first half mile uphill. Brenda's sheet was the closest to the parking area, but still a mile from the road; Richard's and Randy's sheets were spaced out a bit further along the trail; Dave, Gerry and Guy went the whole distance to the Falls. The fog and mist soon turned to a downpour of rain, and we fashioned various sorts of shelters to keep dry. We all realized that we might be better off in the dry cottage, but nobody was going to be the first to start carrying batteries back to the cars. Even with the poor weather, we collected some interesting things including Hypochilus thorllia, bizarre spiders that Gerry and Dave found with webs on the cliffs near the falls. We also collected Microcoryphia, a Xylomya fly, and some moths not collected elsewhere, including Acronicta haesitata, Catocala subnata, Scolecocampa liburna, Herculia infimbrialis, and Paonis astylus. While we were collecting at Laurel Falls, Gordon Snodgrass arrived after a long drive from Stoneville, MS.
Sept. 1. Following a breakfast Gerry and Guy left for the return trip to Starkville. Most of us began spreading moths, Gordon put out pitfall traps, and Dave and Pang collected Psocoptera from rocks near a water pool. In the afternoon Richard, Gordon, Dave, and Pang went to Newfound Gap and did some general collecting there and at Alum Cove Bluff on the return trip. Everything was wet due to either the fog or drizzle, and the vegetation was very lush. The vegetation was very different as we approached the higher elevations, with a lot of spruce and fir mixed with birch and beech at the Gap. Following a delicious supper of baked chicken breast and salad, Randy and Pang began packing for their return trip to Starkville, and Brenda, Dave, Richard, and Gordon returned to Newfound Gap for night collecting.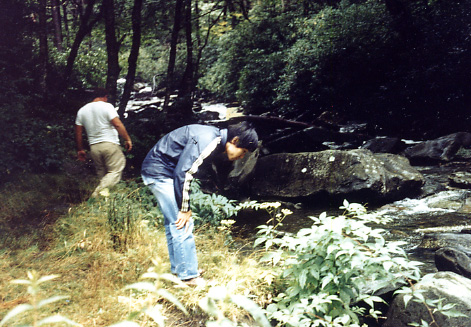 Gordon Snodgrass and Pang checking pitfalls on Jakes Creek.
Brenda and Richard placed sheets on the top of the ridge above the Gap, and Dave placed his sheets below the ridge on the southern side. Gordon collected several carabids, including Dicaelus, Carabus, Scaphinotus, and Sphaeroderus; many of these were on tree trunks. A species of leptodirid beetle also was collected. Some very different species of Lepidoptera were collected, many of which had more northern distributions. Species that were not collected elsewhere included: Chionodes, new species, Dysstroma citrata,Orthonoma obstipata, Stamnodes gibbicostata, Acleris chalyneana, A. acidulous, and A. variana.
Sept. 2. Randy and Pang left in the morning for Starkville, and the remainder of us pinned moths. In the afternoon Gordon and Richard went to Cades Cove to retrieve the malaise trap, which included a large number of sesiid clearwing moths. In the evening we attempted to finish pinning all the moths and then cleaned the cottage. At two o'clock in the morning Gordon and I went to Gatlinburg looking for a dumpster to throw our garbage, and we didn't get to bed until 3am.
Sept. 3. It was a long trip back to Starkville for the remainder of our group, and we arrived at night, weary, but very happy with the results of the expedition.
X. Scientific Notes
Over 4830 specimens of arthropods were collected, of which the majority represented 16 orders of insects (Appendix A). Spiders were represented by 28 species in 10 families (Appendix B). The Lepidoptera included 1433 specimens, which represented over 225 species (Appendix C). This number of moth species is considered very high for a collection period of one week, especially as unusually low temperatures marked this week. The following are some of the notable collections made during the expedition.
New taxa: Two new species of Chionodes (Gelechiidae) were collected at Elkmont and Newfound Gap, and R. W. Hodges will describe these. A species of Homosetia (Tineidae), probably new, was collected at Elkmont and Chimneys.
New state record for Tennessee: Panthea acronyctoides was collected at Newfound Gap and Chimneys. According to Covell (1984, Guide to moths of eastern North America), this species extends from Newfoundland to eastern Kentucky.
Uncommon to rare species: According to Covell (1984) the following moths are common to rare: Plagodis kuetzingi (Geometridae), Scopula ordinata (Geometridae), Stamnodes gibbicostata (Geometridae), Bomolocha manalis (Noctuidae), Eosphoropteryx thyatyroides (Noctuidae), Evergestis unimacula (Pyralidae), Paonias astylus (Sphingidae), Acleris macdunnoughi (Tortricidae). Other rare insects included Cryptocercus punctulatus (wood eating roach), Leptodiridae (small carrion beetle), and Merope tuber (earwig fly).
D. Behavioral notes: Richard Brown noticed that a large proportion of the species coming o his sheet at Newfound Gap were agricultural pests, and these were flying from the north towards the south. These species of noctuids were in such genera as Helicoverpa, Spodoptera, Xestia, Leucania, Pseudaletia, and Agrotis. As these species develop large populations in agricultural and heavily disturbed areas, their flight suggested a migration behavior through this lower elevation pass. Although such migration behavior has been noted at mountain passes in other area of the world, this appears to be the first record of such behavior in the Smoky Mountains. Additionally, many of these species are known to migrate northward in the spring and early summer, no observations previously have been made of southward migrations at the end of the summer.