2019 William H. Cross Expedition
20-25 May 2019
Coal Creek Farm and Catoosa WMA, Cumberland Counties, TN
by Joe MacGown, uploaded on 27 June 2019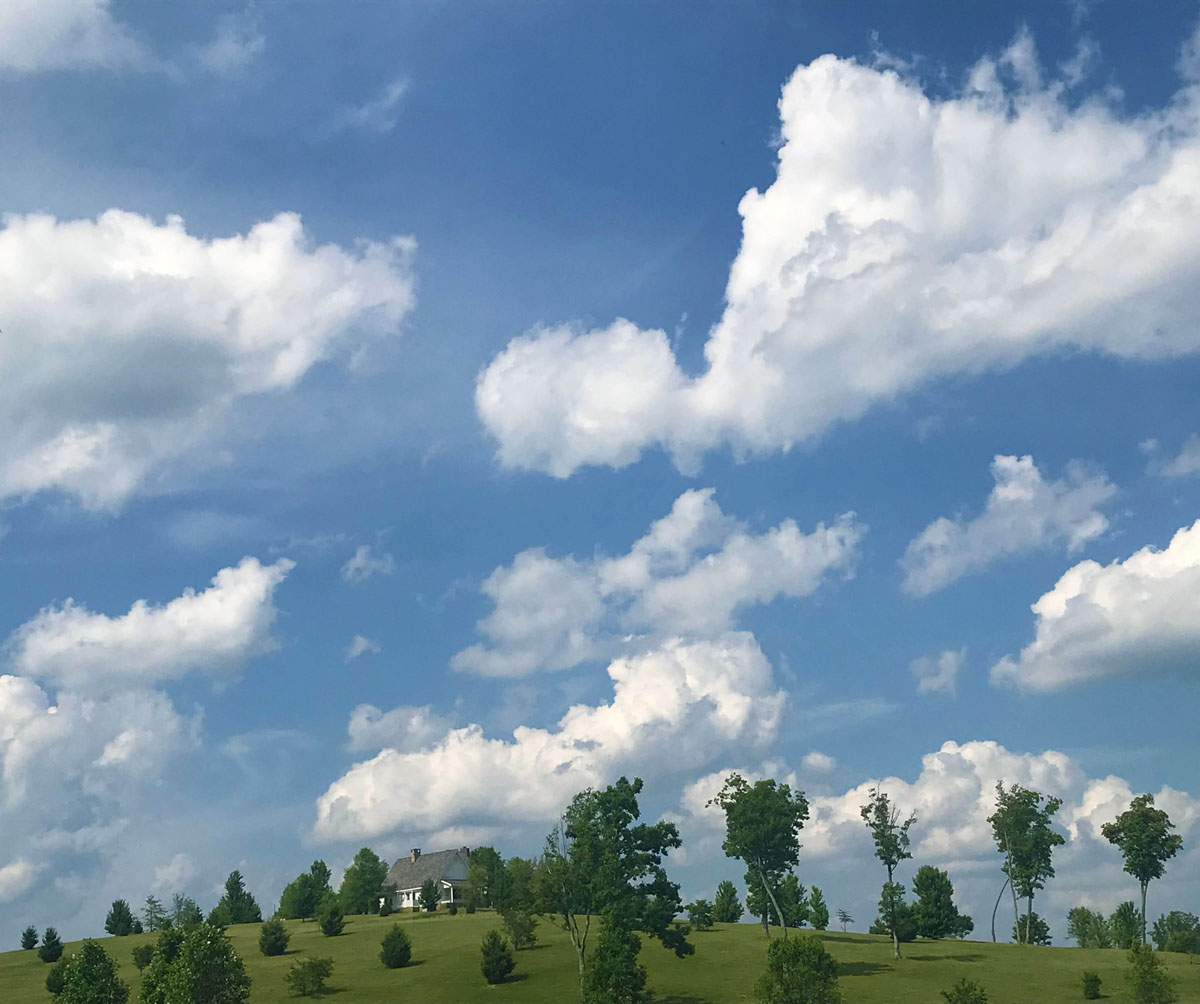 A view of the main residence at Coal Creek Farm
The 2019 William H. Cross Expedition took place from 20 to 25 May 2019 in the Cumberland Plateau region of central Tennessee. Most of our sampling was done on the Coal Creek Farm in Cumberland County, privately owned by George Lindemann. Additional collecting was done in the Catoosa Wildlife Management Area, also in Cumberland County.
The Coal Creek Farm is a mountainous 5,000+ acre tract of land located in the upper Cumberland Plateau that includes a variety of habitats such as open farmland, pine-oak savannas, prairies, wet meadows, bogs, barrens, sandstone glades, hardwood forests, and hemlock rich ravines. The Catoosa Wildlife Management Area is an 82,000 acre preserve located in both Morgan and Cumberland Counties. Catoosa topography ranges from gently rolling hills to extremely rugged terrain with deep canyons.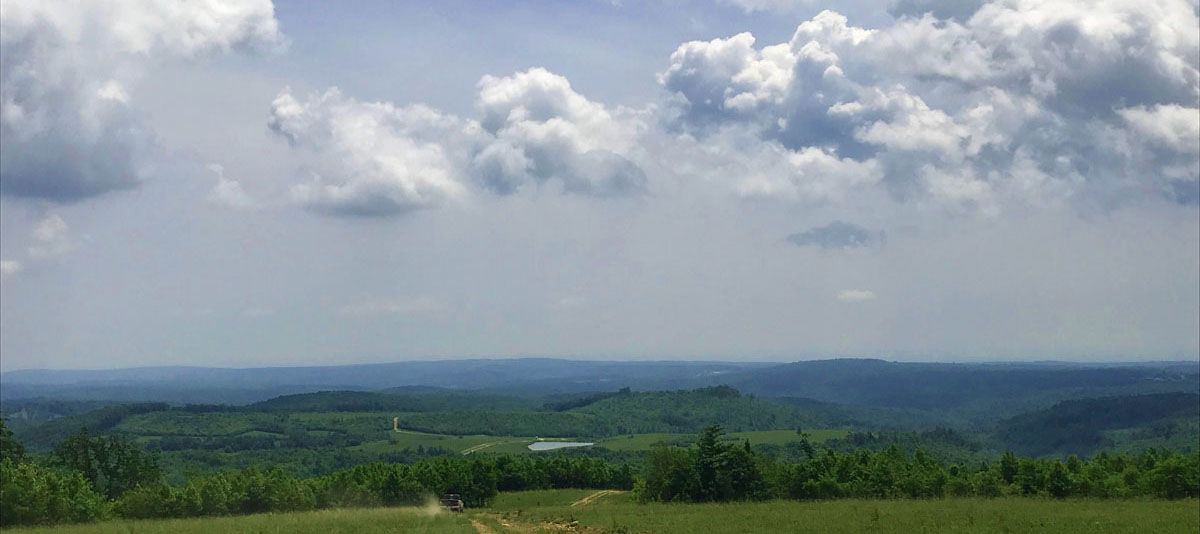 A beautiful view of Coal Creek Farm
Mississippi Entomological Museum (MEM) participants this year included Director Richard Brown, Curator Terry Schiefer, Research Technician Joe MacGown, Research Associate James Lewis, Research Associate Ryan Whitehouse, Research Professor JoVonn Hill and graduate students Brady Dunaway and Jordan Gesell.
Monday, 20 May 2019: The MEM crew arrived at approximately 4 PM (central time) to the Coal Creek Farm. After unpacking our gear into the two guest houses, we immediately began collecting and putting out various traps in the hardwood forests surrounding the guest houses. Terry hung a Lindgren funnel trap near one of the cabins; he set up another Lindgren and a Malaise trap further down the road past the equipment shed along the edge of a hardwood forest tree-line and open grassy area; and he put a third Lindgren up down the nearby Glenn Road near a creek with hemlocks and mountain laurel. James and I set up 18 Berlese funnels on the front porch of the guest house we were staying (which we called cabin 1). We collected nine one-gallon bags of soil/leaf litter from the hardwood forest habitat immediately behind the guesthouse. To obtain the soil and litter, we used a garden trowel to scrape up the top layer of soil, humus, and leaf litter, which then was placed into a sifting pan fit inside another shallow pan. The mix of soil and litter was shaken back and forth allowing smaller particulate matter and insects to fall through the holes of the sifter into the shallow pan below. Sifted material was placed into Ziploc bags to be run through our Berlese extraction funnels. This is a fantastic method for collecting small arthropods that dwell just beneath the leaf litter layer.
Other MEM crew members spent their late afternoon doing general collecting. Meanwhile, Dr. Brown headed to nearby Crossville to get groceries for the coming week. Upon Richard's return from Crossville, we put up the food, made up some quick sandwiches for supper. Following dinner, Richard placed a bucket trap with UV light in the forested area behind the guesthouse. This type of passive light trap runs all night with the light powered by a lawnmower battery and typically yields large numbers of moths and other insects. We set up a white sheet with a mercury vaper lamp and a UV light between two trees near the first guest house. We left this sheet up for the entire week, and various members of the MEM collected there each night (read more about blacklighting here). Additionally, we set up three more sheets with UV lights about one half mile away down a forest road called Guest Road. We all collected at these sheets at various times that evening, with Richard, Ryan, and Terry staying out the latest as their particular groups of interest are commonly collected at blacklight (UV light).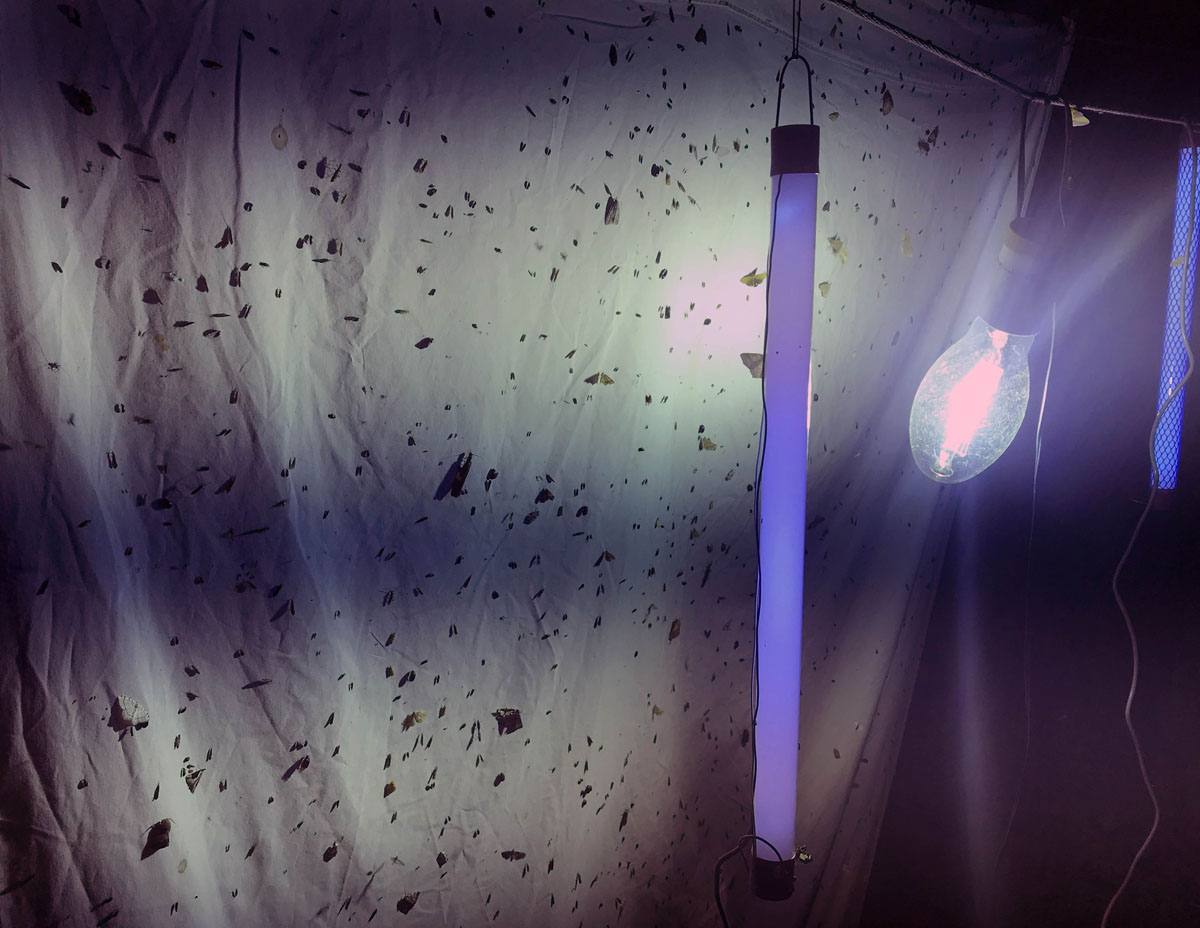 MV/UV lights at white sheet set up near the guest houses at Coal Creek
Tuesday, 21 May 2019
Richard was up bright and early to retrieve his bucket trap, which had attracted an ample fodder of insects which would keep him busy for much of the day sorting out moths and other insects.
A cool feller associated with the Coal Creek property who goes by the moniker of "Crisler" met JoVonn, James, and I Tuesday morning to take us to some interesting sites on the property. We loaded up in a zippy all-terrain vehicle, and Crisler navigated the exciting trails throughout the mountainous terrain. Along the way, we stopped at several points of interest to collect and get litter and soil samples. We loved the beautiful hemlock forests areas especially! Probably my favorite area was a spot called "Herb Holler" with beautiful old growth trees and an open understory with fantastic herbaceous plants.  Near noon, we headed back to the guest houses to put our litter samples on and eat lunch.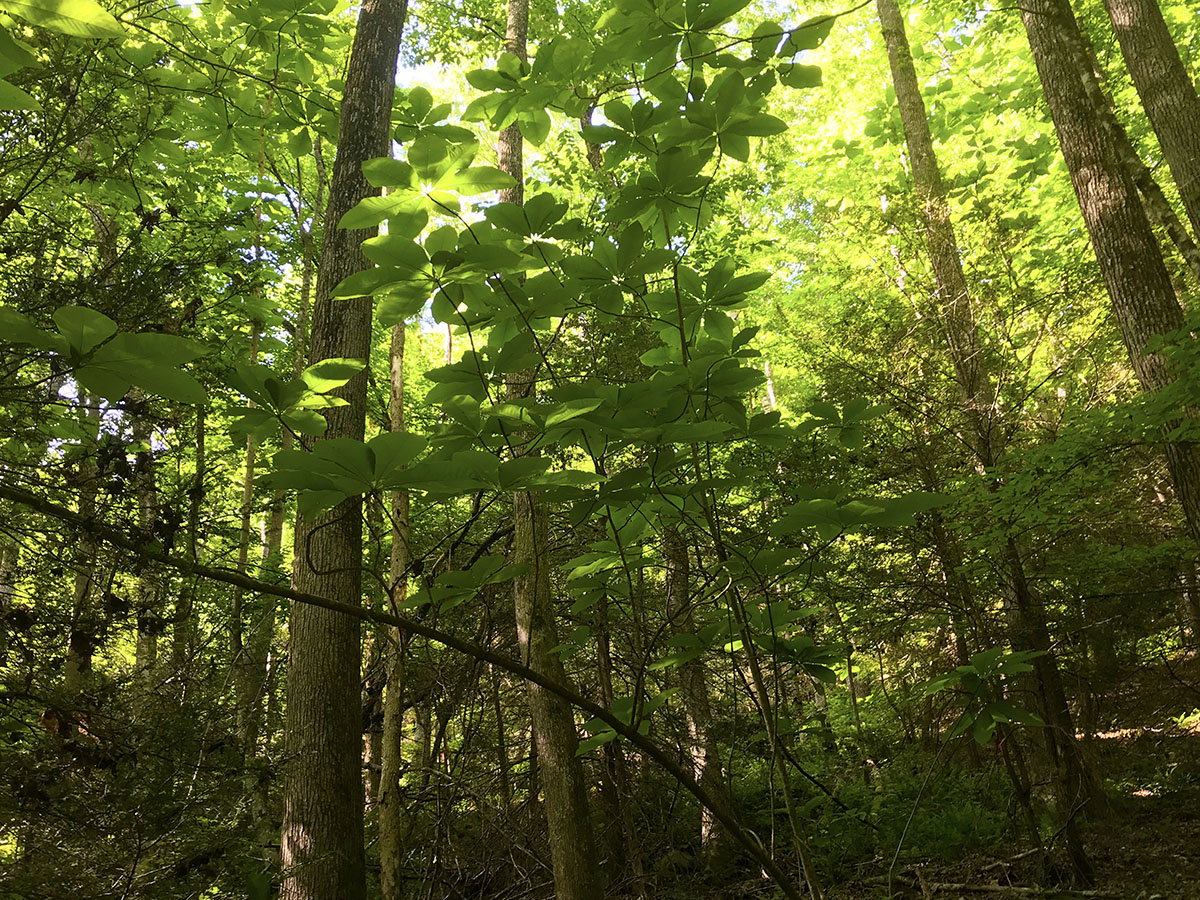 The Coal Creek Farm is home to gorgeous hardwood sloped ravines
While we were flying through forested trails, other MEM members spent time collecting at various locations on the farm property. Jordan was especially interested in sampling butterflies, Brady's interests were more general, and Terry and Ryan were after beetles primarily. To collect beetles, such as weevils and longhorned beetles, they used collecting methods such as sweeping herbaceous vegetation along roadsides, beating low hanging limbs of trees and bushes, and inspecting flowers. That morning they explored several open areas as well the edges between forests and pastures.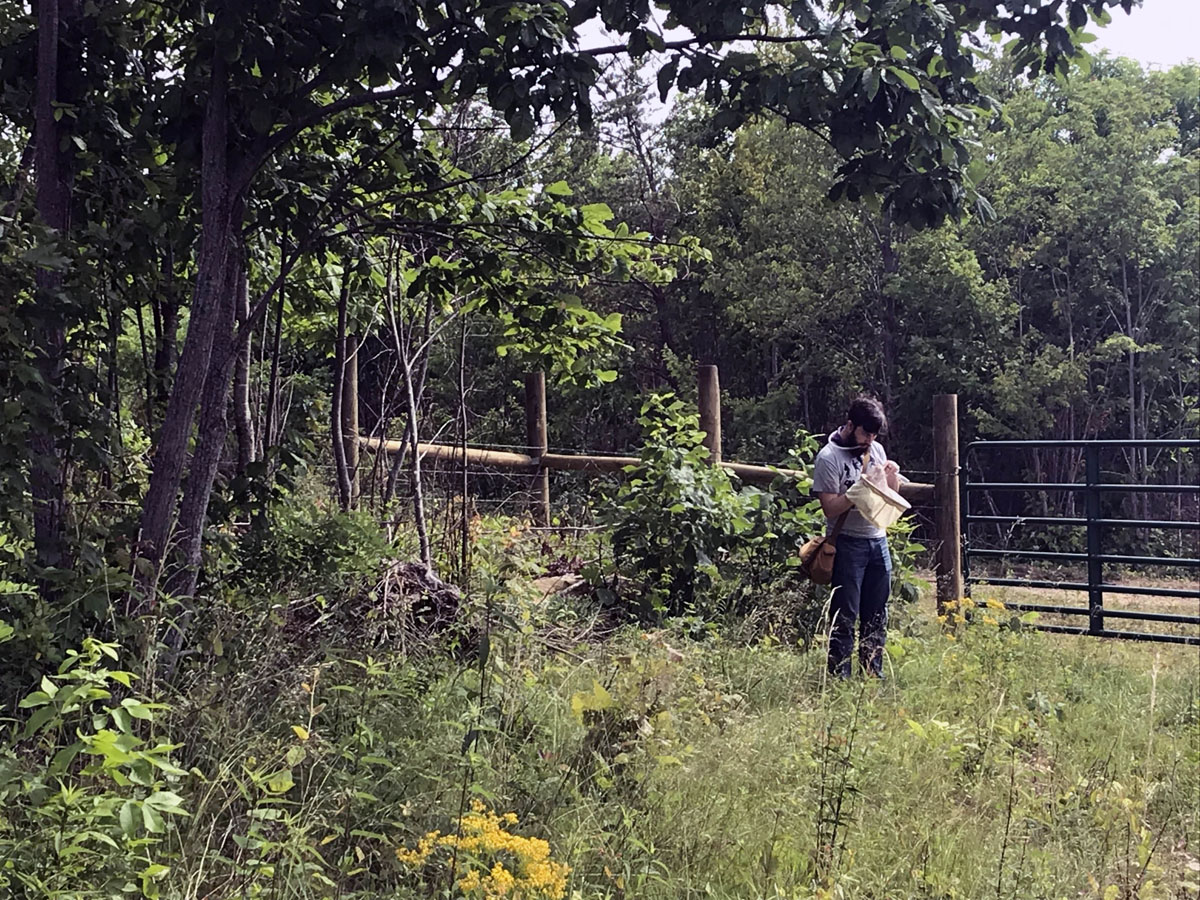 Ryan Whitehouse looking for weevils in a sweepnet sample
After a staggered lunch, everyone was back out in the field collecting again. I collected ants and beetles in a fantastic hemlock/hardwood forest along a trail called Owl Gulch. The area was full of beautiful rock outcrops and steep sloped ravines. While there I found numerous colonies the dark colored mountainous ant species Aphaenogaster picea nesting in and under rotting wood. This species was quite common in the wooded habitats on the farm property. I found numerous colonies of the tiny Temnothorax longispinosus nesting in hickory nuts scattered about on a rock ledge. After scooping up several gallons of soil and leaf litter samples, I headed back to the guest house to put the samples on the Berlese Funnels.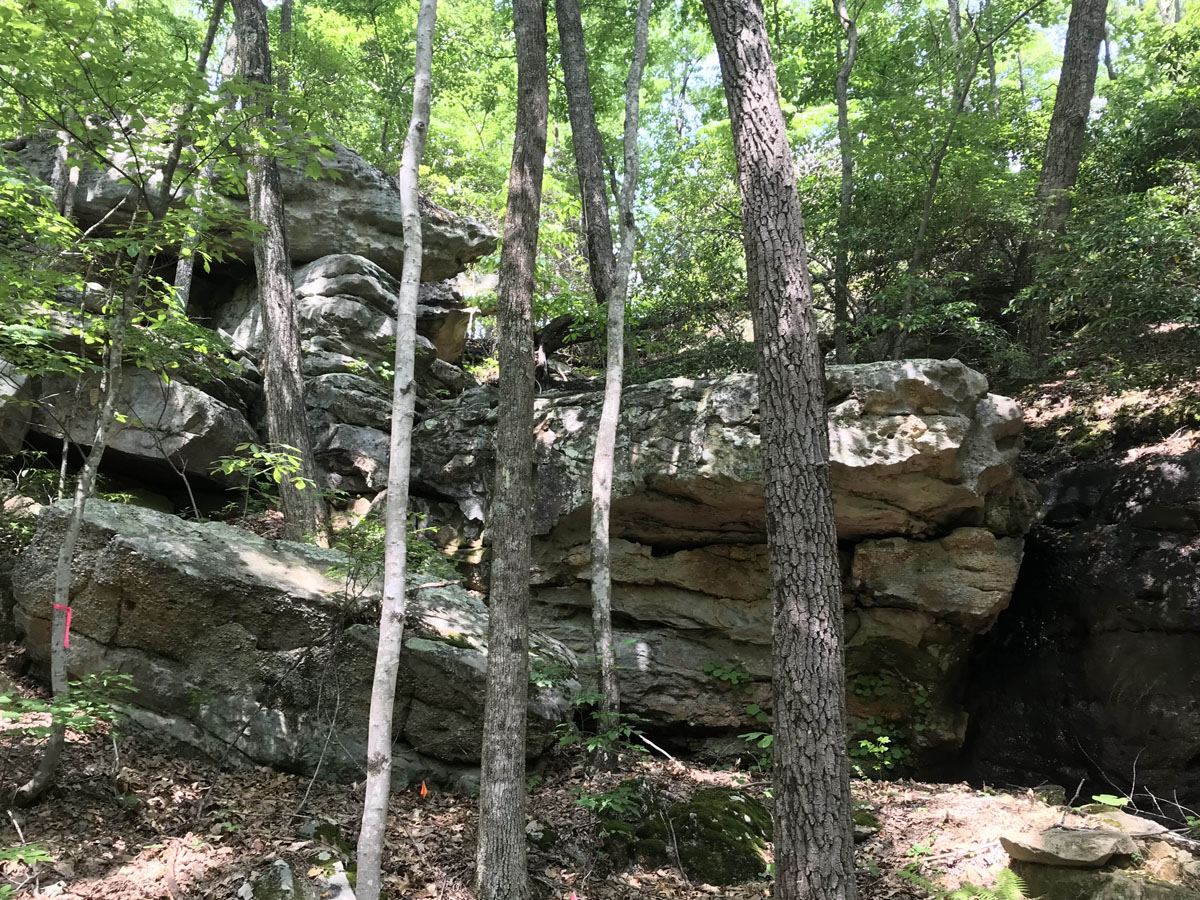 Boulder Formations along Owl Gulch Trail at Coal Creek Farm
On the way back to the guest house, I stopped by the lake near the "big house" and collected in a sandy area. I found several colonies of an undescribed Forelius nesting there. This Forelius does not currently have a name, though it is relatively common in parts of the Southeast.
While I was traipsing about, James made collections in an open wooded area near a pasture and pond. JoVonn, Brady, Jordan, and Ryan drove over to the Catoosa Wildlife Management Area to collected at a recently burned shortleaf pine savanna and other habitats within the WMA.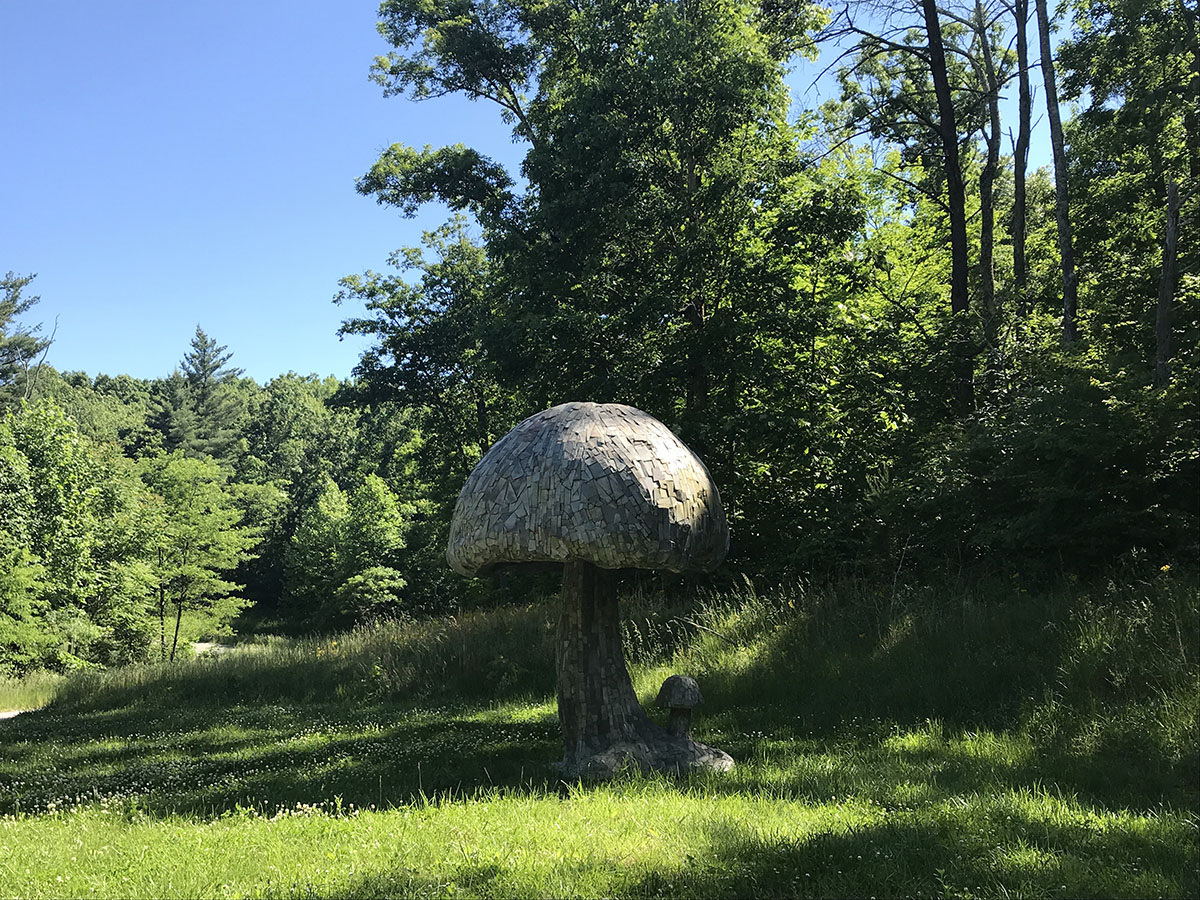 A fun giant mushroom sculpure located next to mixed forest habitat at Coal Creek Farm
Just before dark, Richard set up a UV light/bucket trap in the open post oak forest glade located along the main Coal Creek Farm road. He then joined the rest of us setting up three sheets and UV lights in the hemlock/hardwood forest along Owl Gulch Road. Blacklighting participants included Richard, Terry, Ryan, JoVonn, James, Brady, and me with the diehard trio of Richard, Terry, and Ryan staying out the latest. Brady spent most of the evening looking for creatures crawling about the forest. After a few rounds of checking the sheets for alate ants, various beetles, and assorted other insects, James and I headed back to homebase, with JoVonn and Brady following soon thereafter. The rest of the crew returned much later.
Wednesday, 22 May 2019
Early Wednesday morning, Richard retrieved his bucket trap and again began his day sorting moths. Meanwhile, JoVonn, James, Terry, Ryan, Brady, and I gathered up our collecting gear and headed to Catoosa WMA. After an adventurous journey that took about an hour, we arrived at the savanna site that some folks had visited the day before. After a somewhat recent burn, the area (especially along the road) was blanketed by numerous herbaceous plants in flower. The entire open savanna area was bordered by a young mixed forest. We spent a couple of hours collecting in the grasses and herb rich savanna, along the roadside, along the forest/savanna edge, and even into the forested areas.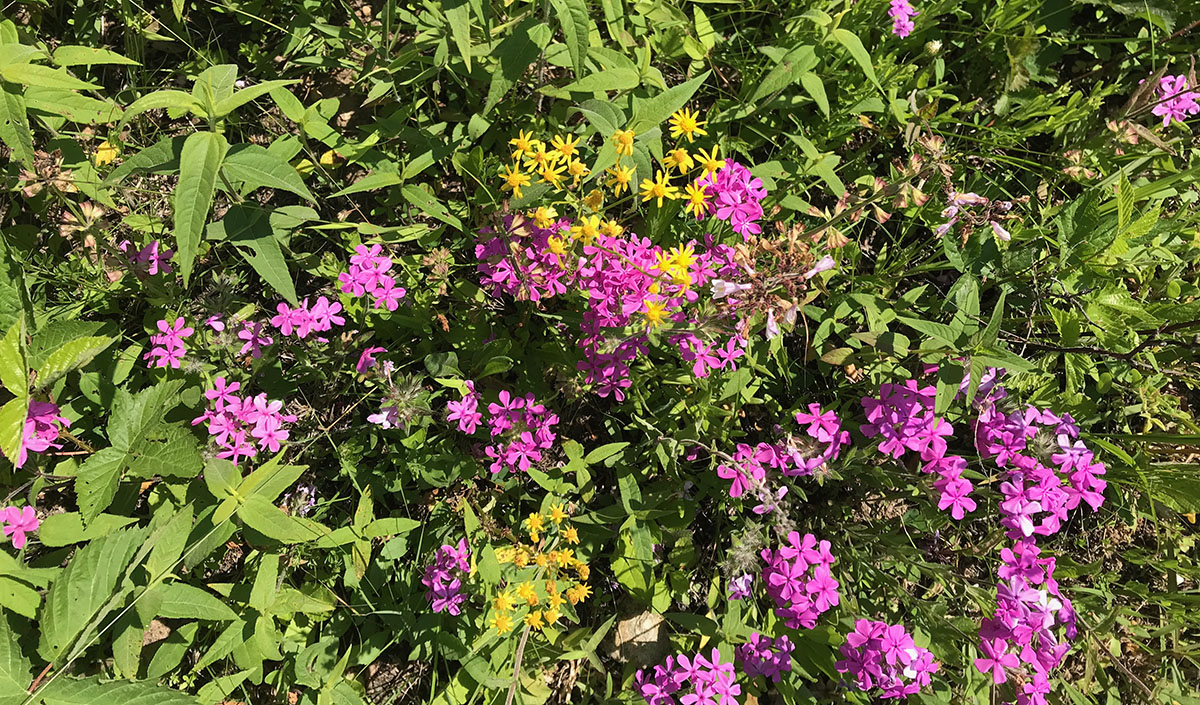 A closeup showing floral density at the Catoosa savanna site
Our next stop was along a beautiful rocky river at a parking area called the Devil's Breakfast Table. This area was absolutely gorgeous, and we stayed for about an hour doing general collecting, targeted collecting on flowering trees, beating branches of trees and shrubs, looking for ant colonies, and making litter/soil collections.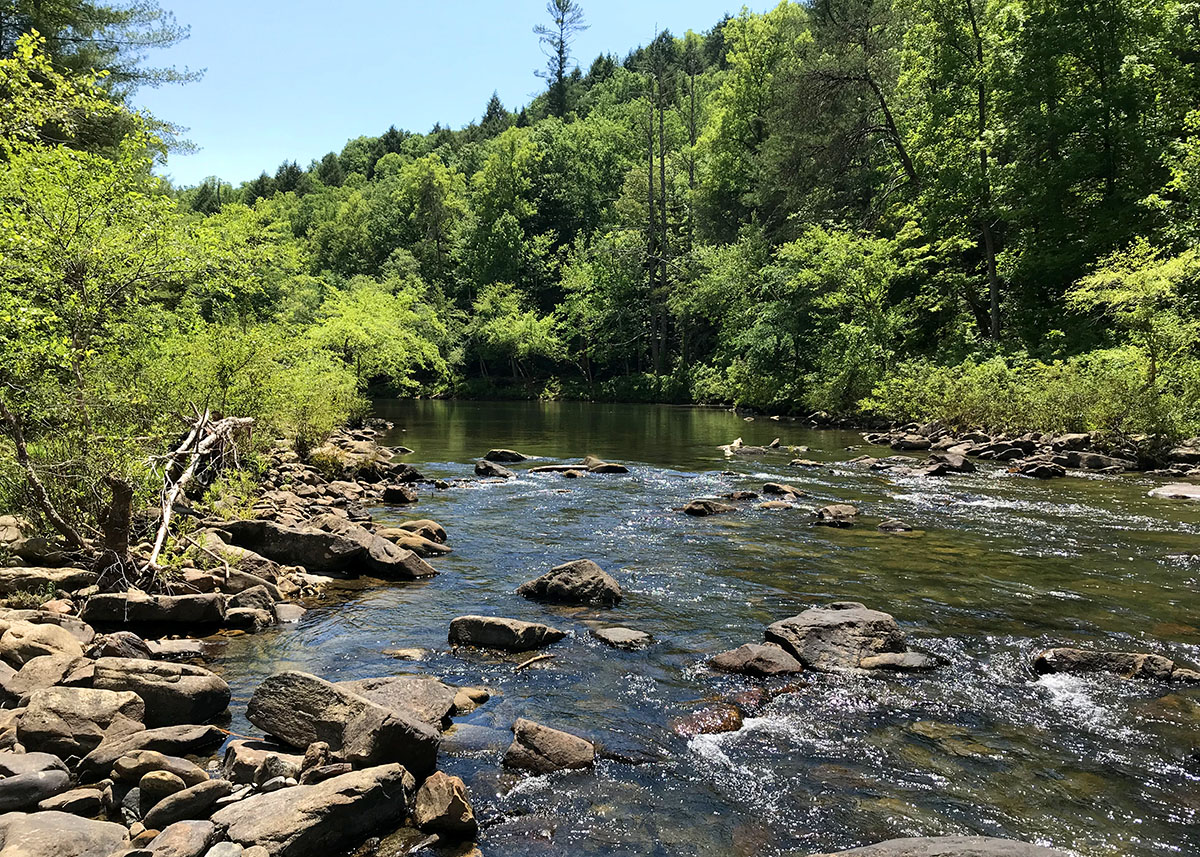 The creek at Devil's Breakfast Table in the Catoosa WMA was breathtaking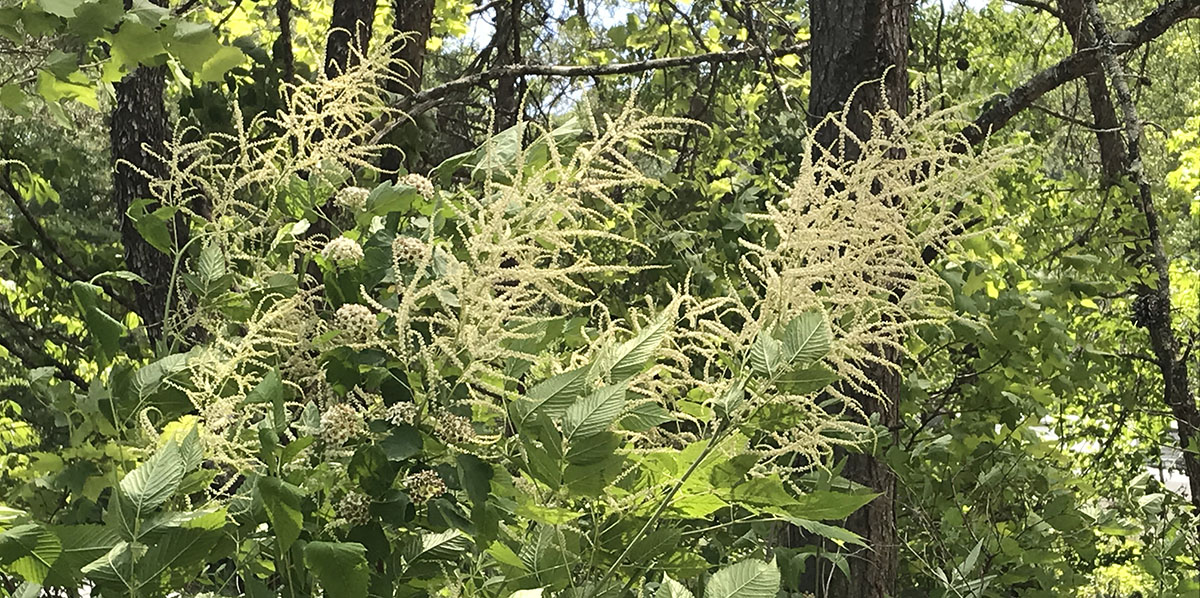 Terry Schiefer was excited to collected longhorn beetles on flowers such as these at Catoosa
Following our Catoosa collections, we started feeling hungry, so we found a fun Mexican restaurant on the way back to Coal Creek. It was a pleasant diversion sitting inside with the air conditioner going. We filled our bellies and headed back to base camp.
After putting samples on the Lindgren funnels, we spent the late afternoon collecting in the wooded areas relatively nearby. Richard was deep into moth spreading mode and he seemed excited about the recent catch. He mentioned that he had collected several "good ones."
Near dusk, as I ambled about collecting and photographing, I discovered a specimen of the emerald ash borer on a sassafras leaf. This was the first time I had ever seen this beautiful, but highly destructive beetle in the field. I followed the forested fence line, which bordered a pasture, until finding an ash tree (near the guest houses). It did not take long before I saw numerous emerald ash borers flying around the tree and resting on leaves!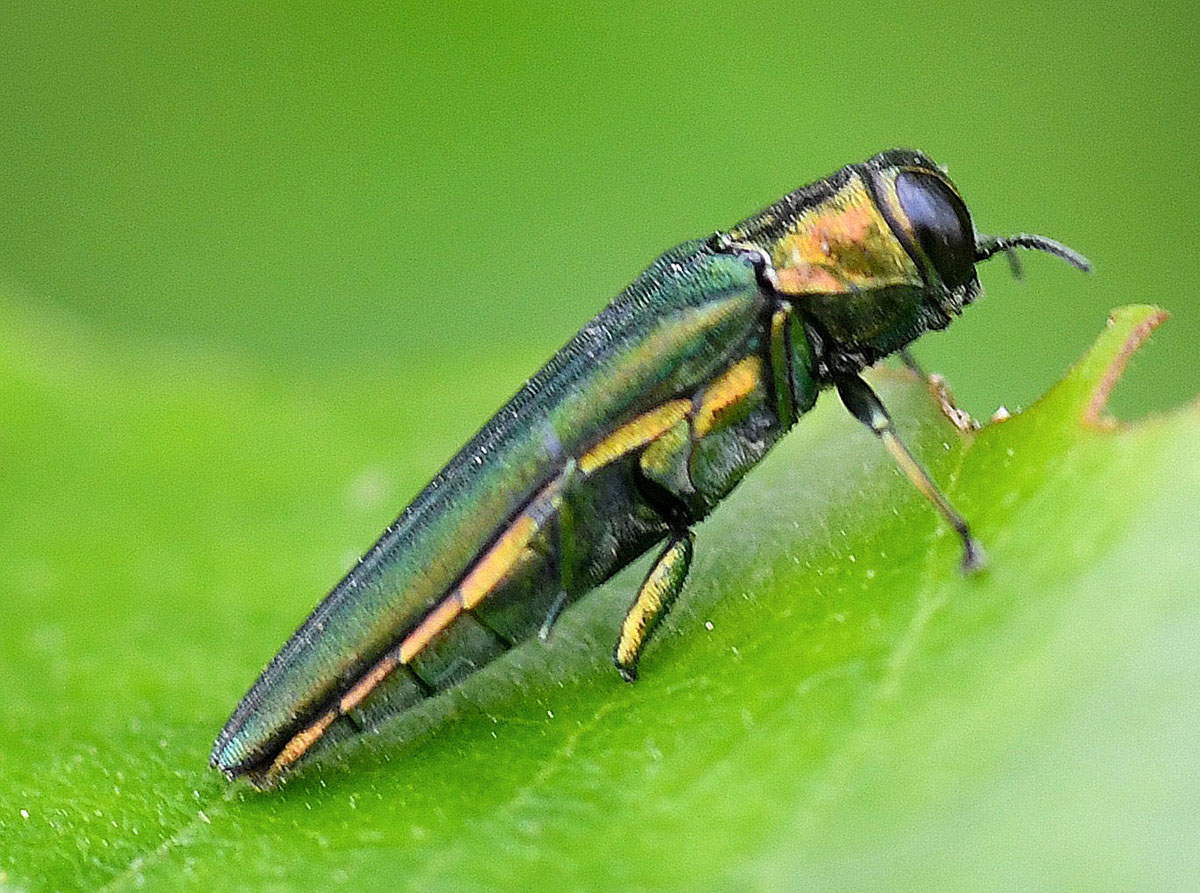 Emerald Ash Borer, found on ash tree at Coal Creek Farm
We nabbed a bit of food, then it was time to set up sheets with lights and a bucket trap. Ryan and Richard set up the bucket trap in an open forested area down the Guest Road trail.  We set up three sheets at the Oak Glade on Coal Creek Farm Road. Richard, Terry, and Ryan were the primary collectors at this site, with others opting to collect at the MV/UV sheet at the guest house or take care of their samples collected earlier in the day.
Thursday, 23 May 2019
Early Thursday morning, Richard once again retrieved the bucket trap and began the tedious task carefully extracting moths and other insects out and into jars and relaxers.
JoVonn, Jordan, James, Brady, Ryan and I headed around the property to collect at a site planned for shortleaf pine restoration. Terry used this time to catch up on his extensive collections made thus far during the week. The Coal Creek Farm property is huge! It took us quite some time to find our way up to the savanna area, which at this time is not extensive. Because the farm is also a working farm with cattle, the farm manager apparently decided to fence in a small area to keep the cattle from trampling it too much. This area was actually quite small but judging by the effects of the longhorns present outside of the fence, the fencing was probably a good idea! We spent a couple of hours collecting both within the fenced in area and along forested edges of the cattle trails. Collections were geared toward beetles, ants, grasshoppers, native bees, and butterflies.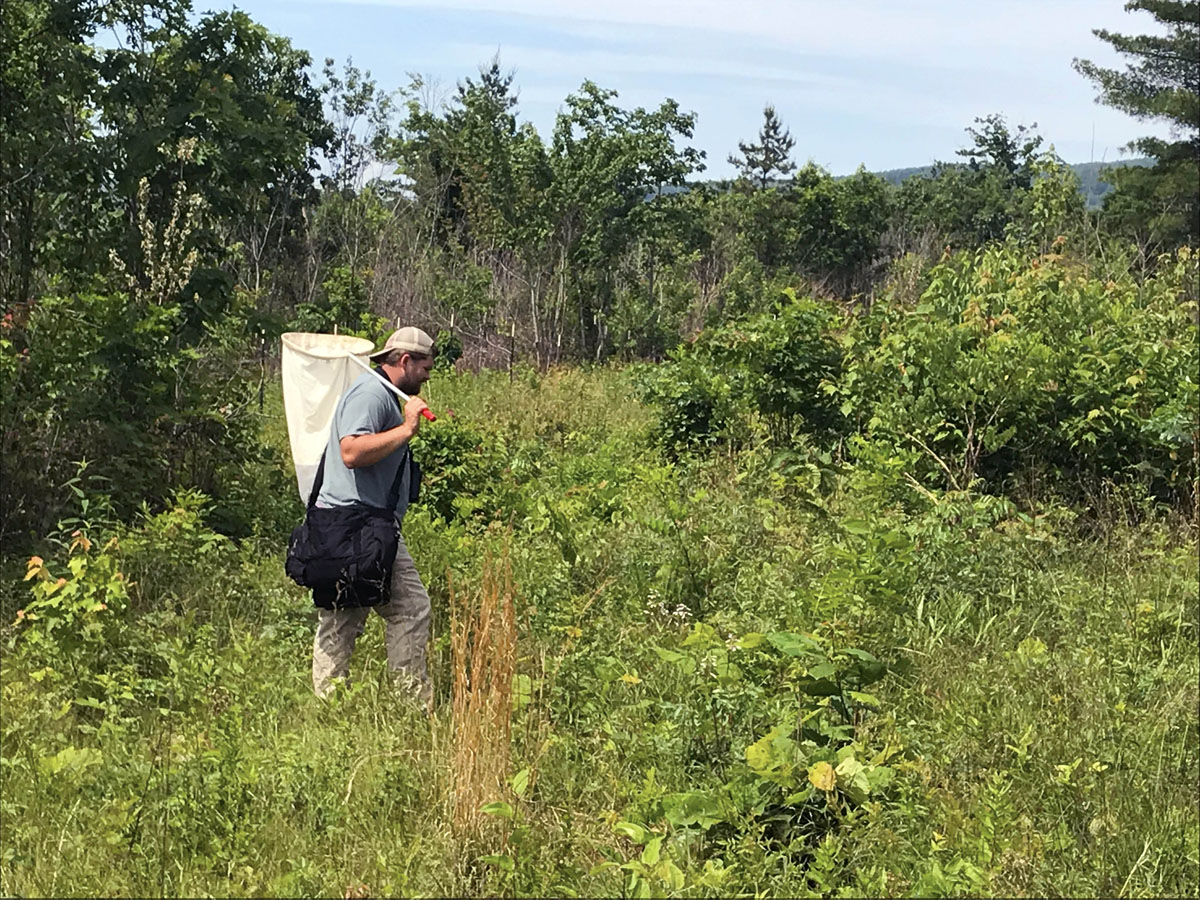 Brady Dunaway looking for native bees and other pollinatiors in a small savanna like area
We meandered down the mountain toward the White Creek crossing, where we stopped to collect. The habitat along the road leading to the crossing ranged from small rock glades to hemlock and mountain laurel forests along the creek itself. We grabbed several soil and litter samples while there, and the others spent time sweeping and beating vegetation along the roadside.
Our next stop was at a large wet meadow site, which I believe may be the only area of this type on the property, or least the most extensive area of this type. We again spent time sweeping vegetation and also specifically targeting insects by sight. The aromatic mountain mint was plentiful, and each step we made through the meadow brought forth a magical aroma from the mint.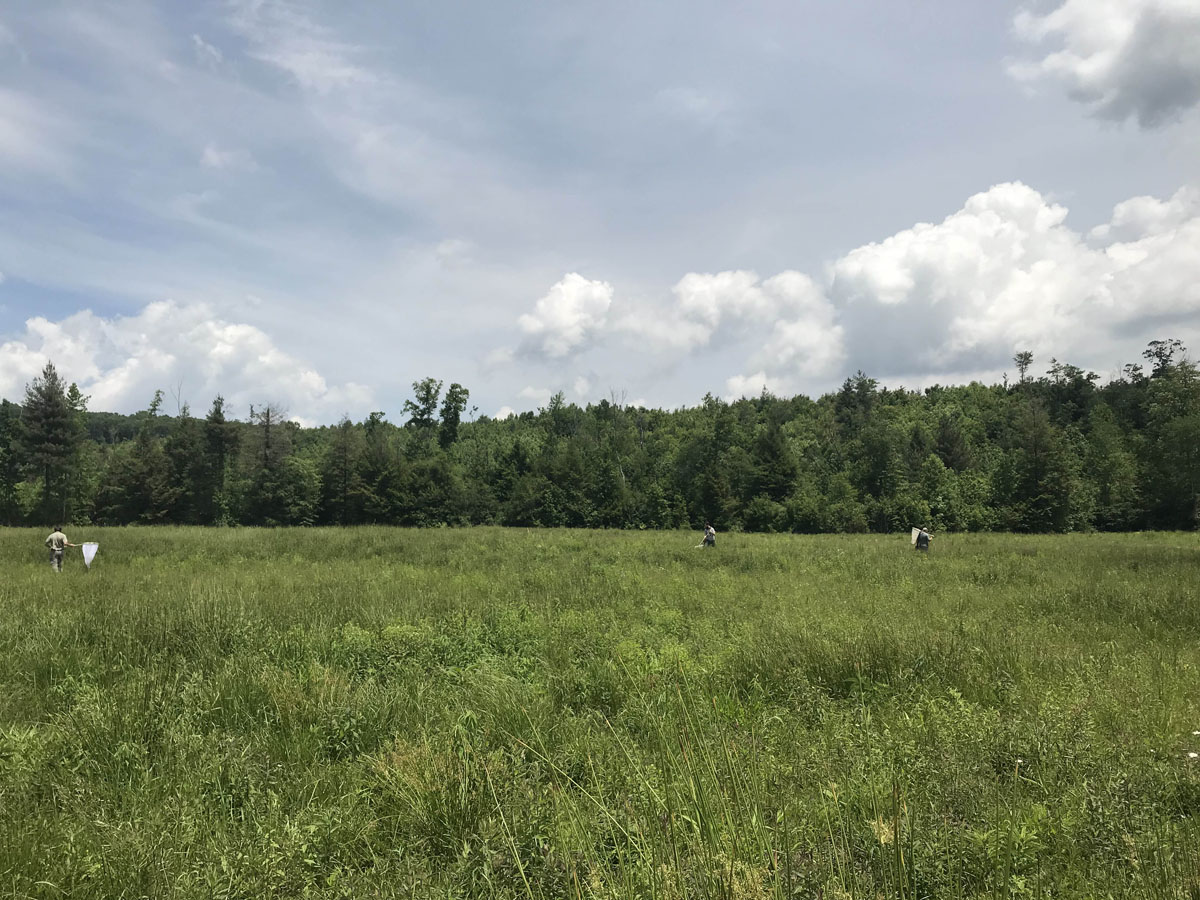 A wet meadow at the Coal Creek Farm
Between the warm afternoon sunshine, beautiful scenery, and mystical like properties of the mountain mint, we found ourselves ready for a break and some food. So, we headed into nearby Grandview and had another fantastic Mexican meal!!!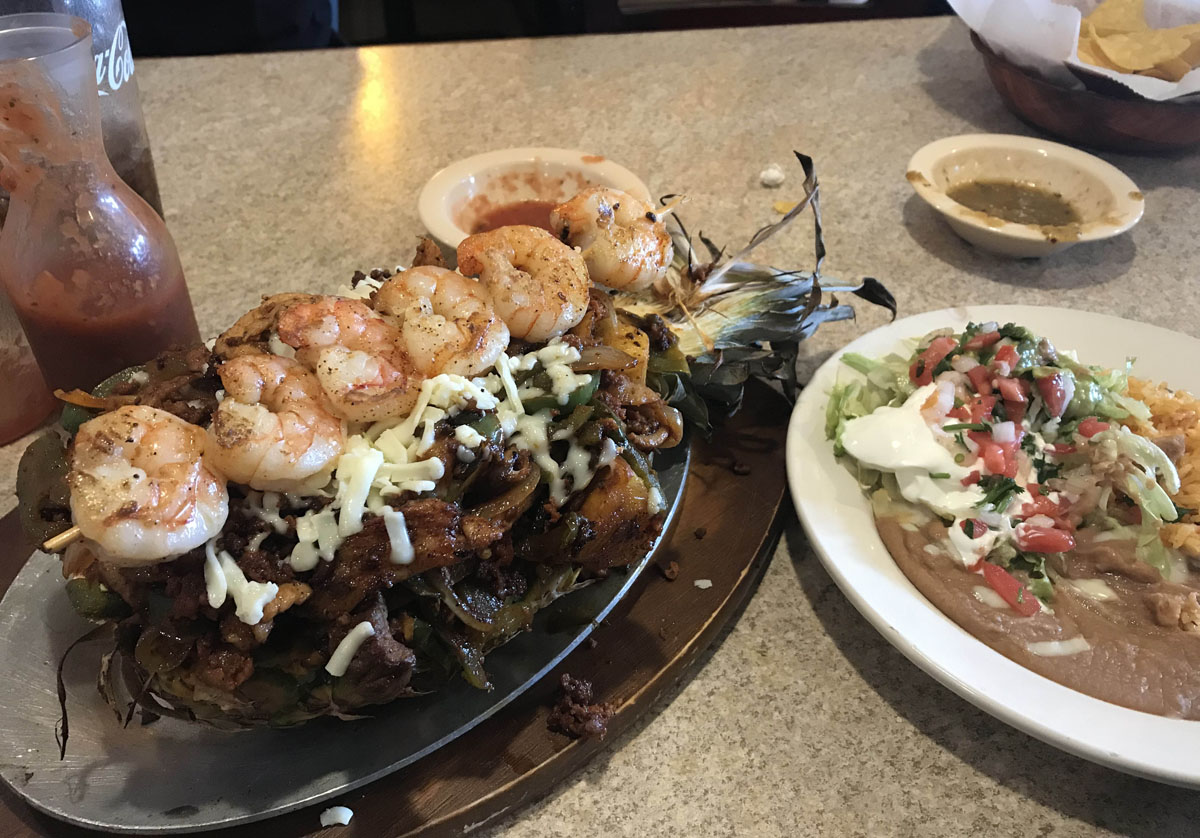 Yes, this was as good as it looks!
Back to the farm and back to work. We replaced litter/soil samples with new ones, then spent what was left of the afternoon collecting in the nearby habitats. I again visited the ash tree to try to get some better photos of the emerald ash borers during that peak time of day when the light is great! I managed to get a few good shots.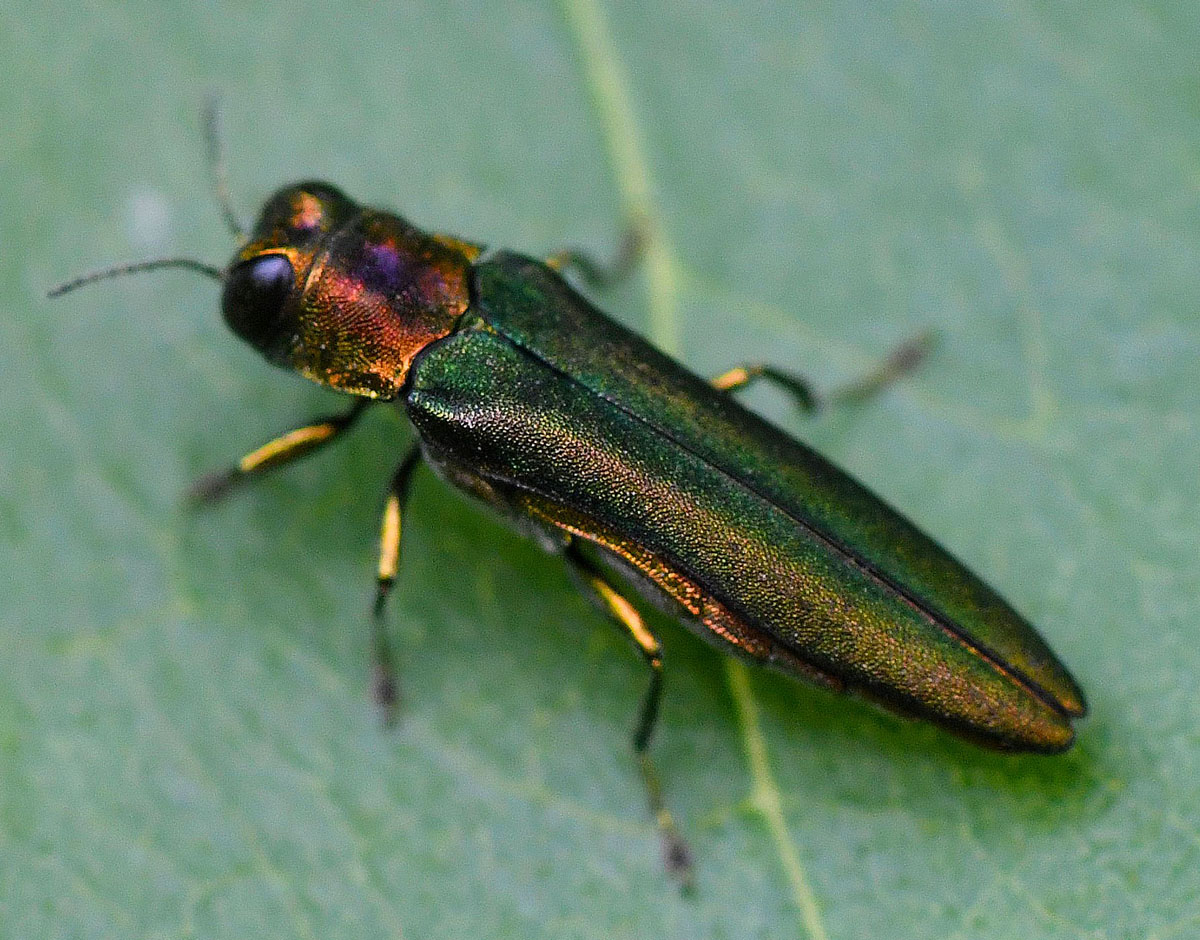 Emerald Ash Borer, found on ash tree at Coal Creek Farm
Near dusk, Ryan and Terry set up a bucket trap in mixed pine/hardwood forest located along a ridge. The site was not far off of the main road leading in to the residential buildings.
Most of us were overwhelmed with material at this point, so the blacklighting crew this evening consisted of just Terry and Ryan. They set up three sheets with lights in a mixed pine/hardwood forest along a trail off of the main Coal Creek Farm road. The rest of us hung around the cabin areas dealing with log entries, specimens, collecting at the sheet setup there, or just relaxing.
Friday, 24 May 2019
Before most of us were awake, Richard had already retrieved the bucket trap and was sorting through it. Today was essentially our final day for collecting, as we would be leaving the area the next morning. For the most part, we all spent the day venturing off on our own. JoVonn and Brady headed off to an offsite savanna area to look for pollinators. Ryan maximized the day looking for weevils at numerous localities on the Coal Creek Farm including a nice tulip poplar forested area. Likewise, Terry, James, Jordan, and I ventured here and there. I went back to the beautiful hardwood forest along Owl Gulch road where I spent time looking for ant colonies. Following that, I made collections at the oak glade area or about one hour. Later, I collected along a trail heading to "Blue Pond", where Ryan had earlier been. This was a nice, lush forested area with thick herbaceous plants and numerous ferns. My other collecting was mostly confined to walking distance from the guest house.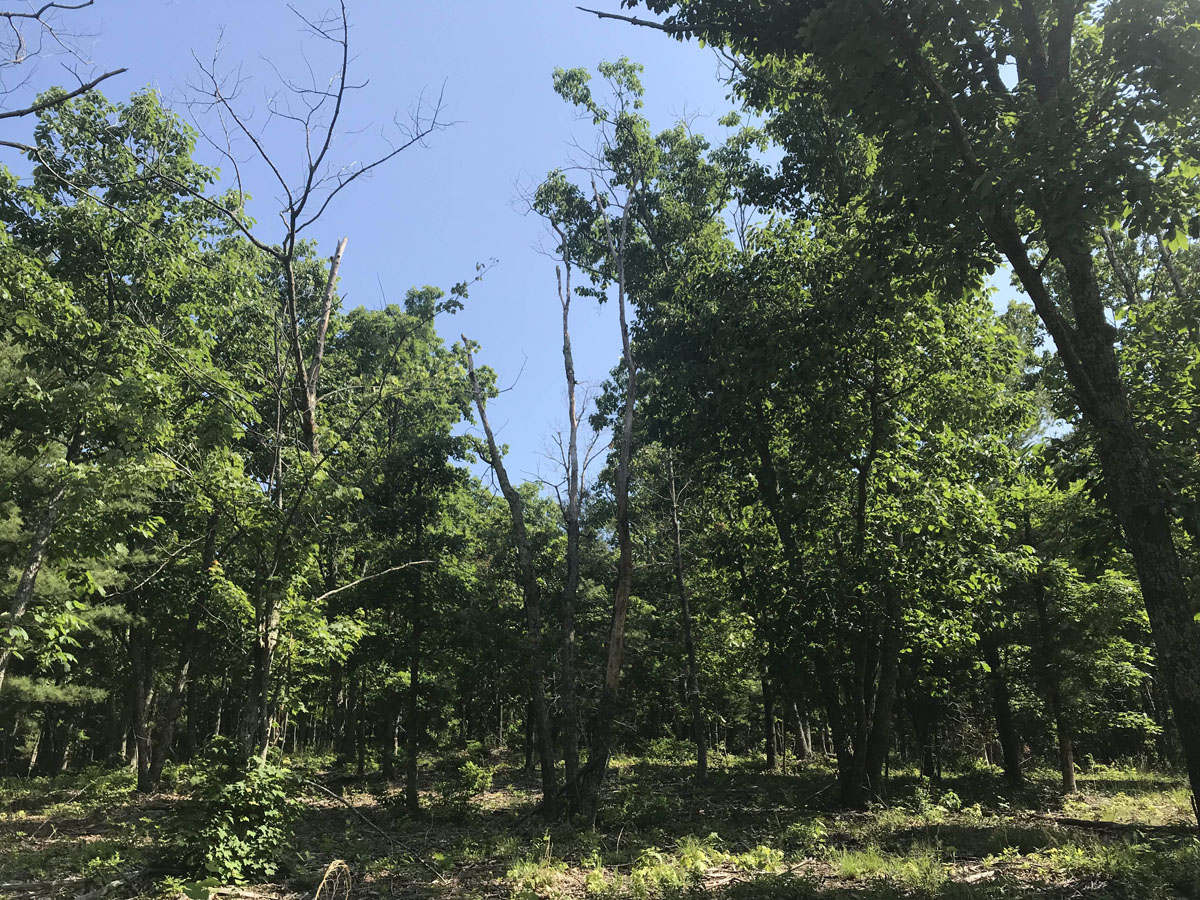 An oak glade at Coal Creek Farm

For our evening blacklighting, we again set up three sheets near the beginning of the Guest Road, in addition to the one that was still up at the guest house. We chose this nearby location again because the property owner George Lindemann and his four kids planned on joining us for a while to observe and learn more about what we were doing.
The Lindemann family, Crisler, and a fun fellow named Josh showed up to the guest house at dusk. Several of us gave them quick overviews of what we were doing. I talked about the diversity of arthropods in the upper soil and litter layers and our methods for collecting them. Brady gave a fun talk about various other arthropods such as scorpions, millipedes, and others. Richard gave a brief overview of how he spread the wings of moths.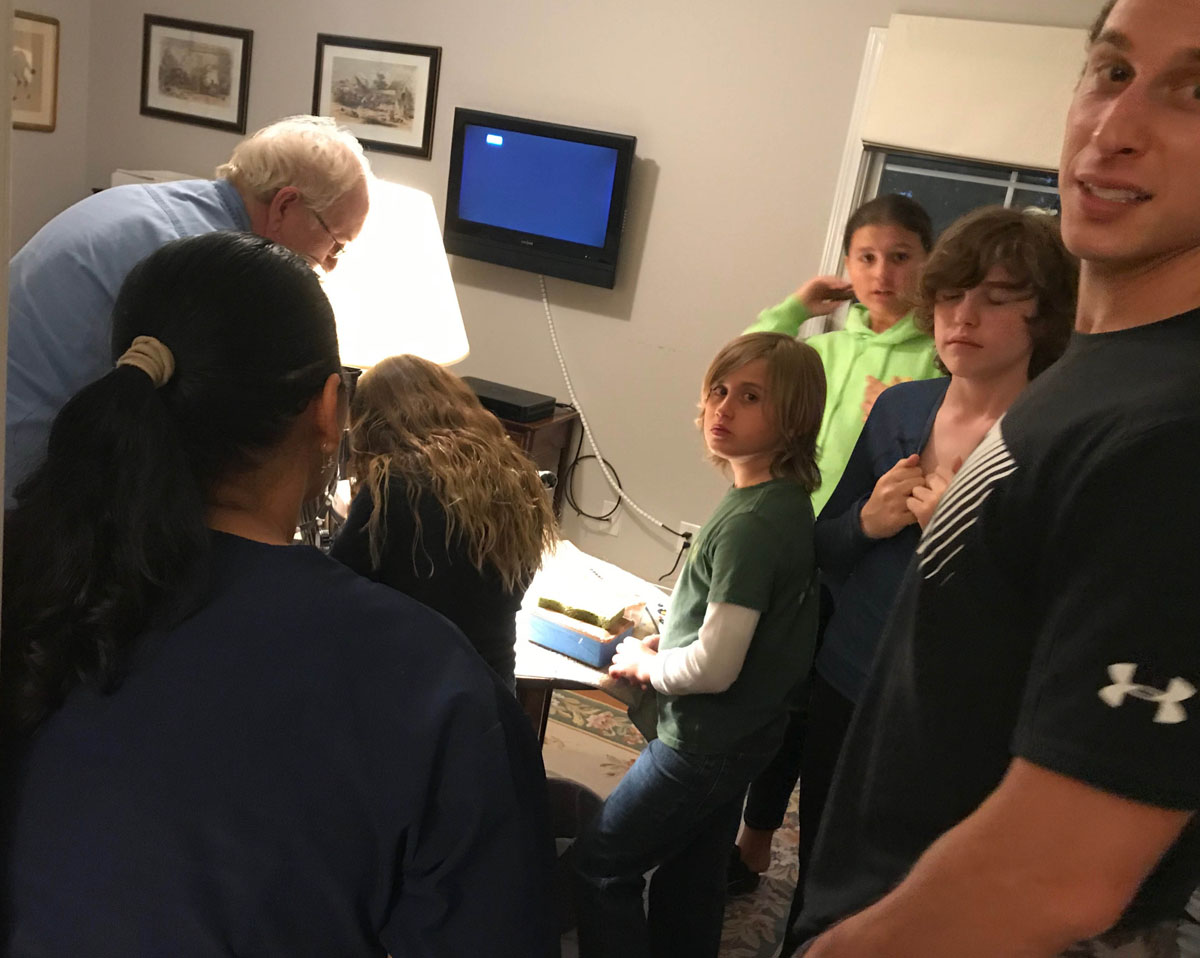 Richard Brown demonstrating his moth spreading techniques
Darkness finally started settling in, so we first headed to the MV/UV sheet setup just outside the guest house. Most of us were there except Ryan, Terry, and Jordan, who were putting up the other three sheets along Guest Road. Although it was quite early, we showed our interested new friends plenty of insects. After giving the sheet a good look over and answering lots of questions, most of us headed over to the other sheets. George in particular was keen on seeing a weevil. Fortunately for him, our resident weevil expert Ryan Whitehouse was there waiting to answer his questions. And, despite the earliness of the evening, he did eventually find a weevil. Within about 30 minutes, the Lindemanns and their guests headed back to their house. The rest of us continued collecting, though we did not stay out overly late, as we had plenty of packing yet to do!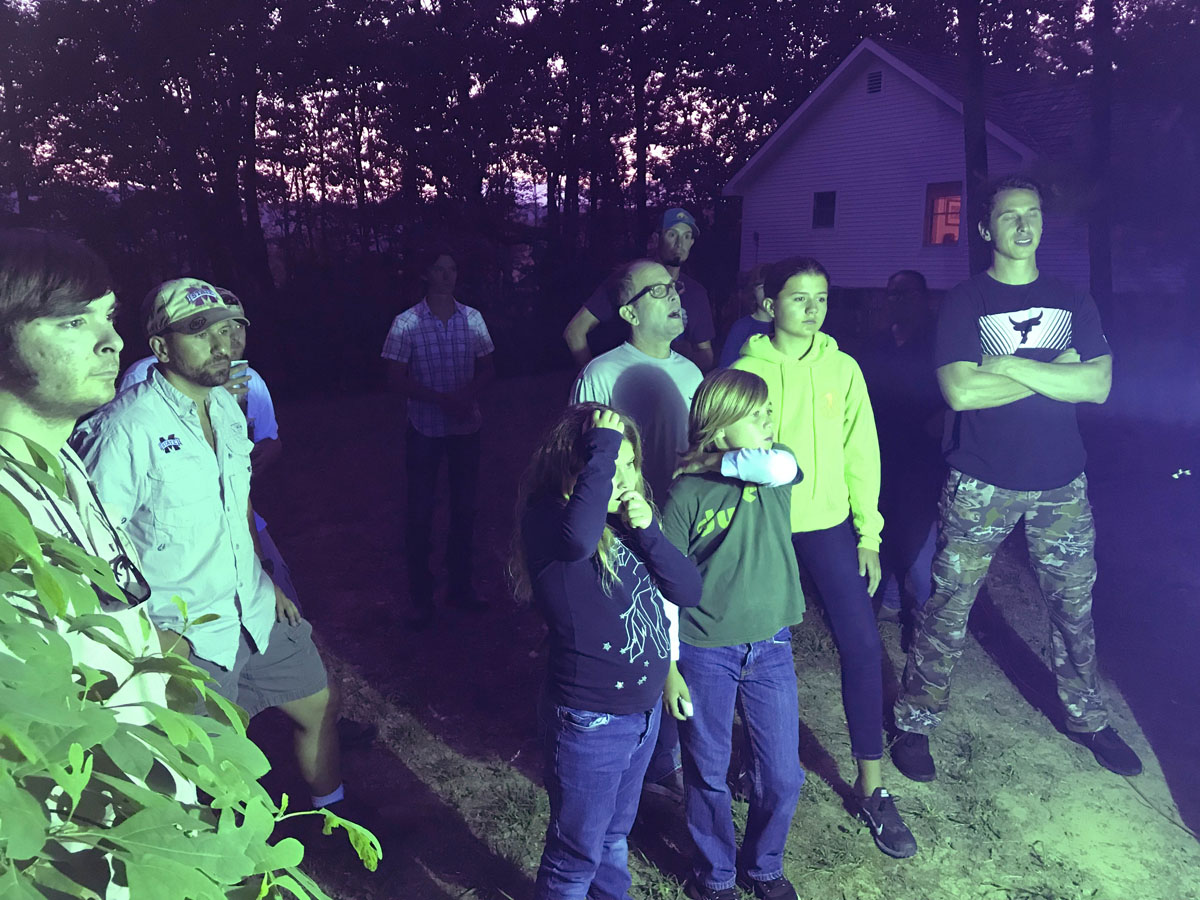 Lindemanns and others gazing into the light
Saturday, 25 May 2019
Well, Saturday morning had arrived sooner than we would have liked, but it was time to head back to the Mississippi State campus and get to the task of pinning, labeling, sorting, identifying, and entering data. It was a good few days with great weather and scenic beauty. Thanks to George Lindemann for allowing the MEM crew the opportunity to stay on the property and collect.
FAUNAL LISTS
COLLECTING SITES DURING THE 2019 WILLIAM H. CROSS EXPEDITION
Coal Creek Farm Collecting Sites
Cabin 1 20-25 May
Sheet, MV and UV,Bucket Trap, general collecting, Berlese samples, one Lindgren
USA,TENN.,Cumberland Co.
12 mi SE Crossville, 600 m
35.8068 -84.9123
hardwood forest on slope
W.H. Cross Expedition
Guest Road (Glenn Road)
(May 20, Three sheets/UV lights; May 24 Three sheets/UV lights, Richard, Jordan, Brady, Joe, JoVonn, Ryan, Terry)
Malaise nearby, Lindgren)
USA,TENN.,Cumberland Co.
12 mi SE Crossville, 570 m
35.8037 -84.9129
hardwood forest
W.H. Cross Expedition
Malaise site past shop area
(20–24 May, Malaise trap, Lingren funnel trap, Terry)
USA,TENN.,Cumberland Co.
12 mi SE Crossville, 589 m
35.8045 -84.9125
hardwood forest/
pasture edge
W.H. Cross Expedition
Lindgren Funnel Site, Glen Road, Hemlock Creek
(20–24 May, Lingren funnel trap, Terry)
USA,TENN.,Cumberland Co.
12 mi SE Crossville, 589 m
35.8000 -84.9140
hemlock/mountain laurel
forest by creek
W.H. Cross Expedition
Herb Hollow/hemlock creek site
Joe, JoVonn, James/ litter (21 May 2019)
USA,TENN.,Cumberland Co.
12 mi SE Crossville, 480 m
35.7974 -84.9139
Hemlock forest
W.H. Cross Expedition
Creek by giant mushroom (21 May 2019, Terry and Ryan)
USA,TENN.,Cumberland Co.
12 mi SE Crossville
35.8165 -84.9164
hardwood forest
W.H. Cross Expedition
Owl gulch, 21 May (joe, general day; Richard, joe, JoVonn, James, Ryan, Terry, Brady-3 sheets/UV lights)
USA,TENN.,Cumberland Co.
12 mi SE Crossville, 625 m
35.8096 -84.9237
Hemlock, magnolia, oak
forest on rocky slope
W.H. Cross Expedition
Field and pond by giant deer (21 May, Ryan, Terry)
USA.TENN.,Cumberland Co.
12 mi SE Crossville, 617 m
35.8137 -84.9194
pasture near pond
W.H. Cross Expedition
Coal Creek Farm Forest Clearing Site (22 May, Ryan, JoVonn, Brady;  Bucket trap 22 May-Ryan, Richard)
USA TN Cumberland Co.
12 mi SE Crossville,
35.7980 -84.9080, 560 m
Coal Creek Farm ,Parking Spot by pasture (21 May, Ryan)
USA TN Cumberland Co.
12 mi SE Crossville
35.8149 -84.9149
pasture near pond
W.H. Cross Expedition
Swimming hole/lake near big house, 21 May joe,
USA,TENN.,Cumberland Co.
12 mi SE Crossville, 595 m
35.8108 -84.9124
sandy area by lake
in field
W.H. Cross Expedition
Open hardwood forest near pasture and pond past tractor shed-farm pond meadow
21 May (James collections), 24 May (Ryan)
USA,TENN.,Cumberland Co.
12 mi SE Crossville, 562 m
35.8013 -84.9103
pasture at edge of
open hardwood forest
W.H. Cross Expedition
Post oak forest on Coal Creek Farm Road
21 May (Richard, bucket trap), 22 May 3 UV lights, 24 May (joe, James, litter)
USA,TENN.,Cumberland Co.
12 mi SE Crossville, 620 m
35.8200 -84.9118
oak glade
W.H. Cross Expedition
Coal Creek savanna site 1, 23 May
Joe, Jordan, JoVonn, James , Brady, Ryan
USA,TENN.,Cumberland Co.
12 mi SE Crossville, 667 m
35.7871 -84.9407
savanna
W.H. Cross Expedition
Coal Creek Farm bucket trap site (23 May, Bucket trap, Richard)
USA,TENN.,Cumberland Co.
12 mi SE Crossville, 575 m
35.8150 -84.9143
bucket trap with UV light
pine/hardwood forest
W.H. Cross Expedition
Coal Creek Farm, blacklight site 23 May (Terry, Ryan)
USA TN Cumberland Co.
12 mi SE Crossville, 610 m
35.8184 -84.9123
UV lights/sheets in
pine/hardwood forest
W.H. Cross Expedition
Coal Creek, Creek site (White Creek), 23 May 2019
Joe, Jordan, JoVonn, James, Brady, Ryan
USA,TENN.,Cumberland Co.
12 mi SE Crossville, 636 m
35.7917 -84.9406
hemlock/hardwood
forest by creek
W.H. Cross Expedition
Coal Creek Farm, wet meadow site 23 May ,
Joe, Jordan, JoVonn, James , Brady, Ryan
USA,TENN.,Cumberland Co.
12 mi SE Crossville, 550 m
35.7935 -84.9268
wet meadow
W.H. Cross Expedition
Coal Creek Farm End of Blue Pond Road, 24 May (Ryan)
USA,TENN.,Cumberland Co.
12 mi SE Crossville, 530 m
35.8138 -84.9059
hardwood forest
near pond
W.H. Cross Expedition
Coal Creek Farm L. tulipifera trail, 24 May (Ryan)
USA,TENN.,Cumberland Co.
12 mi SE Crossville, 600 m
35.8155 -84.9139
hardwood forest
W.H. Cross Expedition
Coal Creek Farm L. tulipifera site, 24 May (Ryan)
USA,TENN.,Cumberland Co.
12 mi SE Crossville, 620 m
35.8155 -84.9153
tulip poplar forest
W.H. Cross Expedition
Catoosa WMA Sites
Catoosa WMA, Thistle Spot (21 May, JoVonn, Ryan, Brady, Jordan)
USA,TENN.,Cumberland Co.
Catoosa WMA
36.0742 -84.8219
Catoosa WMA , site 1, burned savanna, 21 May (JoVonn, Brady, Ryan, Jordan)
22 May (joe, JoVonn, James, Brady, Terry, Ryan)
USA,TENN.,Cumberland Co.
Catoosa WMA
36.0747 -84.8100
roadside near
mixed forest
W.H. Cross Expedition
shortleaf pine savanna
W.H. Cross Expedition
Catoosa WMA Devils Breakfast Table
22 May (joe, JoVonn, Terry, Ryan, James, Brady) river site Litter, 6 bags
USA, TENN.,Cumberland Co.
Catoosa WMA
36.0590 -84.7921
hardwood forest
beside river
W.H. Cross Expedition