2018 William H. Cross Expedition, Paint Rock Mountain Area, Jackson and Madison Counties, Alabama, 6-11 June 2018
by Joe MacGown, uploaded on 16 July 2018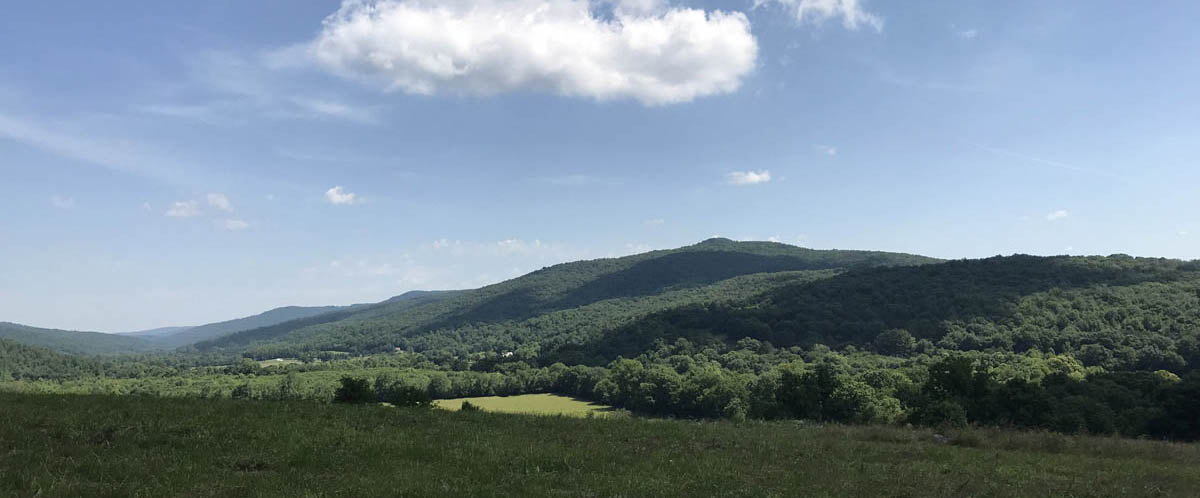 The 2018 William H. Cross Expedition was held from 6 to 11 June 2018 in the Paint Rock region of Jackson and Madison Counties in Alabama.  Our collections during this trip were primarily centered on a handful of Nature Conservancy sites including Keel Mountain Preserve, the Graham Farm Preserve and Nature Center, the Roy B. Whitaker Paint Rock Preserve, and the Sharp Bingham Mountain Preserve. Participants included Joe MacGown, Ryan Whitehouse, Juan Santiago, Steven Wang, JoVonn Hill (6-8 June), Richard Brown (8-11 June), and Doug Booher (8-9 June).
Wednesday, 6 June: We arrived early afternoon to a house provided for researchers located near Gurley, AL. The house was located right beside Hwy 72 and basically located in a field, and thus, was not a major part of our collecting during the trip. We quickly set up Berlese funnels under the carport for litter samples that we would collect later that day. Then we headed out to a nearby Nature Conservancy site called Keel Mountain Preserve.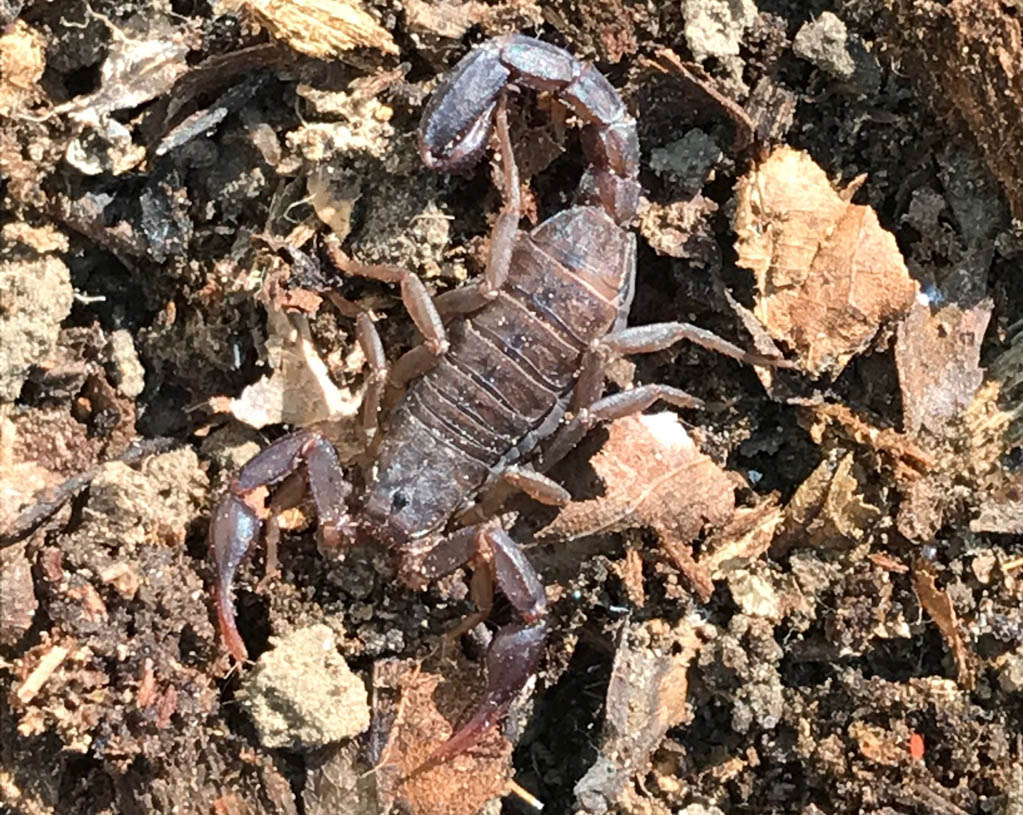 Scorpions were in abundance in the woods under bark of rottinng treees
We arrived at Keel Mountain at about 3 pm and immediately began collecting and scouting the area. A trail began from the parking lot and wound its way up mountainous terrain from a low, almost bottomland area alongside a cobblestone creek that featured numerous cedars and maples, and gradually went upward with the cedars diminishing. A beautiful waterfall was located near the top.  An abundance of "leaf cup" was present and in bloom along the trail. Steven collected several female glowworms!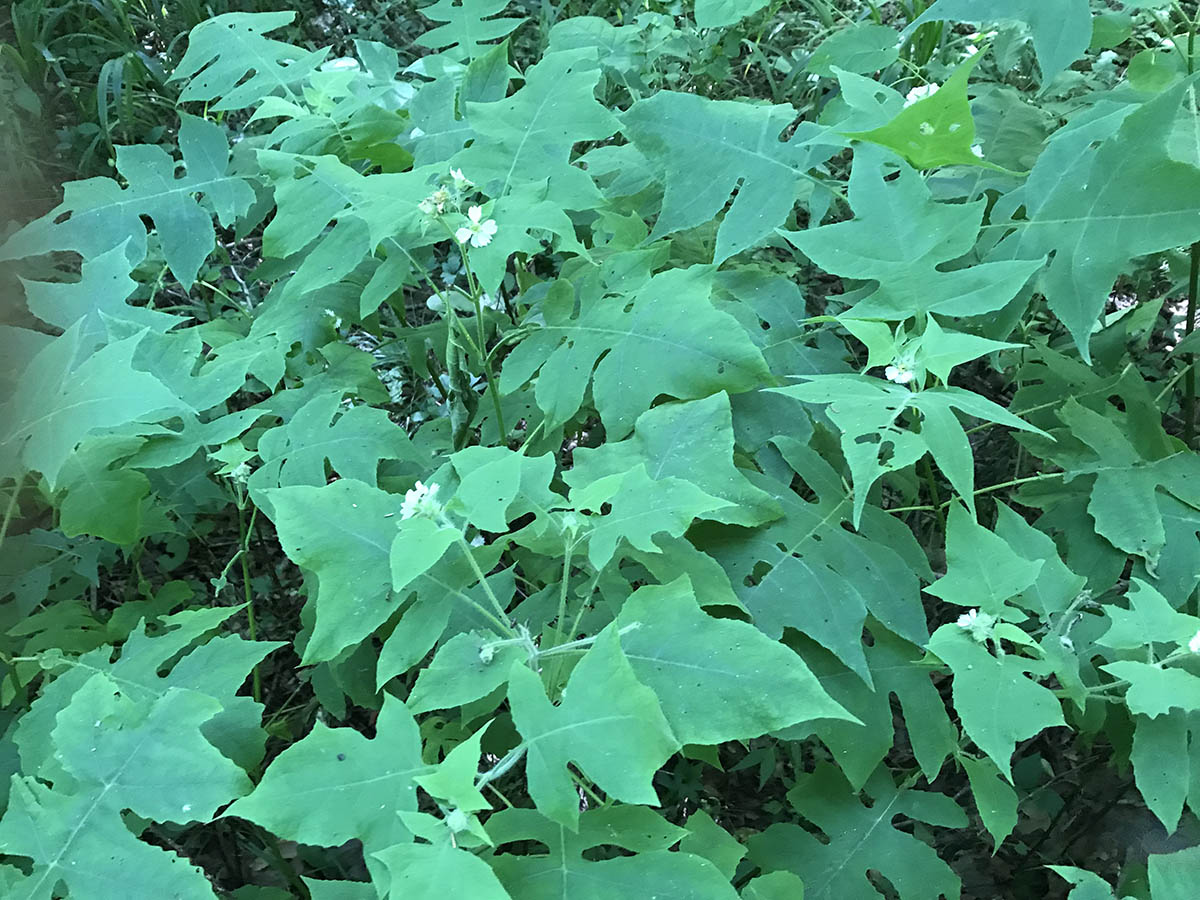 Leafcup
While here, we collected several bags of soil and leaf litter for Berlese extraction; did general collecting of ants, grasshoppers, beetles, and other groups; and put up on set of Lindgren funnels. We collected to until about 5:30 pm, then located a decent Mexican restaurant to give us energy for night collecting.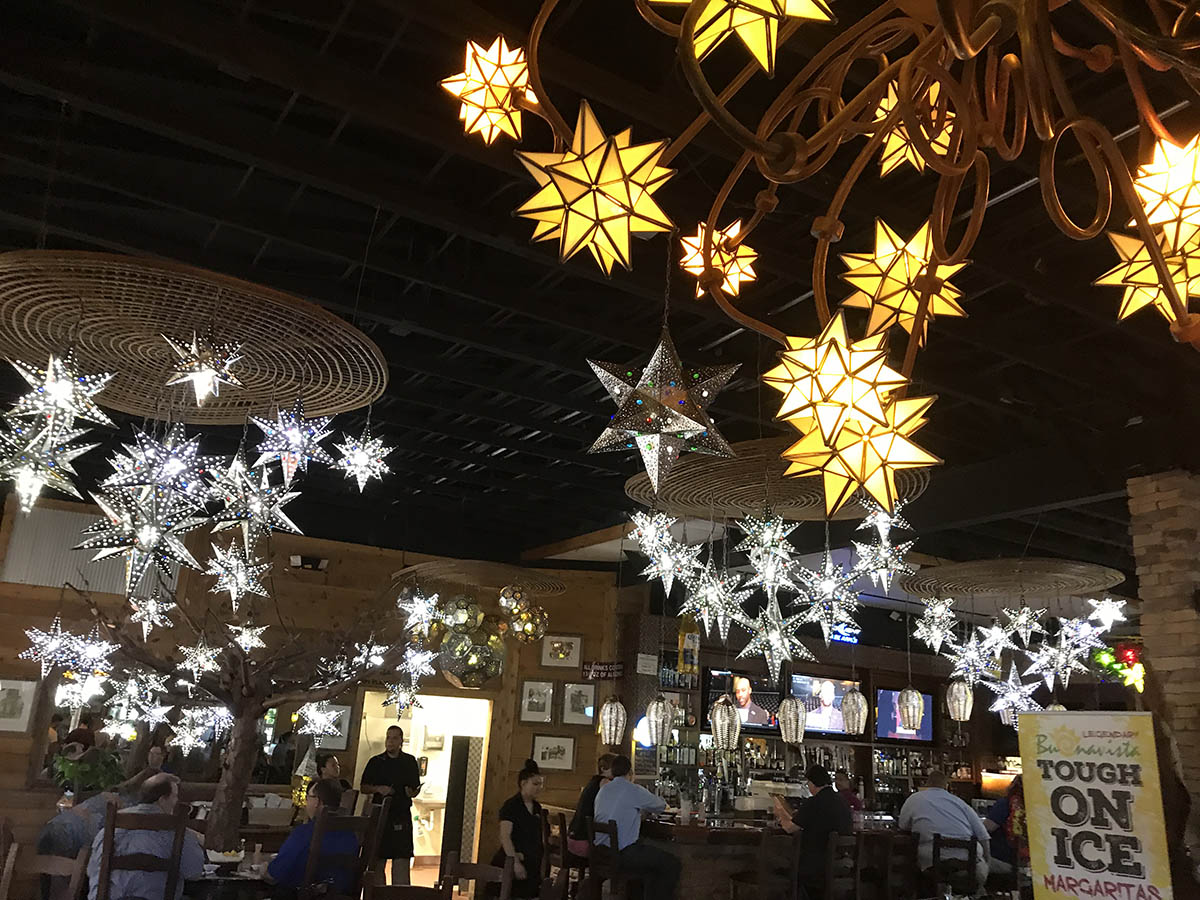 Festive lights adorned the ceiling of the Mexican Restaraunt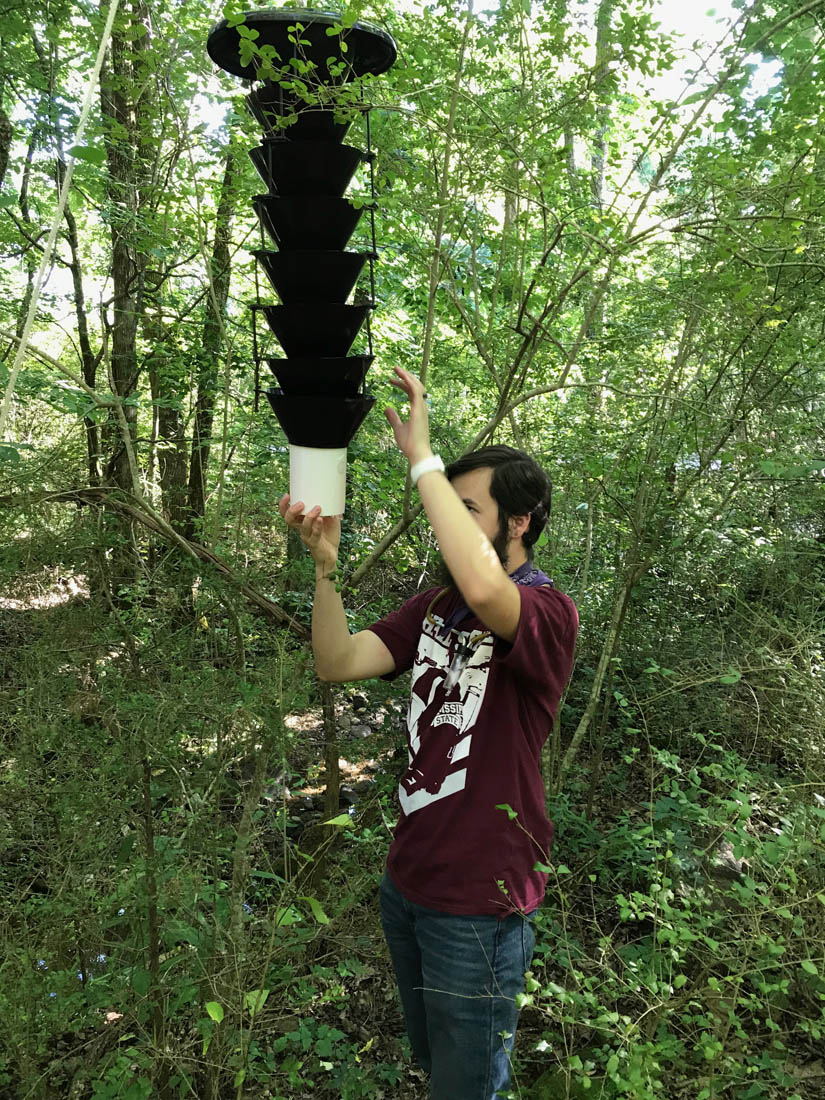 Ryan Whitehouse adjusting the Lindgren funnel cup
Following supper, we went back to the research house to grab lawnmower batteries and other gear for night collecting. We also put the litter samples on the funnels!  We then went back to the Keel Mountain Site where we placed three sheets with blacklights up along the trail with the first relatively close to the trailhead and the other two farther along the trail. Numerous cockroaches (2-3 species), lots of Dobson flies, a good variety of moths, beetles, and other insects were present at the sheets. We collected to about 11:30 pm, then called it a night and headed back to the house.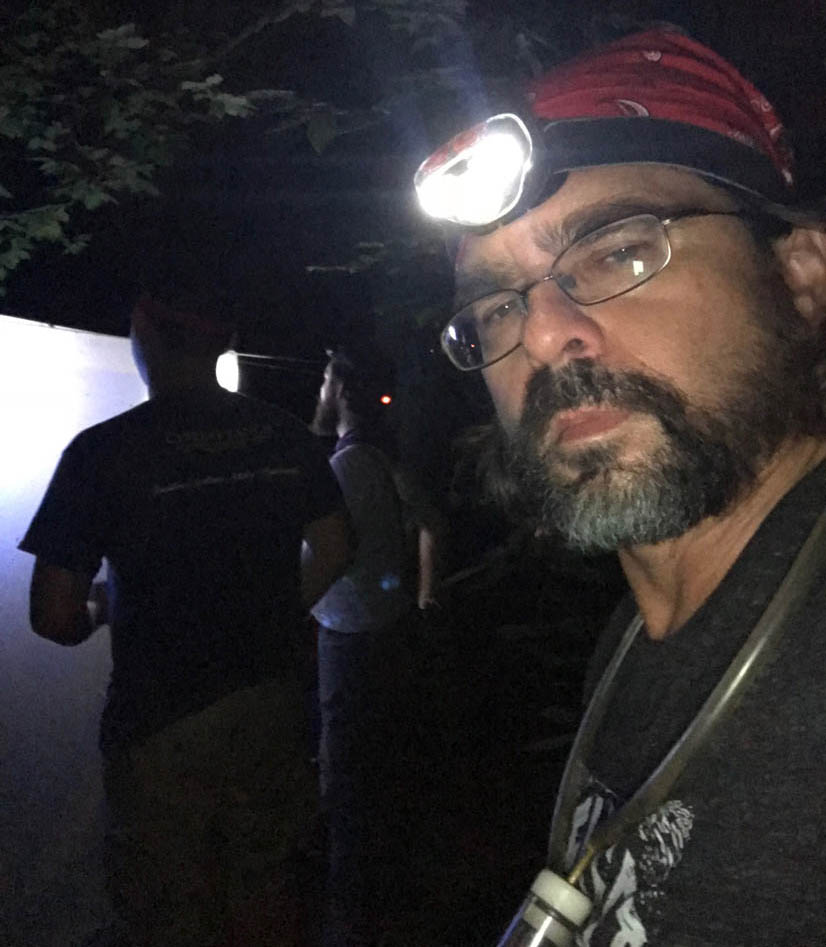 Joe MacGown with a headlight, ready to collect insects at the sheet
Thursday, 7 June: Morning! Everyone eventually woke up, some earlier than others, and we scrounged up some breakfast type food so we start the day energized. We left Juan at the house to spread the moths he had collected, and the rest of us (Joe, JoVonn, Ryan, and Steven) departed the house to collect and explore.
Our first stop was the Graham Farm Preserve and Nature Center, a Nature Conservancy site co-run by the Alabama Cooperative Extension Service. Upon arriving we met former MSU grad and recently retired from Alabama A&M professor Ken Ward and the property manager, who goes by the name of Noah.  We turned in our signed waivers and they gave us instructions on where to go.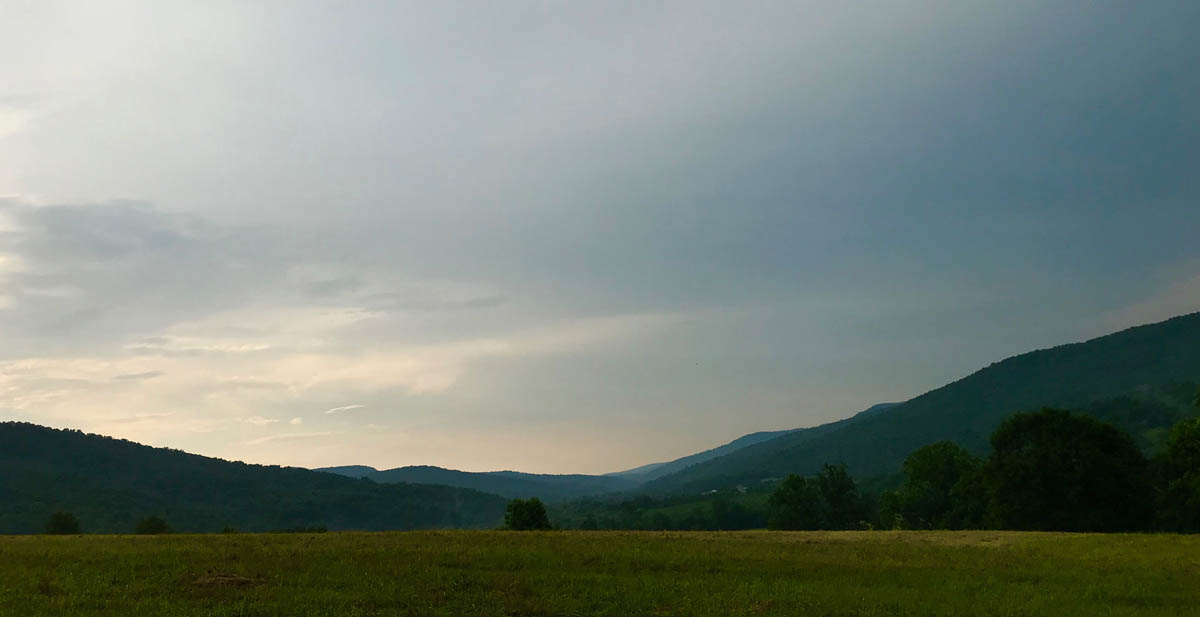 A veiw of mountains from the Graham Farm Preserve
After driving up a steep mountainside field, we parked the truck at a mountain trailhead. We grabbed our collecting gear, and with Ken, we gradually worked our way up a beautiful wooded and rocky trail. Numerous old cedars were present near the base of the trail, but they became less common as we traveled higher. The boulder strewn area was quite scenic and we came across beautiful waterfalls along the way, which would have even been prettier had there been more water present. We spent our time collecting a variety of things, but especially ants, grasshoppers, and beetles. We collected four one-gallon bags of soil and leaf litter here, which hopefully will yield some fantastic creatures. Somewhere along the way, JoVonn slipped off, and he made his way to the top of the mountain. The rest of us collected for about three hours before making our way back to the truck. Ken then departed, while Steven, Ryan, and I set up a Malaise trap along a powerline cut with the trap placed at the forest edge.  We also did some general collecting in the open powerline cut area.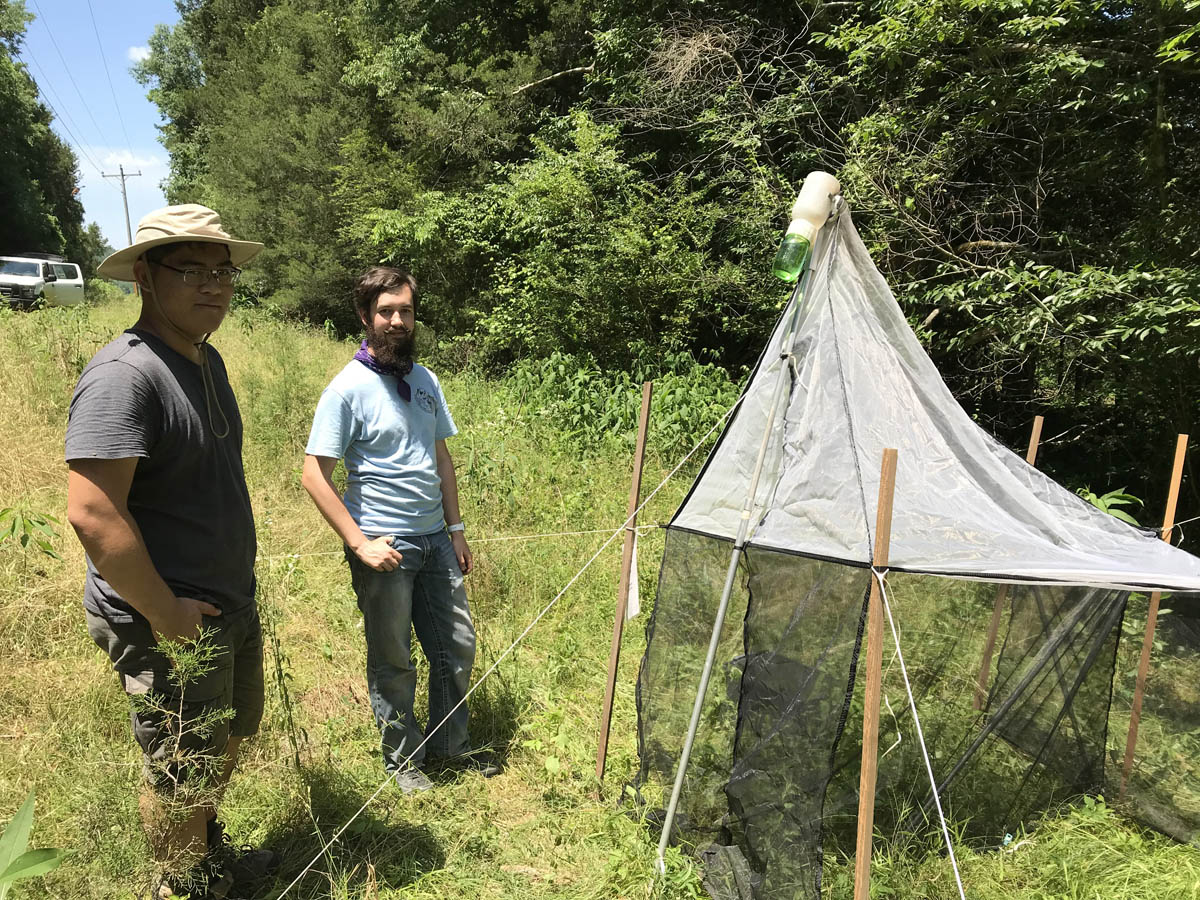 Steven Wang and Ryan Whitehouse standing by the Malaise trap

JoVonn returned from his lengthy mountainous orthopteran sojourn and we headed to the next site, a bottomland forest habitat located along the Paint Rock River. The Paint Rock River is a free-flowing tributary of the Tennessee River and is noted for its high fish and mussel diversity (over 100 species of fish and about 45 species of mussels, including 12 that are globally rare). We wandered around the banks of the river for a few minutes, but decided to not collect there.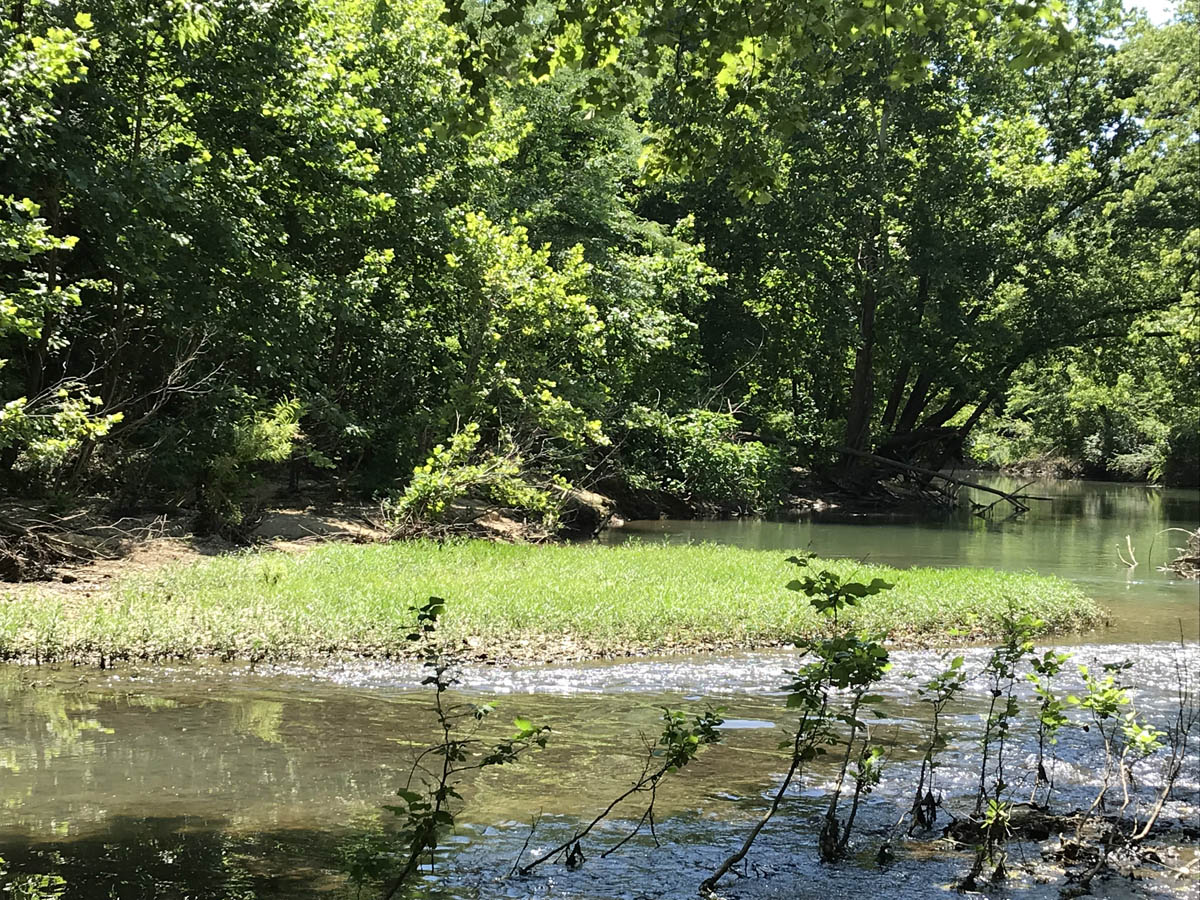 Paint Rock River
Our next stop was the Roy B. Whitaker Paint Rock River Preserve (Whitiker Tract), located on Hwy 72. This area is a combination of fields, some of which are being managed for grassland birds, early succession forest, and bottomland forest. The parking area was adjacent to a large field and bordered by a fringe of trees. While here we observed and collected several species of ants such as Camponotus decipiens, C. nearcticus, C. snellingi, Crematogaster pilosa, Solenopsis invicta (red imported fire ants), Trachymyrmex septentrionalis (fungus gardening ant), and other open area and tree dwelling species. In order to reach the forest habitat, we walked down a recently bush-hogged trail, which was bordered by early succession trees including white ash (Fraxinus americana), Pseudoacacia, and others. Steven and I beat low hanging limbs and searched in ash branches looking for ants and beetles. We were quickly rewarded by finding colonies of Colobopsis mississippiensis in the ash twigs, which is the only place this species is known to nest! As a result of beating low hanging tree limbs, vines, bushes, and other vegetation, we collected several other ant species including C. nearcticus, C. snellingi, M. minimum, Temnothorax curvispinosus, and a couple of others.
After collecting at the Whitaker site for a couple hours, we headed back to the house to plan our night collecting and to put our new samples on the Berlese funnels. It was already almost too late to set up sheets, but we made an attempt to access a mountainous site nearby that was supposedly on Nature Conservancy property; however, upon nearing the site, the actual land owner quickly showed up and told us otherwise! So, instead, we put two blacklight/sheet setups at the rear of the house we were staying in, which faced a large field with a forested mountain bordering it. The sheets pulled in lots of insects, many of which were common species. The imported fire ant myrmecophile Martineziana dutertrii, a slender, black scarab beetle, was especially abundant!!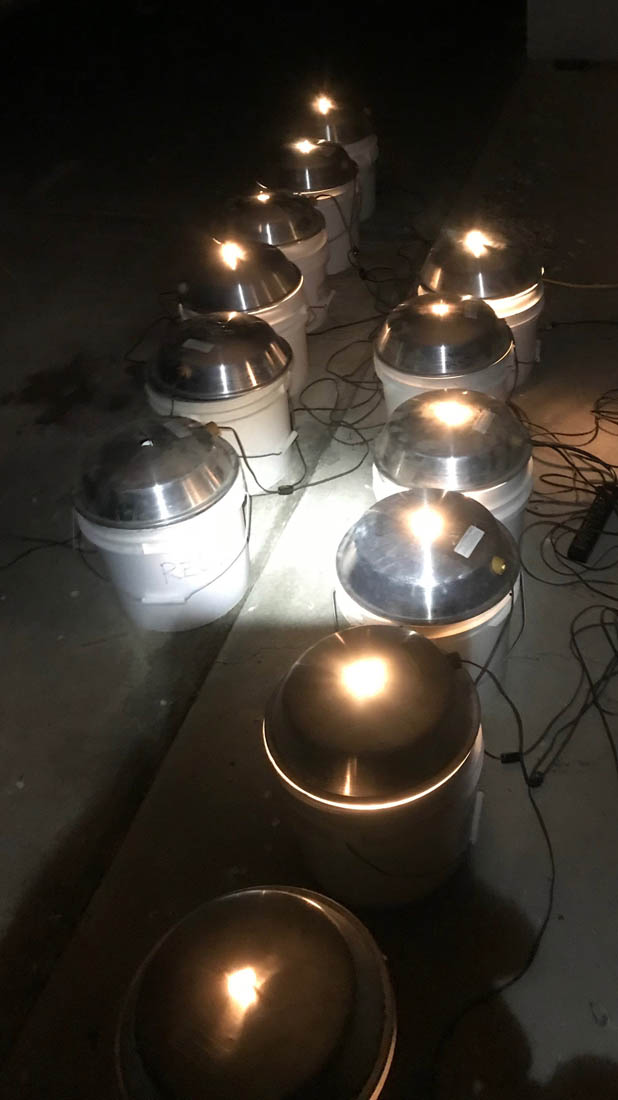 Berlese funnels
Friday, 8 June:  After grabbing some quick breakfast, JoVonn, Steven, Ryan, and I headed out to collect, again leaving Juan behind to spread moths.  Today's mission was to explore and collect at a large, recently acquired Nature Conservancy property called the Sharp Bingham Mountain Preserve, which had formerly served as a hunting club. There are a handful of private homes still on the property, and at first it appeared that the dirt roads only lead to these homes. However, we found the entrance to what looked like a dirt road of sorts that headed up the mountain, and with our photocopied aerial map, we decided to give it a go in our four-wheel drive truck, which was really almost too big for this very steep, windy, rough cut mountain passage.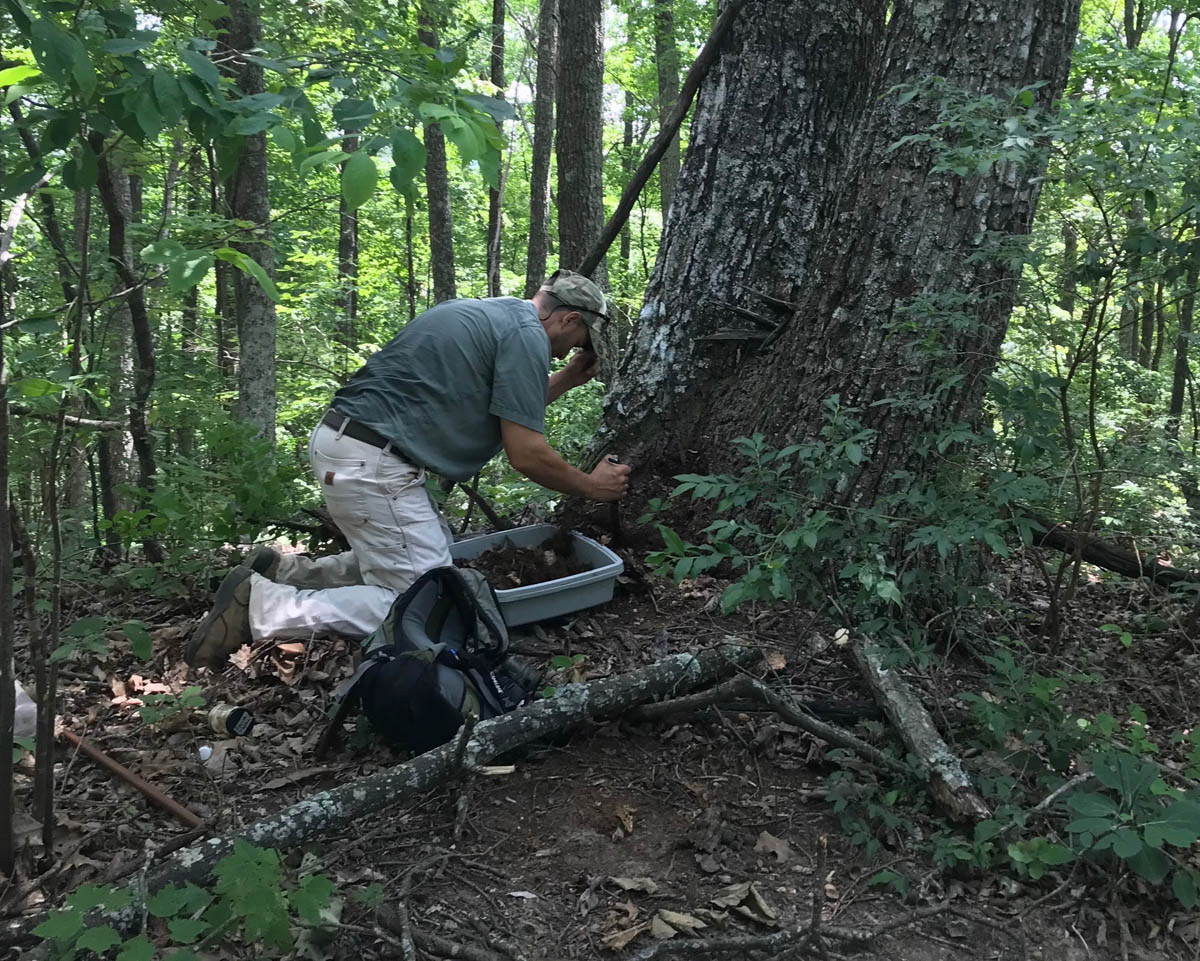 JoVonn Hill collecting leaf and soil samples for Berlese funnel extraction
Well, driving up and down that mountain was an adventure! But, along the way, we stopped at some beautiful spots to collect and take litter samples.  As we meandered up the mountain, we observed a deep rocky gorge, in which a creek flowed. Further up on the other side of the trail/road was a deep, wide ravine, which was apparently a huge sinkhole. As we traveled up in elevation the vegetation changed as well, with a diversity of trees and shrubs present and with open glades interspersed here and there. Near the top, the mountain plateaued and the forest was less diverse.
While at the preserve, we collected enough litter to fill 15 Berlese funnels! At about 1 pm, we decided some lunch would be a great idea and we checked out the local Mexican restaurant in Gurley, which was pretty good. During that time period, Richard Brown had arrived from MSU to our research house, so we stopped by to check in with him.  JoVonn then packed up and headed back to Starkville.  Steven, Ryan, and I then went back to the Sharp Bingham Mountain Preserve, where we planned to meet Doug Booher, an ant expert who was driving in from Athens, Georgia. Doug had collected here before, and came to show us around.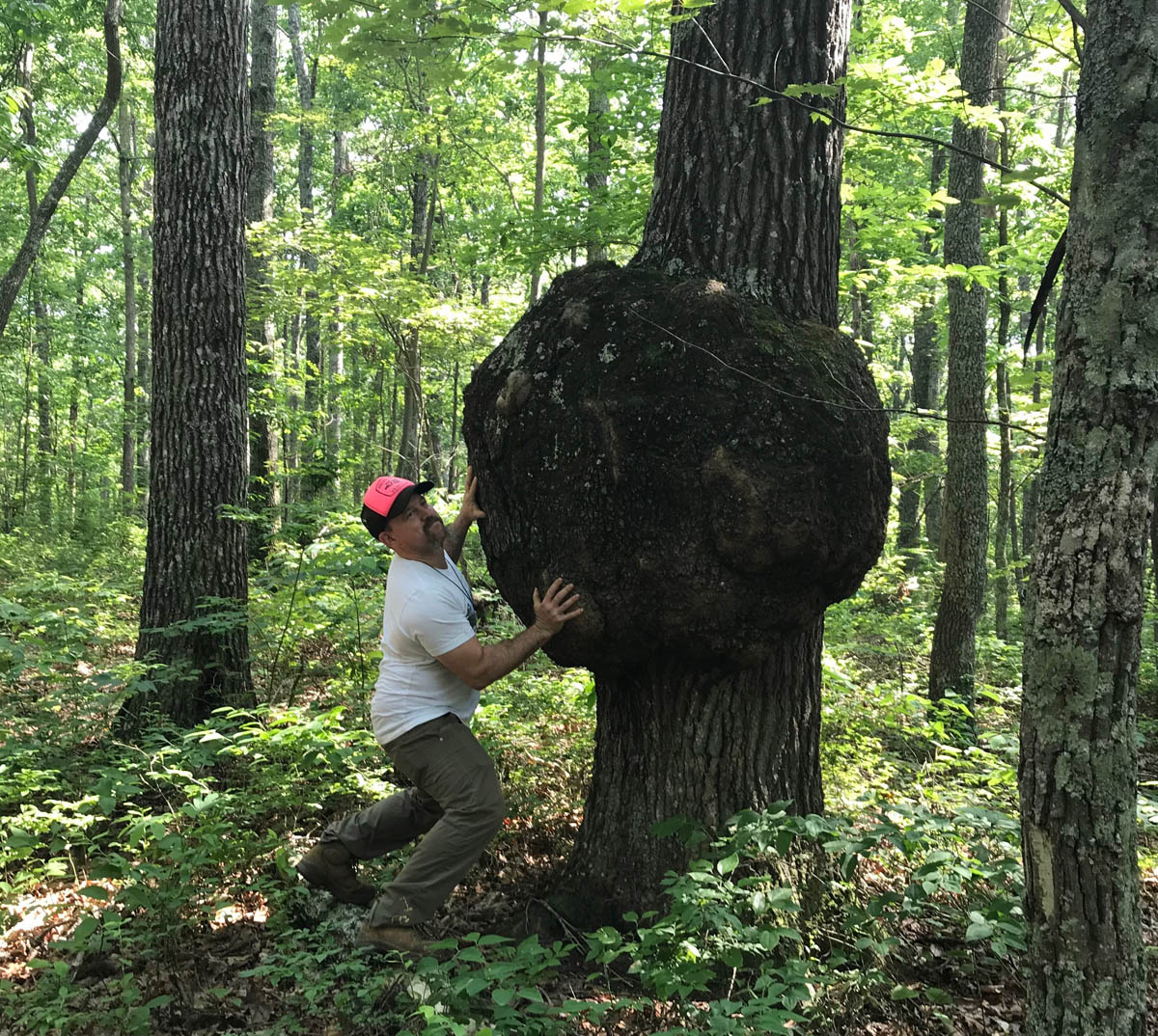 Doug Booher
That evening, following another Mexican meal, we all went over to Keel Mountain to blacklight. Richard set up one blacklight/bucket trap in a low area of the trail, and we put up 2 sheets higher up on the rocky trail. Whle there, some of the crew meandered about collecting various insects on and under bark of trees and in other micro habitats.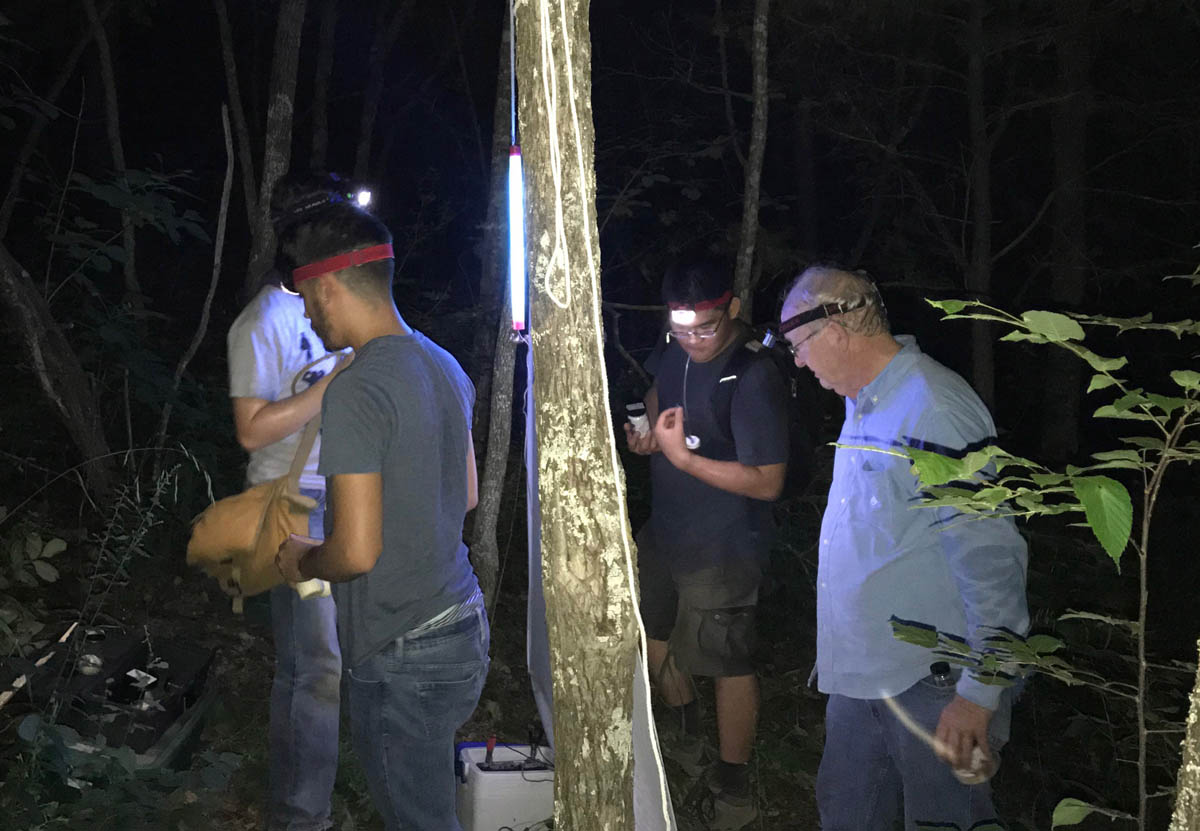 Ryan Whitehouse, Juan Santiago, Steven Wang, and Richard brown inspect the sheet for insects.

Saturday, 9 June: Juan and Richard got up early to retrieve the bucket trap, and WOW, it was full of moths!!  Ryan, Steven, and I made another trip to Bingham Preserve in the morning to look for some interesting glade sites described to us by Doug before he left. We collected in two localities while there focusing on ants and beetles especially. While there we collected several bags of soil and leaf litter. At about noon we headed back to the Research house to see if Juan and Richard were hungry. We grabbed two large and tasty pizzas from Joe's Pizza down the highway, and had a swell lunch. Juan and Richard got back to work spreading moths, Ryan and Steven headed to the Whitaker Tract to collect, and I hung out at the research house to take off old and put on new Berlese funnel samples.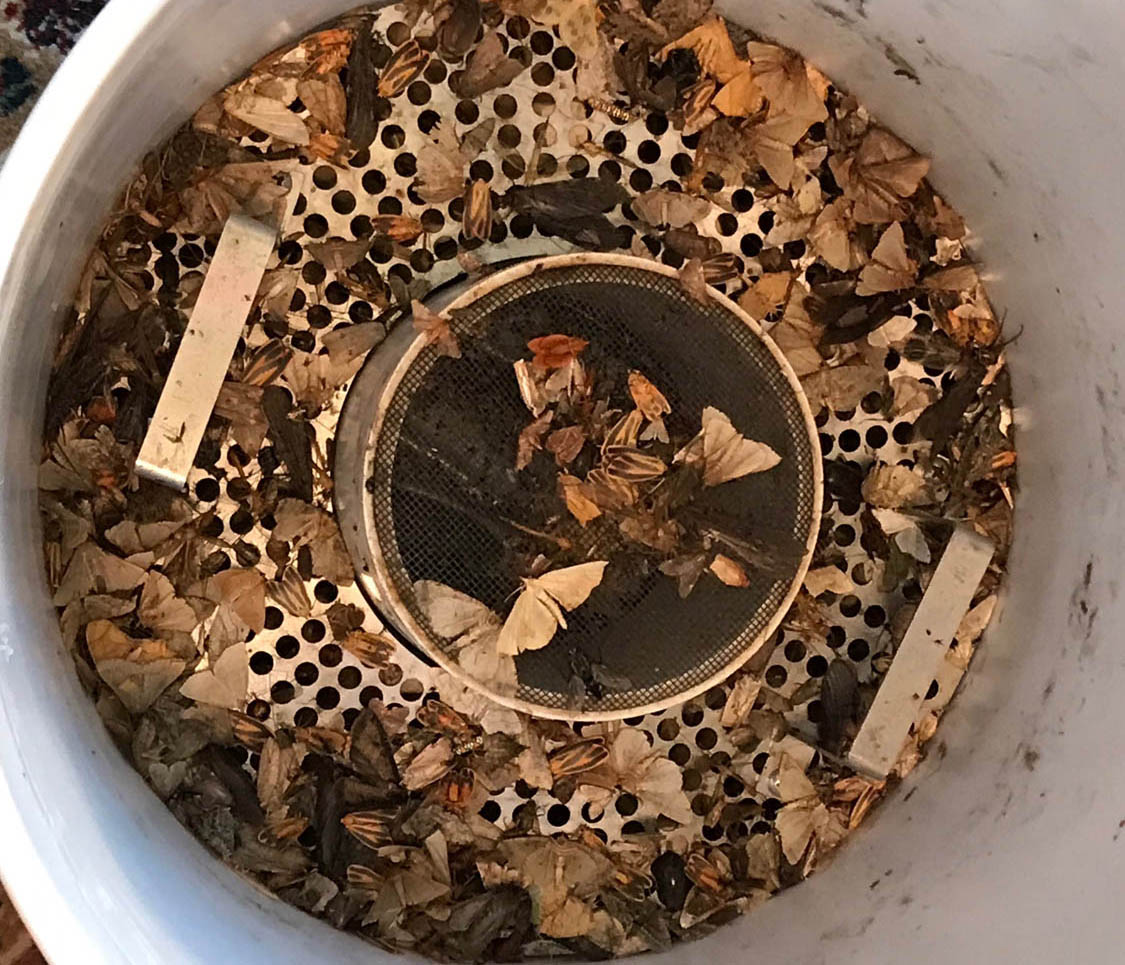 The bucket trap had lots of moths in it, this is only one layer.
Ryan and Steven returned later in the afternoon, and at 5 pm, we all headed to Hardees to eat and meet Ken and Rufina Ward, Helen, and Lynn who planned on joining us for our evening collecting at the Sharp Bingham Preserve.
We arrived at the preserve in plenty of time to set up three sheets with UV lights and to put up a bucket/blacklight trap out. Without our four-wheel drive trucks, the sites we collected at the preserve would have been inaccessible, and our visitors opted to ride up the mountain in our vehicles rather than their own, which had lower ground clearance. After putting up our sheets, we still had an hour or so of sunlight, so we milled about looking for insects.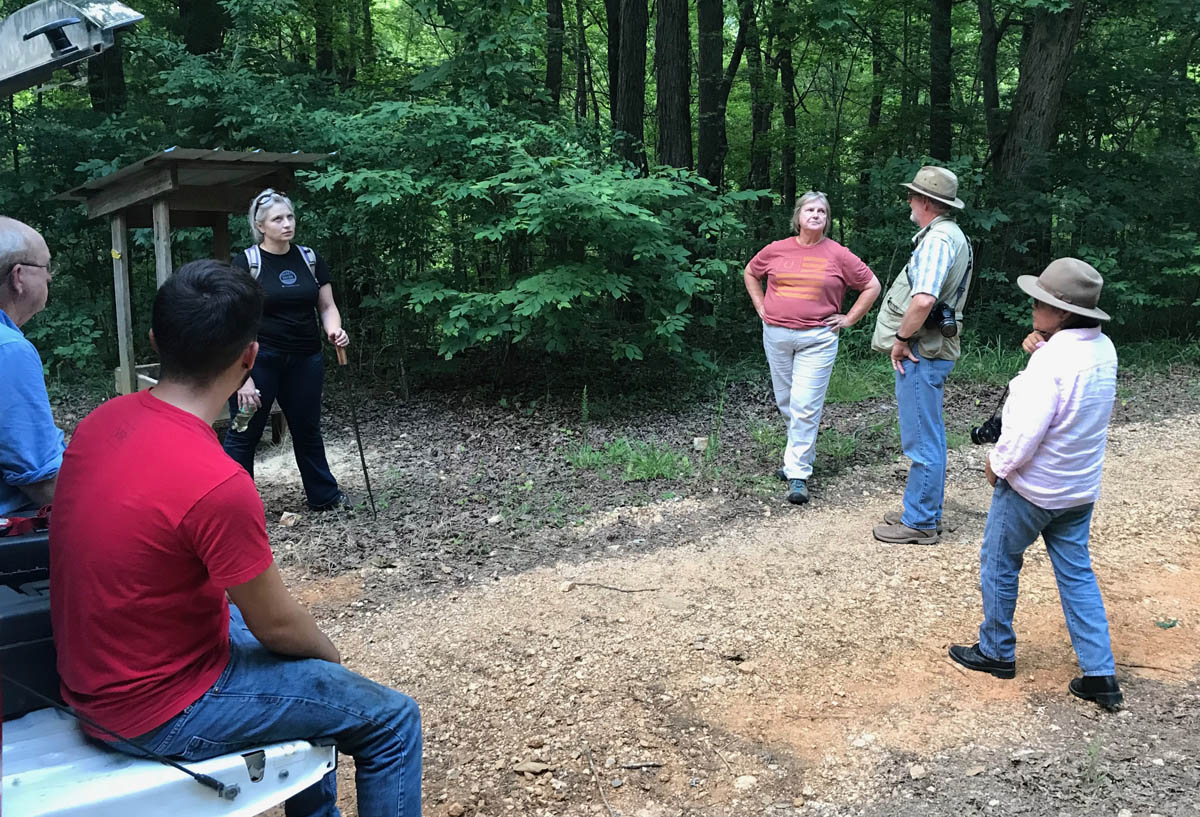 Helen Czech, left in back, Lynne Weninegar, Ken Ward, and Rufina Ward, currently or formerly at Alabama A & M visiting to observe and photograph specimens attracted to blacklight at Bingham-Sharp Preserve on Saturday night. Richard Brown and Juan Santiago (L to R) on truck bed.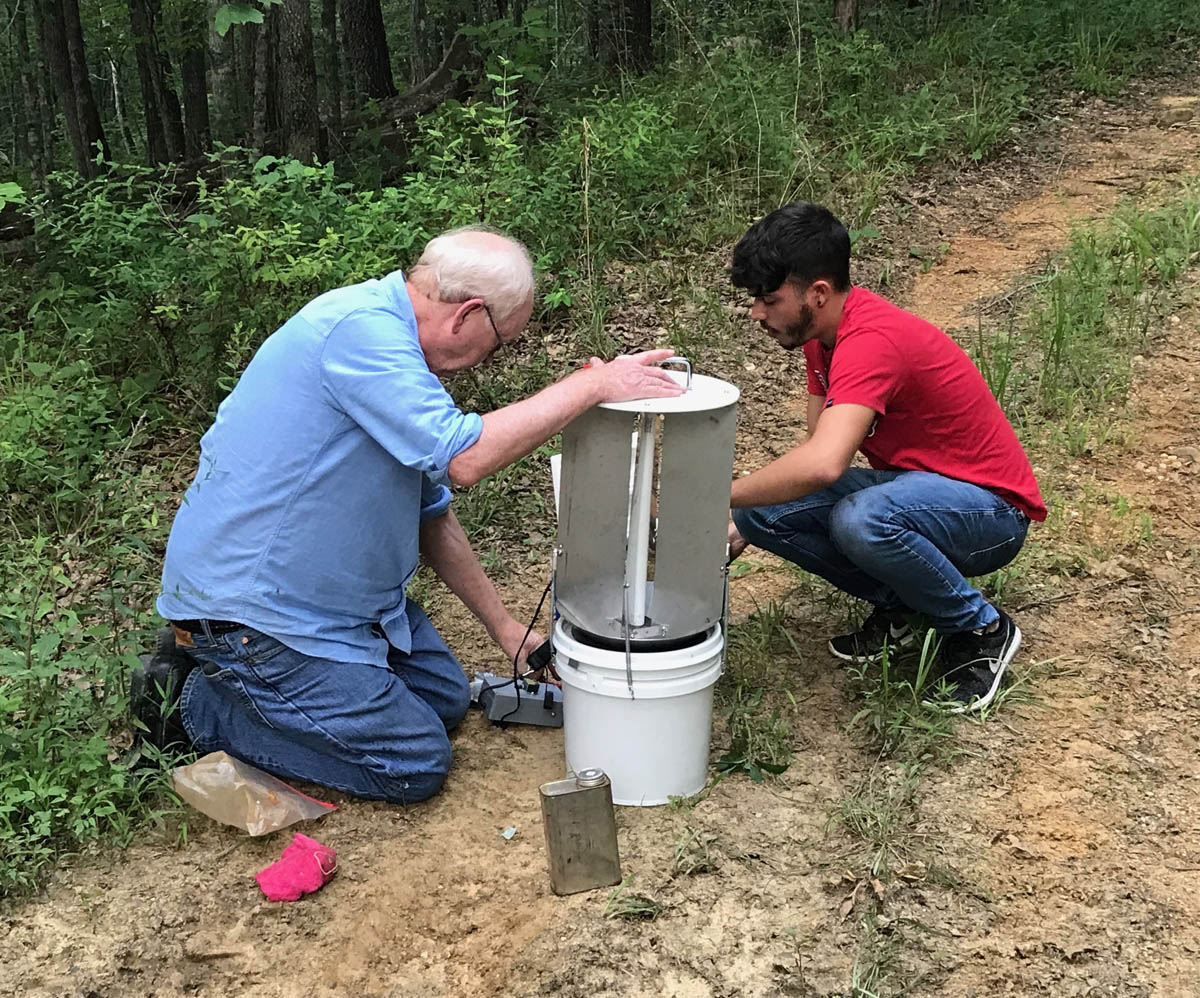 Richard Brown and Juan Santiago setting up a UV Light/Bucket trap
As it darkened, we began our night collecting routine with the first insects being tiny beetles, midges, leafhoppers, small moths, and others. Gradually, the insect activity grew as the night wore on. While we were there, we witnessed a nice flashing display of almost synchronous lightning bugs! Cool. Another highlight was when a good-sized copperhead snake slithered by us at the sheet.  After about three hours of collecting, we took down the sheets and headed back to the house.
Sunday, 10 June: Richard and Juan once again retrieved the bucket trap; unfortunately, the battery had died during the night and it did not yield much. After breakfast, Juan, Ryan, and I went back to the Keel Mountain Preserve to collect and to hike up to the top to see the waterfall! The waterfall was beautiful, and well worth the walk. We all did some general collecting and each got a bag of litter for Berlese extraction. At about 1 pm, we took down the Lindgren funnel trap, and headed back to the house to think about lunch plans. After lunch, we took the last few Berlese funnels off.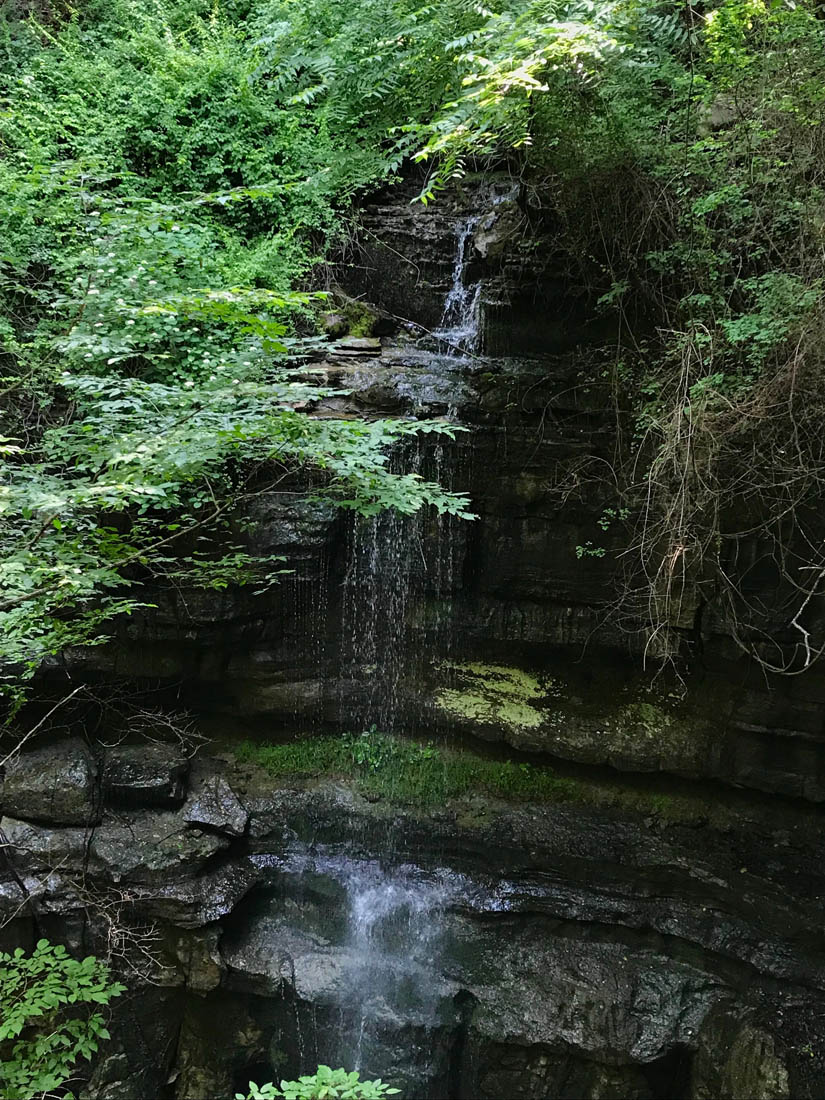 Waterfall on Keel Mountain
Following lunch, Ryan, Steven and I went to the Graham Farm area to retrieve the Malaise trap. The pint jar was about half full of insects. We had planned on blacklighting there that evening, but the afternoon had turned rainy. Instead, folks later collected at the sheet at the research house.
Monday, 11 June: All things eventually come to an end, and so it was with our trip! We packed up the trucks and hit the road, headed back to Mississippi State to start pinning, labeling and sorting our catch.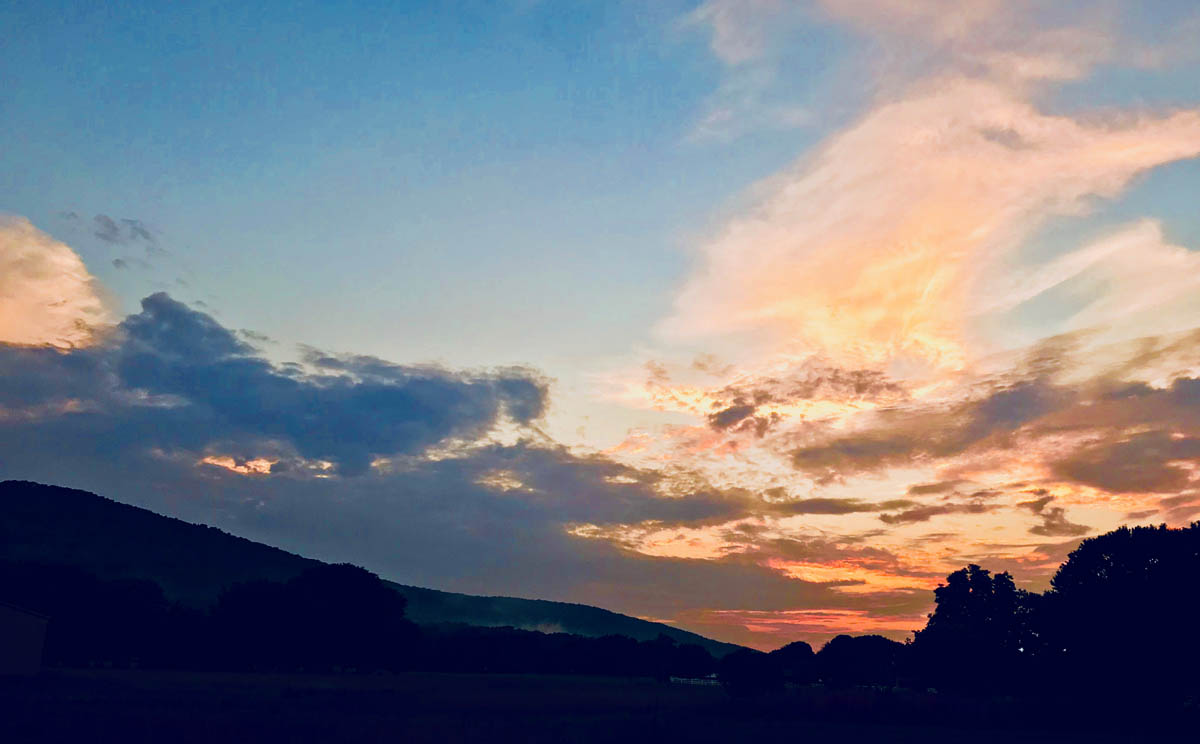 ANT SPECIES COLLECTED IN THE PAINT ROCK REGION
COLLECTING LOCALITIES
Joe MacGown, Ryan Whitehouse, JoVonn Hill (6-8 June), Juan Santiago, Steven Wang, Richard brown (8-11 June), Doug Booher (8-9 June)
Preserve House on Hwy 72 near Gurley and Paint Rock, US Highway 72
(General collecting, blacklight and MV lamp)
ALA., Madison Co.
2.3 mi SE Gurley
34°40'57"N 86°20'10"W
UV light/sheet
in pastureland
W.H. Cross Expedition
mercury vapor/sheet
in pastureland
W.H. Cross Expedition
general collecting
in pastureland
W.H. Cross Expedition
Keel Mountain Sites
Keel Mountain Preserve Site 1
(J. MacGown, R. Whitehouse, J. Hill, J. Santiago, S. Wang, 6 June 2018, gen. collecting, Lindgren funnel trap, 1 sheet/BL), (J. MacGown, R. Whitehouse, S. Wang, 10 June 2018, gen. collecting)
ALA., Madison Co.
Keel Mountain Preserve
34°39'18"N 86°24'46"W
206m
cedar-maple forest
by rocky creek
W. H. Cross Expedition
Keel mountain preserve Site 2
(J. MacGown, R. Whitehouse, J. Hill, J. Santiago, S. Wang, 6 June 2018, gen. collecting, 1 sheet/BL)
(J. MacGown, R. Whitehouse, S. Wang, 10 June 2018, gen. collecting)
ALA., Madison Co.
Keel Mountain Preserve
34°39'22"N 86°24'45"W
216m
hardwood forest on
rocky mountain slope
W. H. Cross Expedition
Keel mountain preserve Site 3
(J. MacGown, R. Whitehouse, J. Hill, J. Santiago, S. Wang, 6 June 2018, gen. collecting, 1 sheet/BL),
(J. MacGown, R. Whitehouse, S. Wang, 10 June 2018, gen. collecting)
(J.MacGown, R. Whitehouse, R.Brown, J. Santaigo, S. Wang, D. Booher, 8 June 2018, 2 sheets/BL)
ALA., Madison Co.
Keel Mountain Preserve
34°39'24"N 86°24'44"W
230m
hardwood forest
rocky mountain slope
W.H. Cross Expedition
Keel mountain site 4, 10 June
(J. MacGown, 11 June 2018, Litter)
ALA., Madison Co.
Keel Mountain Preserve
34°39'44"N 86°25'00"W
312m
hardwood forest
rocky mountain slope
W.H. Cross Expedition
Keel Mountain Preserve ,Site 5, Water Fall
(R. Whitehouse, S. Wang, 10 June 2018, litter, gen. collecting)
ALA., Madison Co.
Keel Mountain Preserve
34˚39'46"N 86˚24'55"W
342m
hardwood forest
near waterfall
W.H. Cross Expedition
Keel Mountain Preserve, Site 6, Mountain Top
(R. Whitehouse, S. Wang, 10 June 2018, litter, gen. collecting)
ALA., Madison Co.
Keel Mountain Preserve
34°39'40"N 86°24'39"W
376m
hardwood forest
on mountain
W.H. Cross Expedition
Keel Mountain – (R.Brown, Bucket, 8 June and Juan's sheets, 6 June)
ALA., Madison Co.
Keel Mountain Preserve
34°39'20"N 86°24'45"W
light trap in cedar
hardwood forest
W.H. Cross Expedition
Graham Farm & Nature Center sites
Graham Farm site 1, trail head, cedar forest
(J. MacGown, R. Whitehouse, J. Hill, J. Santiago, S. Wang, 7 June 2018, gen. collecting)
ALA., Jackson Co.
Graham Farm & N.C.
34°51'58"N 86°12'48"W
267m
cedar-hardwood
forest, mountain slope
W.H. Cross Expedition
Graham farm site 2, hardwood forest
(J. MacGown, R. Whitehouse, J. Hill, S. Wang, 7 June 2018, gen. collecting, litter samples)
ALA., Jackson Co.
Graham Farm & N.C.
34°52'02"N 86°12'52"W
273m
cedar-hardwood
forest, mountain slope
W.H. Cross Expedition
Graham Farm Entrance Site 3
(R. Whitehouse, 7 June 2018, gen. collecting)
ALA., Jackson Co.
Graham Farm & N.C.
34°52'00"N 86°12'35"W
216m
field near mountain
W.H. Cross Expedition
Graham Farm Site 4
(R. Whitehouse, 7 June 2018, Litter Site)
ALA., Jackson Co.
Graham Farm & N.C.
34°52'11"N 86°13'05"W
290m
hardwood forest
mountain slope
W.H. Cross Expedition
Graham Farm Power Line Cut, Site 5
(J. MacGown, R. Whitehouse, J. Hill, S. Wang, 7 June 2018, gen. collecting, 1 Malaise set up on 7 June and taken down on 10 June 2018)
ALA., Jackson Co.
Graham Farm & N.C.
34°51'59"N 86°12'47"W
259m
powerline cut through
hardwood forest on
mountain
W.H. Cross Expedition
Whitaker Tract Sites (Roy B. Whitaker Paint Rock Preserve)
Whitaker Tract, site 1, trail along field near beginning
(J. MacGown, R. Whitehouse, J. Hill, S. Wang, 7 June 2018, gen. collecting)
ALA.,Jackson Co.
R.B. Whitaker Preserve
34°40'29"N 86°19'35"W
field near
bottomland forest
W.H. Cross Expedition
(Trachymyrmex, Col. mississippiensis, Cam. snellingi, C. decipiens, C. nearcticus, M. minimum, T. curvispinosus)
Roy B. Whitaker Paint Rock River Preserve (Whitaker Tract), parking lot, Site 2
ALA., Jackson Co.
R.B. Whitaker Preserve
34°40'30"N 86°19'42"W
gravel parking by field/
bottomland forest
W.H. Cross Expedition
Roy B. Whitaker Paint Rock River Preserve (Whitaker Tract), by stream, Site 3
(J. MacGown, R. Whitehouse, J. Hill, S. Wang, 7 June 2018, gen. collecting)
(R. Whitehouse, S. Wang, 9 June 2018, general collecting)
ALA., Jackson Co.
R.B. Whitaker Preserve
34°40'25"N 86°19'22"W
bottomland forest
near creek
W.H. Cross Expedition
Sharp Bingham sites
Sharp Bingham site 1
(J. MacGown, R. Whitehouse, J. Hill, S. Wang, 8 June 2018, gen. collecting)
ALA., Jackson Co.
Sharp Bingham Mt. Pres.
34°45'57"N 86°18'24"W
260m
hardwood forest,
W.H. Cross Expedition
Sharp Bingham site 2
(J. MacGown, R. Whitehouse, J. Hill, S. Wang, 8 June 2018, gen. collecting)
(R.Whitehouse, J. MacGown, S. Wang, 9 June, day collecting)
(R.Whitehouse, J. MacGown, S. Wang, R. Brown, J. Santiago, 9 June-3 sheets and one bucket trap-R. Brown)
Sheet location
ALA., Jackson Co.
Sharp Bingham Mt. Pres.
34°46'30"N 86°18'21"W
275m
hardwood forest
W.H. Cross Expedition
bucket location 9 June, R.Brown
ALA., Jackson Co.
Sharp Bingham Mt. Pres.
34°46'33"N 86°18'17"W
300 m
uv/bucket trap in
hardwood forest,
W.H. Cross Expedition
Sharp Bingham site 3
(J. MacGown, R. Whitehouse, J. Hill, S. Wang, 8 June 2018, gen. collecting, litter)
ALA., Jackson Co.
Sharp Bingham Mt. Pres.
34°47'01"N 86°18'13"W
480m
hardwood forest,
W.H. Cross Expedition
Sharp Bingham Site 4
(J. MacGown, R. Whitehouse, S. Wang, Doug Booher, 8 June 2018, gen. collecting, litter)
ALA., Jackson Co.
Sharp Bingham Mt. Pres.
34°47'15"N 86°19'51"W
512m
hardwood forest,
W.H. Cross Expedition
Sharp Bingham Site 5
(J. MacGown, R. Whitehouse, S. Wang, Doug Booher, 8 June 2018, gen. collecting, litter)
ALA., Jackson Co.
Sharp Bingham Mt. Pres.
34°47'26"N 86°19'14"W
490m
hardwood forest,
W.H. Cross Expedition
Sharp Bingham site 6
(J. MacGown, R. Whitehouse, S. Wang, 9 June 2018, gen. collecting, litter)
ALA., Jackson Co.
Sharp Bingham Mt. Pres.
34°46'17"N 86°18'19"W
260m
hardwood forest,
W.H. Cross Expedition
Sharp Bingham Site 7 (near Site 2, stream bed in sinkhole)
(JR. Whitehouse, S. Wang, 9 June 2018, gen. collecting)
ALA., Jackson Co.
Sharp Bingham Mt. Pres.
34°46'17"N 86°18'19"W.
260m
hardwood forest,
W.H. Cross
Expedition