The 2013 William H. Cross Expedition
Cheraw State Park and Carolina Sandhills NWR in Chesterfield County, South Carolina, 8-13 July 2013
by Joe MacGown, uploaded on 8 August 2013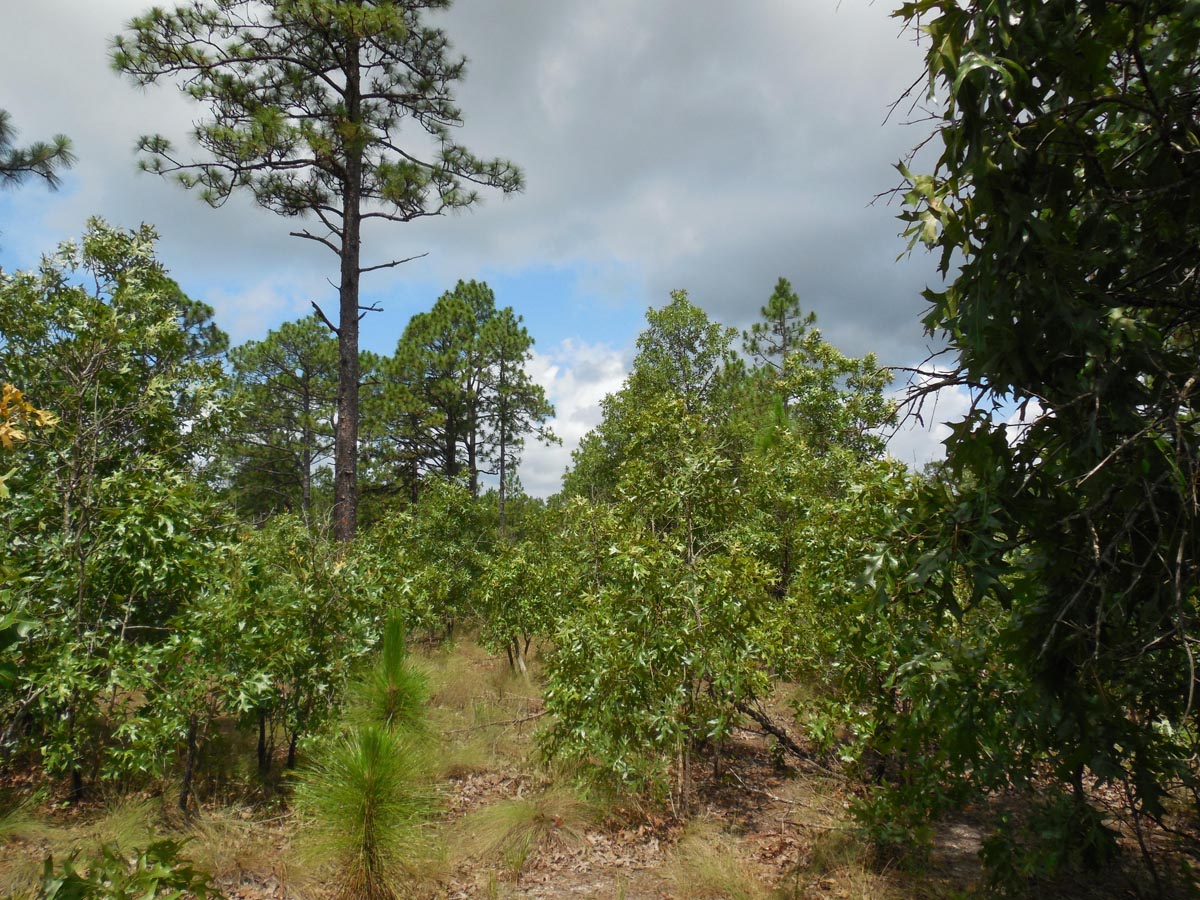 The 2013 William H. Cross Expedition was based in Cheraw State Park and Carolina Sandhills National Wildlife Refuge in eastern Chesterfield County, South Carolina. Chesterfield County borders North Carolina and the State Park is about 120 miles northeast of Myrtle Beach. The Sand Hills State Forest adjoins the park, but we confined our collecting to the state park and refuge due to permit issues. Regardless, the habitat throughout the park, state forest, and refuge was similar and was dominated by longleaf pine forests with various pockets of scrubby turkey oak sandhill habitat. Additionally, numerous bodies of water were scattered throughout with lakes, creeks, and swampy areas. We had more than enough area to collect in with 7300+ acres in the park and about 46,000 acres in the national wildlife refuge.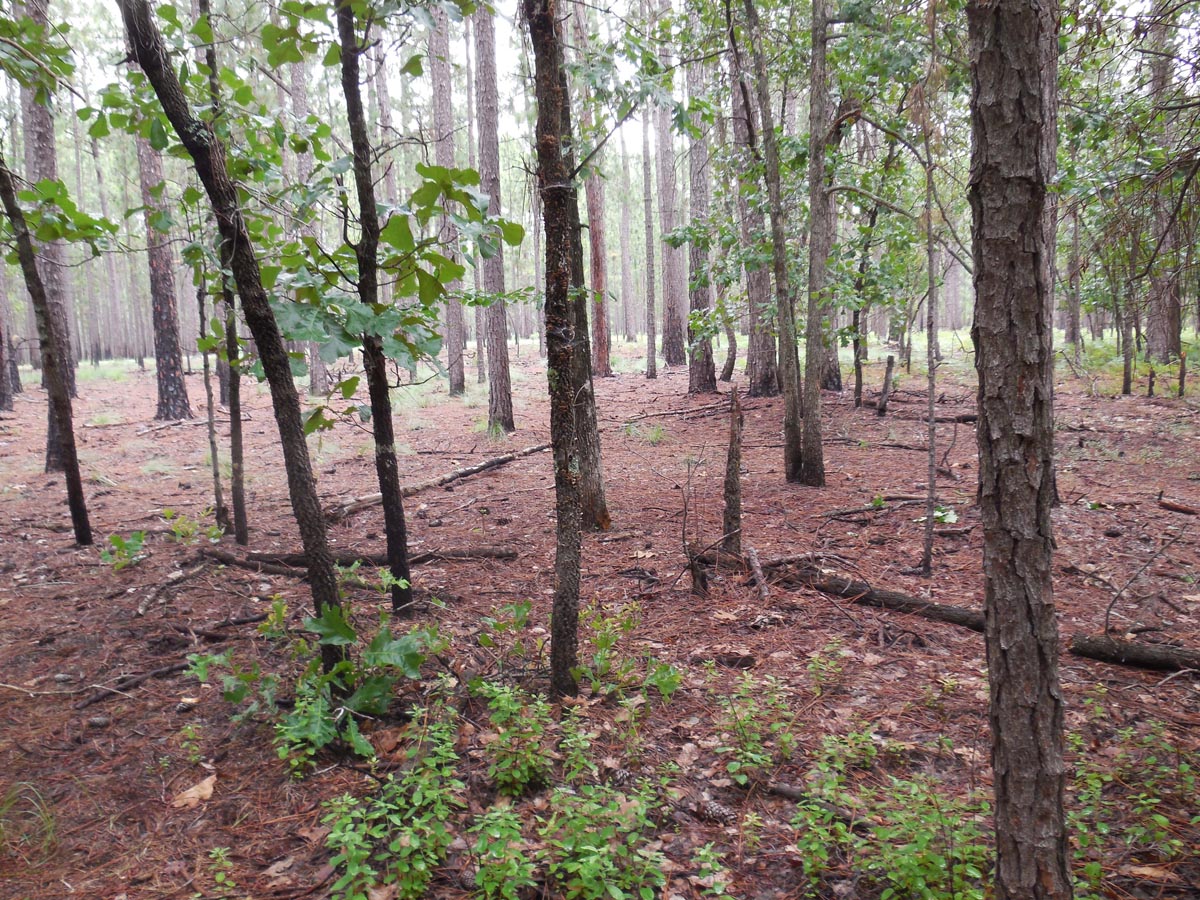 Longleaf Pine Forest in Cheraw State Park
Participants for this year's trip included Richard Brown, Terry Schiefer, JoVonn Hill, Jennifer Seltzer, Christi Jaeger, and Joe MacGown. Additionally, Tommy Allen and his wife Sue camped in the park, where they collected. After a long drive from Starkville, which took about 10 hours, we were ready to stretch our legs! With two cabins rented in the park, we had plenty of room for the seven of us, the moth people (Richard and Christi) took one cabin because of their strange night time habits of collecting and then spreading moths into the wee hours of the morning. The rest of us set up next door in Cabin 7, a quaint little cottage with one bedroom, but plenty of beds. JoVonn and his wife Jennifer were a few hours behind us, and would be joining us later in the evening.
First things first, unloading! The day was fast becoming night, so we were in a rush to get unloaded so we could do some night collecting. You never know what the weather is going to do, so you can't waste good weather. As soon as we were unloaded, we got to work. Richard put a sheet up behind Cabin 7 and suspended a UV light and a mercury vapor lamp from it. We left this sheet up all week. Terry got to work putting up a Lindgren funnel trap in the oak/pine forest behind the cabin. I set some portable Berlese funnels up inside the front porch. I then proceeded to grab some litter from bases of oaks in the woods behind the cabin, which I put in the funnels. It was immediately evident that this park was overrun with the invasive Asian needle ant Pachycondyla chinensis! Although they did not carpet the surface of the ground, it was impossible to get a litter sample without finding them. I found colonies in leaf litter, under logs, in logs, at bases of trees, and under debris. Needle ant foragers were numerous as they crawled along the open ground and in the wooded areas.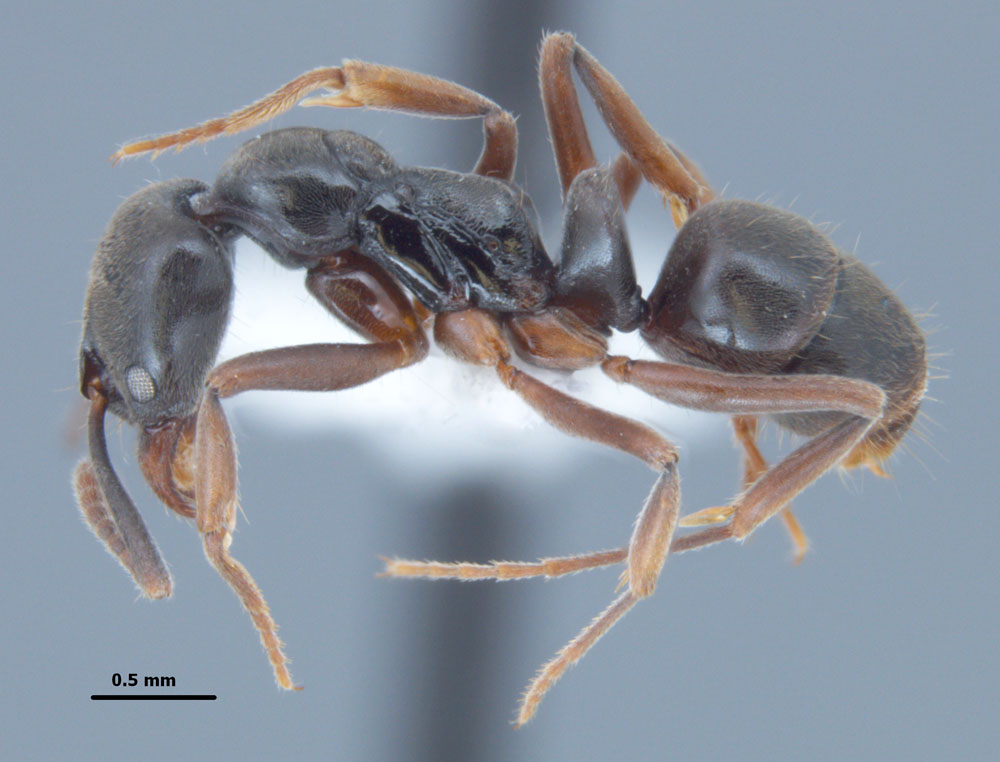 Pachycondyla chinensis, the Asian needle ant
Soon thereafter, we made a quick jaunt into town for some health food so we could perform our upcoming blacklighting endeavors in a most admirable manner. With that in mind, we ate at Hardees.
After our burger-licious dinner, we headed to a nature trail in the state park that wound its way through a longleaf pine forest. We put out three sheets with UV lights and one blacklight/bucket trap to be retrieved the following morning.
As darkness settled in, we knew the collecting would be slow, as it was incredibly humid! The pine forest was not overly interesting because of recent and regular burns at the site. Apparently, the primary goal here is growing long leaf pines and establishing redcockaded woodpecker colonies. Some pockets of other plants were present, such as turkey oaks, but for the most part it was a mono-culture of pines, with some wiregrass growing in the understory. This lack of diversity was reflected at the sheets, with mostly common species flying in. Not surprisingly, some of the more interesting ants were nesting along the road near the beginning of the trail in an area that appeared to be unburned. Ant -wise, this site was quite different from other pine savanna/sandhill habitats that we have collected in due to the abundance of Asian needle ants. I have never seen this before. Colonies were numerous in and under logs, at tree bases, and in litter. Both males and females were abundant at the sheets as well. A female stung me at some point in the night, and the burning sensation resulting from the sting itched for at least 45 minutes. Soon after receiving a sting, I was stung by several more females. I actually felt light headed and had to sit down for a few minutes! Lots of other alate ants were flying in as well, and I collected good series of Dorymyrmex bureni males and females (some still in copula), Camponotus obliquus females, and other species. I am always glad to find alates!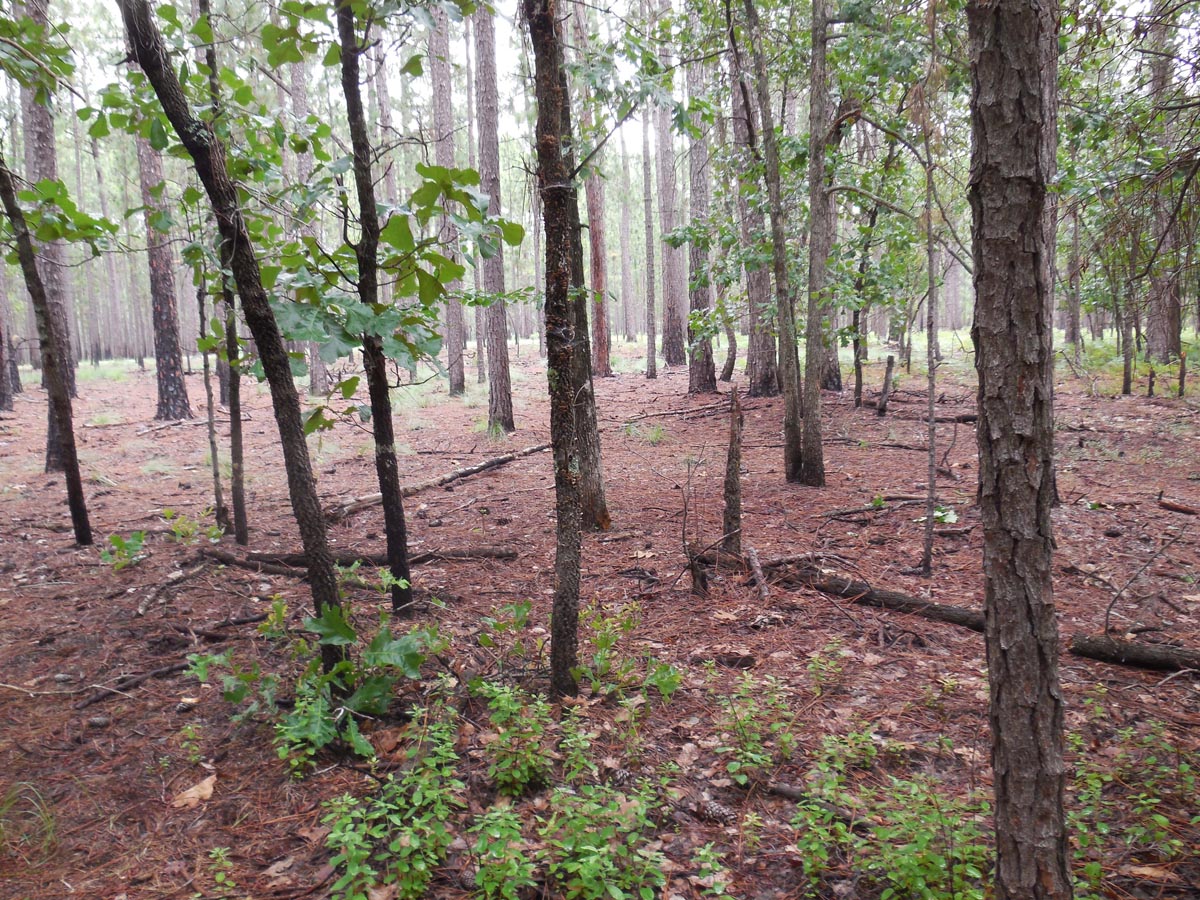 Longleaf pine forest in Cheraw State Park
We did not stay out too long, as the collecting slowed down considerably by 11 PM or so. Plus, we were relatively worn out! By the time we got back to the cabin, JoVonn and Jennifer had a arrived. Folks half heartedly checked out the sheet behind the cabin. Went to bed eventually.

9 July 2013. Richard was up early to pick up the bucket trap. By the time we were awake, he was already well on the way to sorting out his catch! After breakfast, folks got to work. I put my catch from the previous night into petri dishes. Lots of nice alate ants, numerous beetles, small wasps, and other assorted goodies! Terry put a Malaise trap up along a powerline cut behind the cabin area. While helping him, JoVonn found workers of Neivamyrmex carolinensis, a species of army ant, crawling about in the vicinity of the Malaise trap! Nice.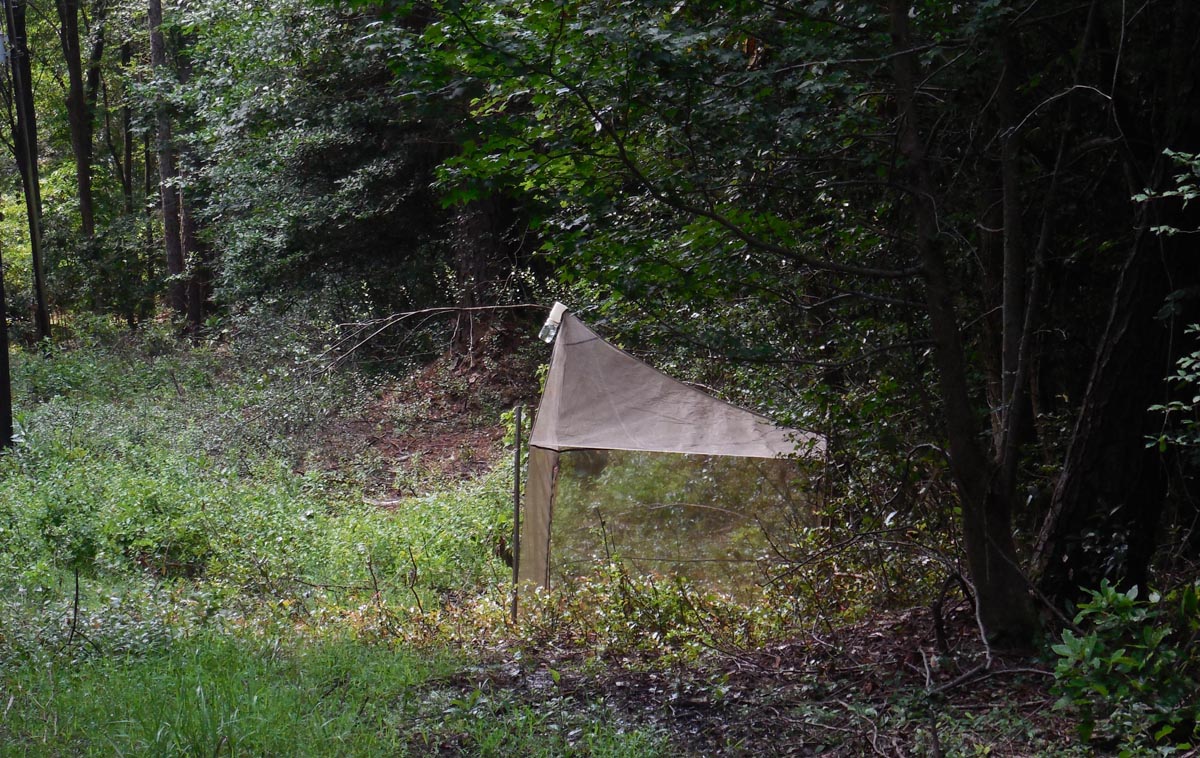 Malaise trap in the state park
After putting my insects away, I did some collecting in the woods near the cabin. I was mostly searching for ants, of course, and picked up 12-15 species in the litter. As the day before, the needle ants were quite numerous! Meanwhile, JoVonn, Jennifer, and Terry headed to the Nature Trail for some day collecting. I joined them later, as they were just finishing up. While there, I collected Pogonomyrmex badius (Florida harvester ant), Dorymyrmex bureni (pyramid ant), Aphaenogaster treatae, Pachycondyla chinensis, Solenopsis invicta, and several other ant species.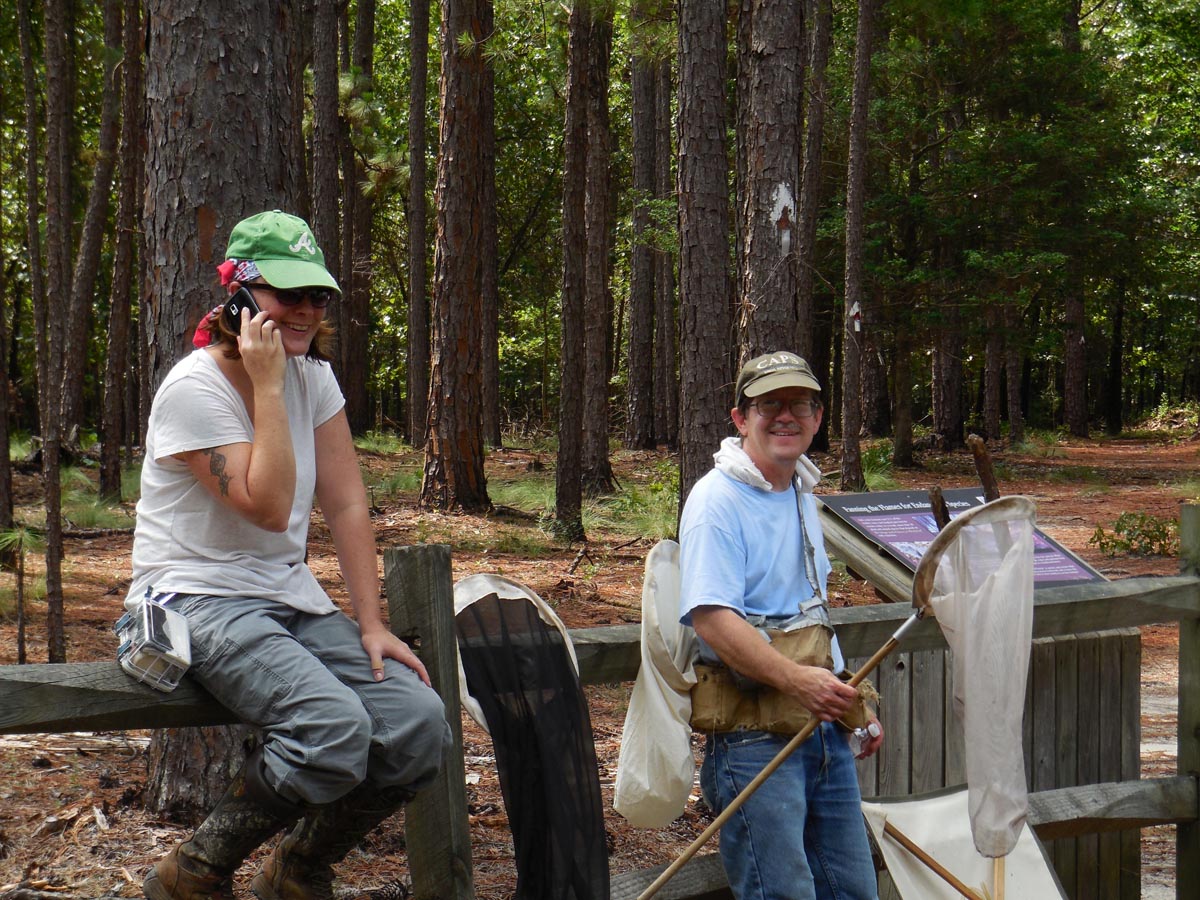 Jennifer Seltzer and Terry Schiefer
Before we left the area, we met the biologist for South Carolina State Parks, Valerie. She was out and about doing some sort of study. JoVonn had still not arrived, and we were beginning to wonder if he was lost in the longleaf pine forest! Then, miraculously, he appeared! Valerie gave us directions to a more natural site, which she called Hudsonia Flats. This site was named for the pine barren heather Hudsonia ericoides that grows there. For the most part, this species has a more northern distribution from Newfoundland to Delaware, and is considered disjunct in South Carolina. Very cool. So, yep, we headed that way.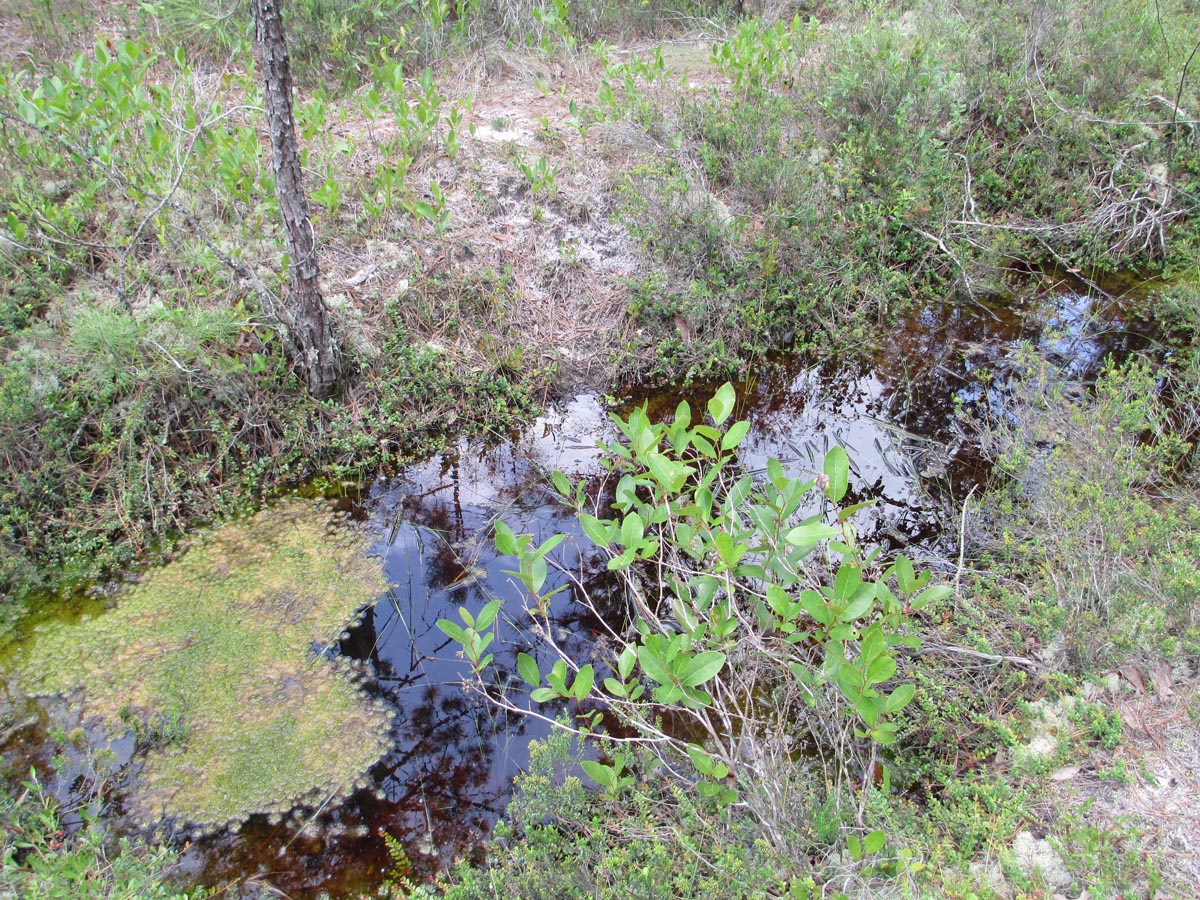 One of several small pools at Hudsonia Flats
Indeed, Hudsonia Flats proved to be a much cooler spot with and open dune-like appearance, numerous ancient stunted turkey oaks, and random carpets of lichens. Temporary pools were scattered throughout the area as well. Terry found some titi in bloom, and collected various insects at the flowers. Jennifer placed one of her carrion traps at this site. These traps are baited with super stinky dead stuff and designed to attract various carrion feeding flies. They work very well and they stink very much! We collected here for a couple of hours before heading back for lunch.
That afternoon, I collected in the state park until a nice rain washed me out! But, I actually had quite a bit of time to collect before the rain came in. One of the cooler things I collected was the big headed ant Pheidole crassicornisin the sandy soil right next to our cabin. I rarely collect this species, so was quite happy to find it. Terry finished putting out his Lindgren funnels and also spent some time collecting in the park. JoVonn and Jennifer made their way to the Carolina Sandhills NWR that afternoon for some collecting.

Our evening collecting was scheduled for the Hudsonia Flats site. The late afternoon showers subsided, we were fed, and the night was full of hope. We put up two sheets and one boxtrap for the evening. Collecting was similar to the night before with lots of alate ants, quite a few small beetles early, a somewhat steady supply of moths, a random large beetle here and there, various other insects, and several spiders all finding their way to the lights. Of course, the spiders were coming in for supper!
Although we had an assortment of arthropods coming in to the sheet, activity settled down fairly soon with an early dew point and high humidity. Some rain was headed our way as well. We packed up the show sometime around 11 PM and head back to the cabins to examine the sheets there. Upon arriving at the cabin, the routine each night was collect at the sheet for a while, then take care of specimens.

10 July 2013. Early morning, yep, Richard had already picked up the bucket trap and was well on the way to sorting through it! That guy does not sleep. Amazing. After sorting through the trap, he and Christi spent the better part of the day pinning and spreading moths. Richard mentioned that the bucket trap got some rain in it, but he was still able to find some good material.

The rest of us able bodied bug collecting wannabes dragged ourselves up, ate some breakfast, then headed to the Carolina Sandhills National Wildlife Refuge. The day started out cloudy, hot, and humid and pretty much stayed that way. Based on JoVonn and Jennifer's scouting from the day before we collected at two sites that morning. Site 1 was a nice longleaf pine forest with scattered turkey oaks. We all dispersed with Terry beating vegetation, JoVonn snagging invisible grasshoppers and slightly visible ants, Jennifer mostly looking for flies, and me mostly looking for ants. While moseying about, I found colonies of Formica dolosa nesting in rotting wood on the sand and colonies of Solenopsis pergandei in the sand, both of which had winged reproductives in the colonies. Colonies of the minute yellow Brachymyrmex depilis, also with reproductives, were numerous at the site. Several other common ants species were present as well such as Camponotus socius, Dorymyrmex smithi, and Forelius pruinosus. The Asian needle ant was common here.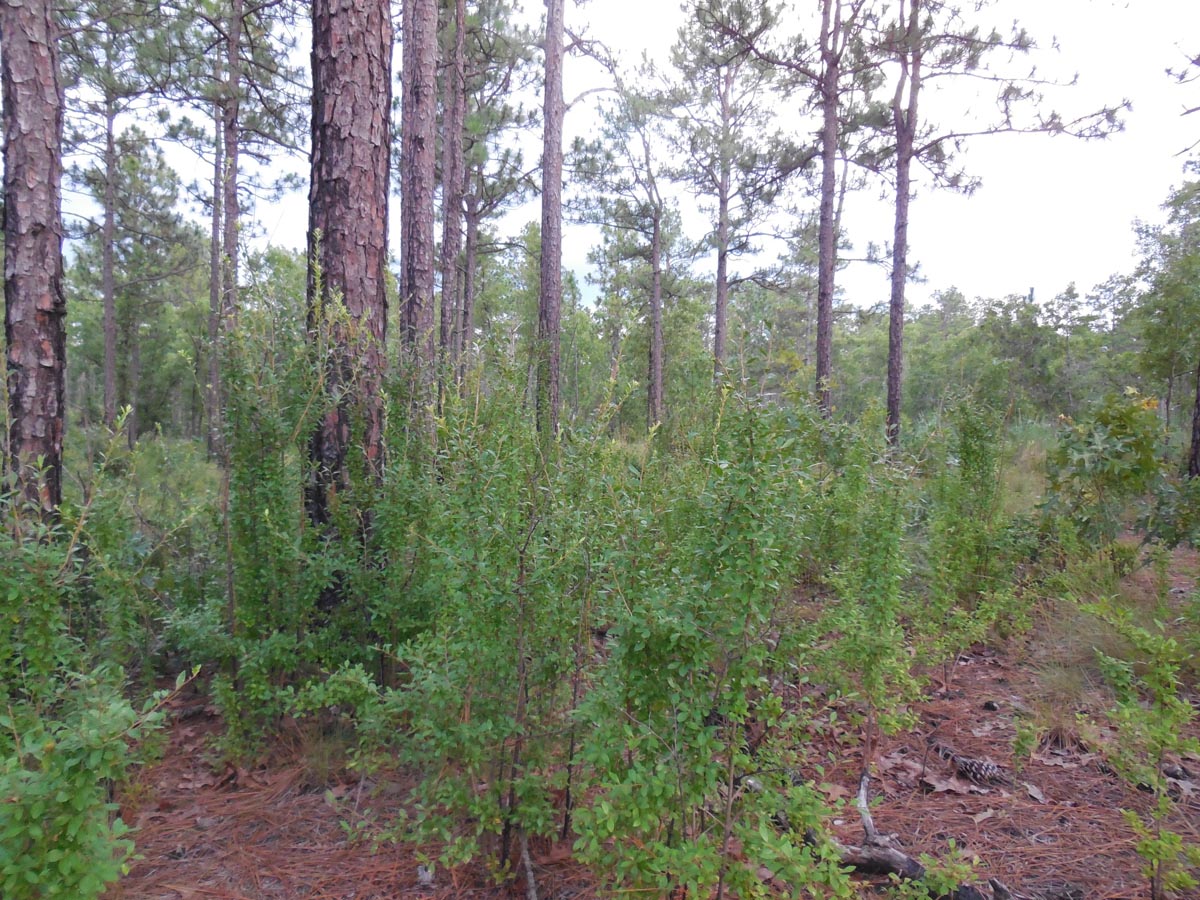 Site 1 at Carolina Sandhills NWR
After a couple of hours, we headed to Site 2, which was an open, young pine forest with a nice herbaceous understory. Several thistle plants were blooming at the site, and these plants proved to be attractants for a neat looking meloid beetle, various bees and flies, and some ant species such as Camponotus socius and Formica dolosa. In general, the ant fauna was similar to the last site. Terry picked up some additional species of ants beating including Camponotus decipiens, C. nearcticus, Tapinoma sessile, and others. And, as if the stinging harvester ants, needle ants, and fire ants were not bad enough, the stinging spurge nettle or tread-softly (Cnidosculus stimulosus) was common here. Just brush your finger across the surface of this plant, and you will feel like you were stung by a bunch of fire ants. Yes, I accidentally touched one. Youch!
As before, we pretty much hit the site and went our separate ways. Jennifer put another one of those crazy smelly traps out here. Some time around mid afternoon, we headed back to the park.

At 4 PM, JoVonn and Jennifer did some collecting near the visitor center/lake area. JoVonn had a few nice finds there including Dolichoderus pustulatus, and he witnessed Formica subintegra workers raiding Formica subsericea. I emptied collected some more litter samples and replaced the ones I had running on the Berlese funnels.
That evening Richard, Christi, Terry, and I blacklighted at Site 2 at the refuge. With the diversity of plants there, we hoped for some good collecting. Indeed, the more diverse habitat at the site coupled with better weather this evening, gave us the best night of blacklighting for the week. Lots of little beetles, alate ants, moths - we were all happy! Richard also put out a bucket trap. We finally left around midnight and began the 30 minute journey to the cabin. Along the way, one of the tires in the Xterra that Richard was driving suddenly and quickly lost air! They were following us back, and it took us a few minutes to realize they were no longer behind us! We went back, and I changed the tire. Whoever put the lug nuts on before had torqued them so tightly, it was a supreme adventure getting them off! Wow! Nice workout though. Finally got the tire on and eventually we made it back to the cabin.

11 July 2013. Richard headed back to MSU mid morning after we attempted to get the tire repaired. Unfortunately, it was unrepairable. Terry, JoVonn, and Jennifer went back to the refuge to collect. I spent the day collecting in the state park at the visitor center, in the woods near the lake, and in other wooded areas in the park. After lunch, it rained for a while, so I spent some time sorting through Berlese samples. Nothing spectacular, but there were a couple of dacetine ants in there. Christi again filled her day spreading moths. Such is the life of the lepidopterist!
The rest of the gang checked out a nice boggy site. I don't know how productive it was insect-wise, but it looked cool. JoVonn did find a nest of Lasius murphyi, which is a new state record for South Carolina. Terry said he wandered off and found a species of tiger beetle that we don't find down our way in Mississippi.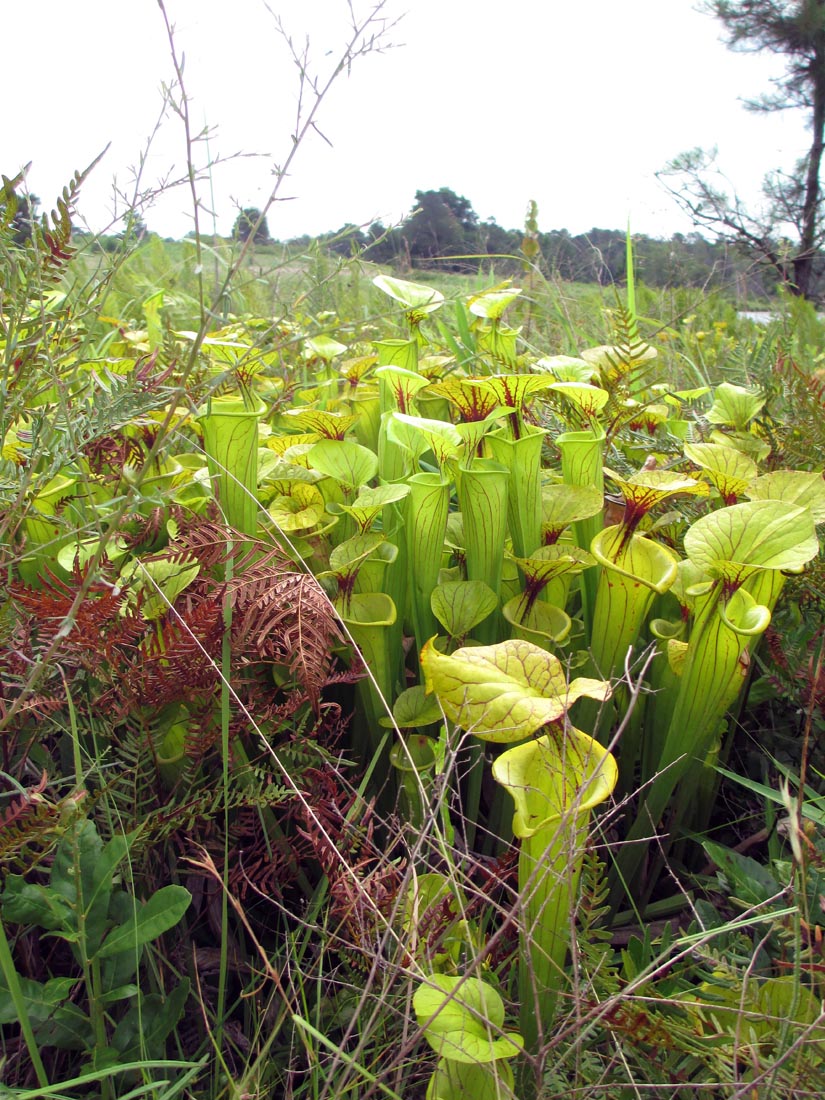 Beautiful pitcher plants at the refuge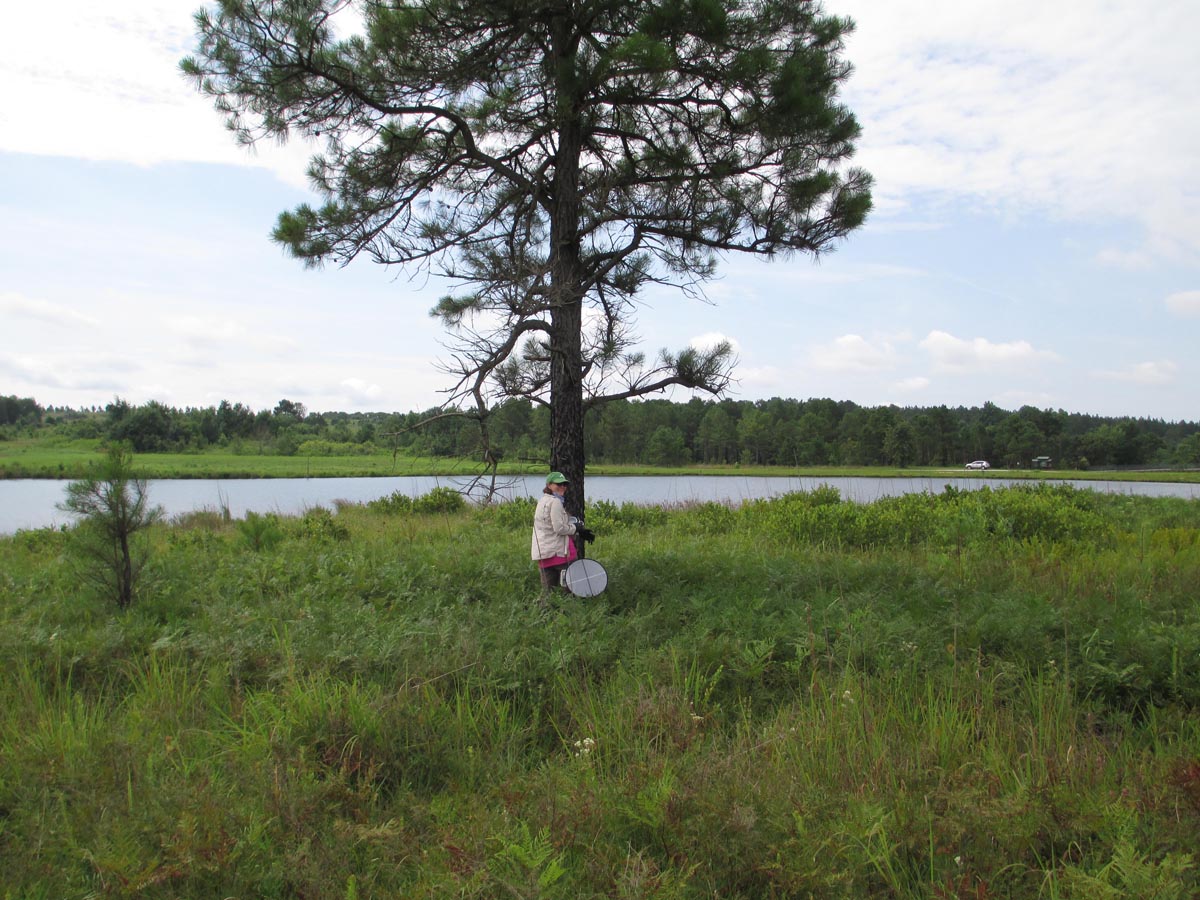 Jennifer putting up a carrion trap at the refuge
Later that day, the weather only got worse. Rain and more rain. That evening, we made valiant attempts to collect at the light behind the cabin, but it was pointless. We ended up pinning insects that we had already collected and watching weird TV shows.

12 July 2013. Friday morning started out with rain early, then cloudy with great chances of rain. Terry found a break in the weather to take down his Lindgrens and Malaise trap. JoVonn and Jennifer took down the carrion traps, but also spent some more time collecting at the refuge. I headed back over to the lake area to collect some more ants. Grabbed a couple of bags of leaf litter in the woods. It was extremely difficult to find leaf litter that did not contain needle ants. I found colonies of Pheidole bicarinata and P. crassicornis on a hard sandy dirt path that lead to a boardwalk that cross an edge of the lake.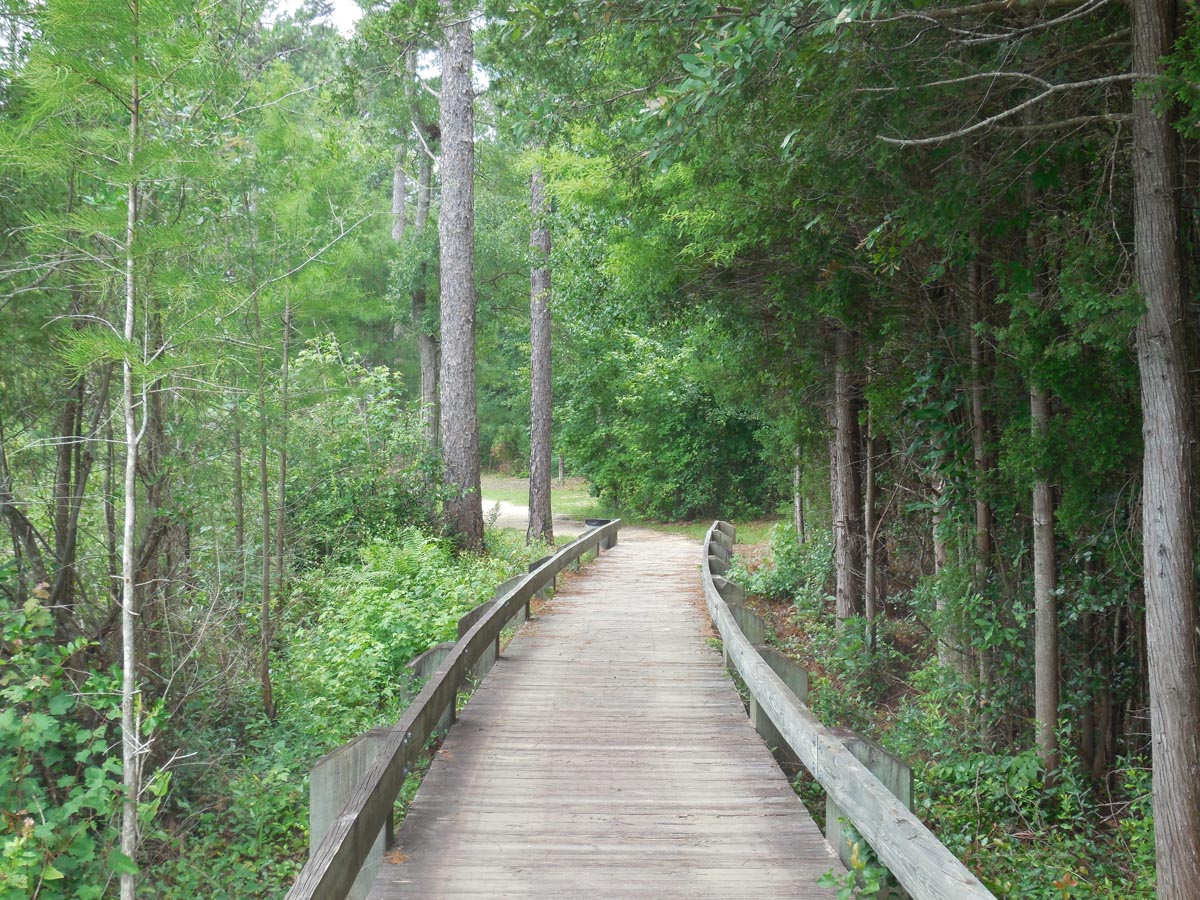 Beginning of the boardwalk
Later that morning, Terry joined me over near the lake area to do some concentrated beating of shrubs and trees. He continued collecting around the lake for some time. I finally went back and grabbed some lunch, then went to the nature trail area in the park. It began raining almost as soon as I arrived, but the rain only lasted 20 minutes or so. I was able to spend quite some time collecting in open sandy areas in the vicinity of the nature trail. I did not collect anything uncommon, but did get some nice series of some several species.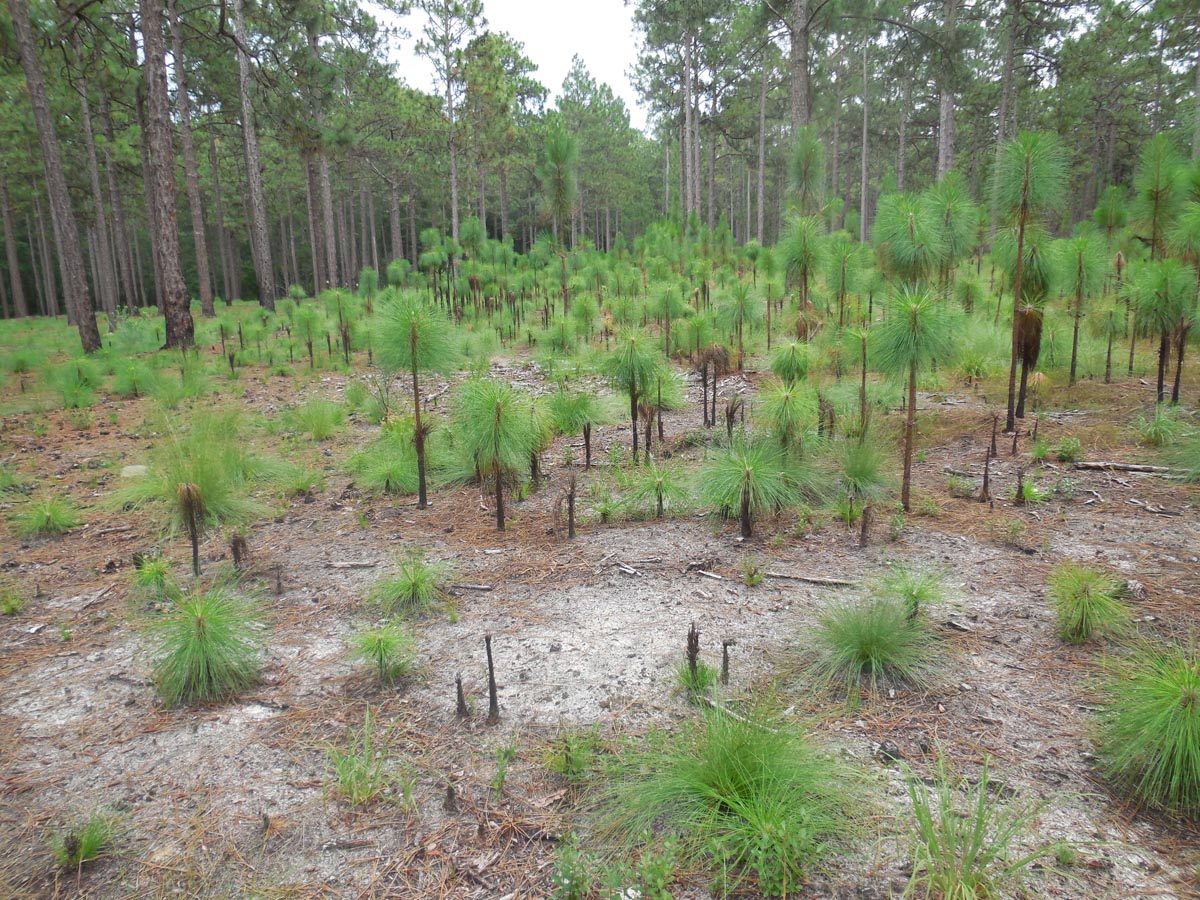 A view of some young longleaf pines near the nature trail
Later that afternoon, everyone pretty much showed up at the cabin. I broke down my portable Berlese funnels and packed them up. Despite the ominous clouds and some rain that day, we were all able to get in quality hours of collecting.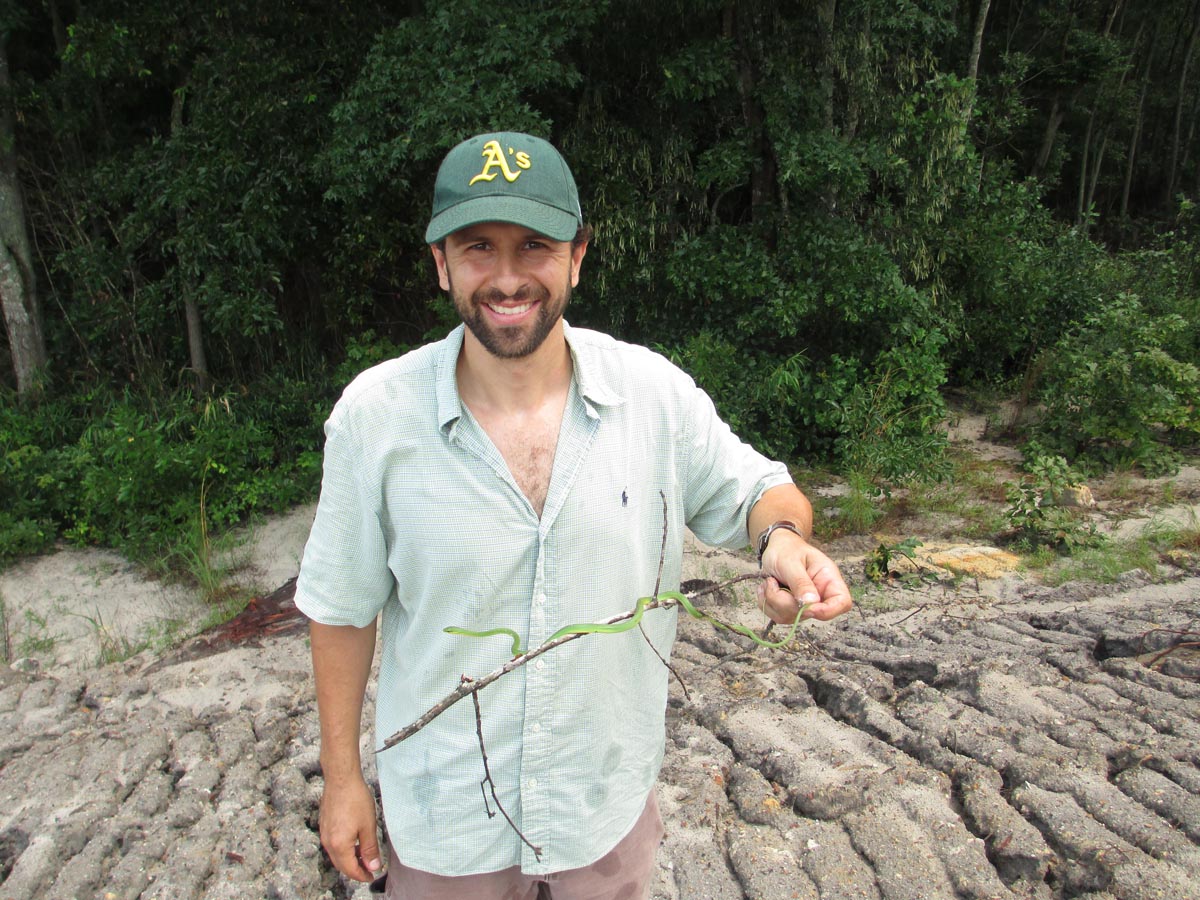 JoVonn with a friendly green snake
That evening, we planned on blacklighting somewhere in the park. As dusk was approaching, so was the rain. The forecast was calling for storms! Ah. Even so, Terry and Christi decided to brave it for a while just in case. It was not long before they had returned. Too wet! Well, much like the night before, we pinned and sorted insects.

13 July 2013. Got up early ready to hit the road. It was still raining, so we loaded up in the rain. Headed out and said goodbye to South Carolina!
Collecting Sites
Cheraw State Park Sites
Cabin 7, BL, general collecting, litter samples, Lindgren Funnel trap
S.CAR.,Chesterfield Co.
Cheraw State Park
34°38'36"N 79°54'00"W
oak/pine sandhills, open sandy areas with scattered hardwoods
Nature Trail near beginning, BL, general collecting
S.CAR.,Chesterfield Co.
Cheraw State Park
34°38'26"N 79°55'33"W
longleaf pine forest
Hudsonia Flats, BL, general collecting, carrion trap
S.CAR.,Chesterfield Co.
Cheraw State Park
34°37'16"N 79°56'40"W
turkey oak sandhills
Visitor Center/Office, near lake – general collecting
S.CAR.,Chesterfield Co.
Cheraw State Park
34°38'28"N 79°54'05"W
open sandy areas with scattered hardwoods, hardwood forest
Carolina Sandhills National Wildlife Refuge Sites
Carolina Sandhills NWR, Site 1, July 10, general collecting
S.CAR.,Chesterfield Co.
Carolina Sandhills NWR
34°30'48"N 80°13'15"W
longleaf pine forest
Carolina Sandhills NWR, Site 2, July 10, general collecting, BL, carrion trap
S.CAR.,Chesterfield Co.
Carolina Sandhills NWR
34°33'28"N 80°11'11"W
longleaf pine forest, turkey oak scrub
Links