William H. Cross Expedition, 4-8 August 2008, Petit Jean State Park, Conway County, Arkansas
by Joe MacGown


     This year's William H. Cross Expedition took place from 4-8 August 2008 at Petit Jean State Park in Conway County, Arkansas, located centrally just west of Little Rock. Participants of the 2008 Expedition included Richard Brown (MEM director), Terry Schiefer (MEM curator), Joe MacGown (MEM research technician), JoVonn Hill (MEM research associate), SangMi Lee (MEM post doctoral associate), Xu Zhang (MEM Ph.D. student), and Bob Blinn from North Carolina State University, who served as our expedition leader.
     Petit Jean State Park is located on Petit Jean Mountain, which is between the Ozark and Ouachita Mountain ranges in the west-central portion of the state. The park is approximately 2,658 acres and includes rich forested areas, ravines, streams, waterfalls, a large lake, and various interesting geological formations. The park has a lodge with a restaurant, rental cabins, and a multitude of campsites. Additionally, over 20 miles of hiking trails crisscross the park.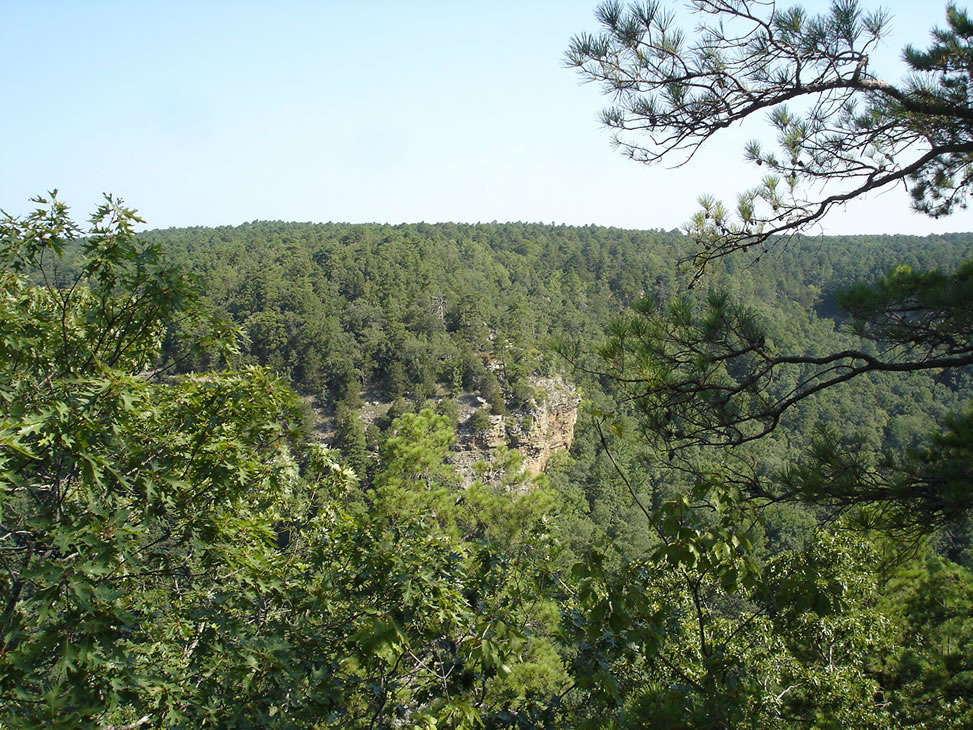 View across the ravine
     We arrived at the park at about 3:00 P.M. on 4 August 2008 and got checked in to our cabins. To accommodate our group, we had two cabins and one motel room, but we primarily worked out of cabin 7, which overlooked the ravine. Our first impressions of the park were good, as we noticed rich oak-hickory forests, short leaved pines groves, roadsides with prairie-like vegetation, rocky glades, and steep sloped ravines. It wasn't long before we had unloaded our gear and got ready to collect. We put up a sheet with a mercury vapor lamp and a UV light (blacklight) behind cabin 7 overlooking the deep gorge (but not too close to the edge). Terry hung a Lindgren funnel trap from a tree very near the edge of the ravine hoping to find loads of wood boring beetles.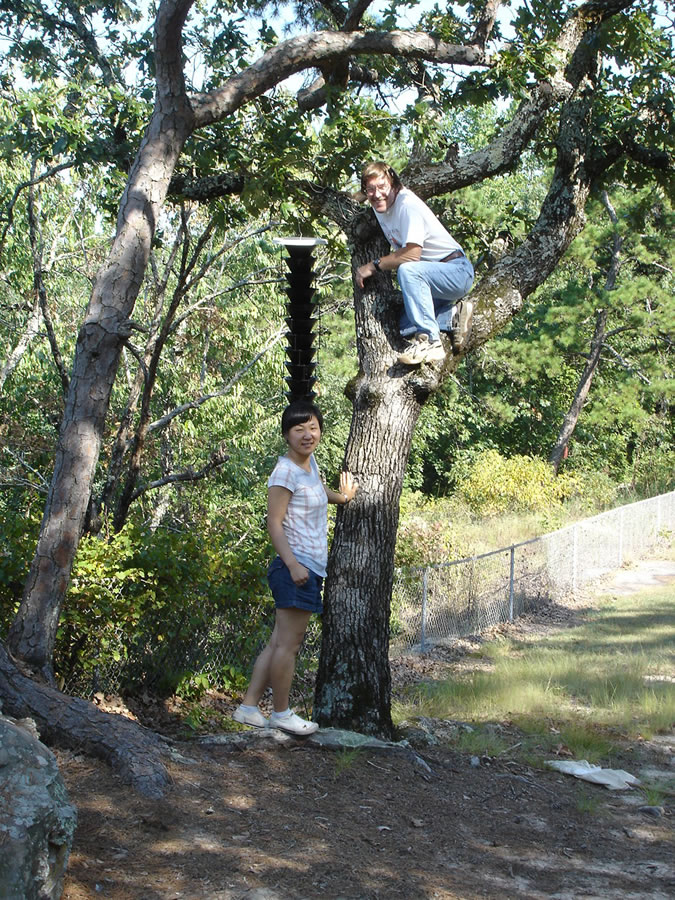 Got the trap hung! 
     After getting the traps out and organizing the equipment, we took a break and ate supper at the park lodge. Unfortunately, after eating a wonderful meal there, we felt like taking a nap! But, instead, we got ready for a night of blacklighting. Richard put a blacklight/boxtrap out at a rocky glade-like area along the Seven Hollows Trail. Meanwhile, the rest of us put three sheets with blacklights up on the ridge near the Cedar Falls Lookout in a mixed pine-hardwood forest. Collecting was pretty good for some insects, especially small beetles, but there were only limited larger insects. We stayed out until about 10:30, then headed back to the cabin to collect at the sheet there. Richard stayed at the cabin only briefly, and soon returned to the Cedar Falls Lookout site, where he collected into the wee hours of the morning. Apparently things picked up there, and he came back with many species that we had not seen earlier in the evening.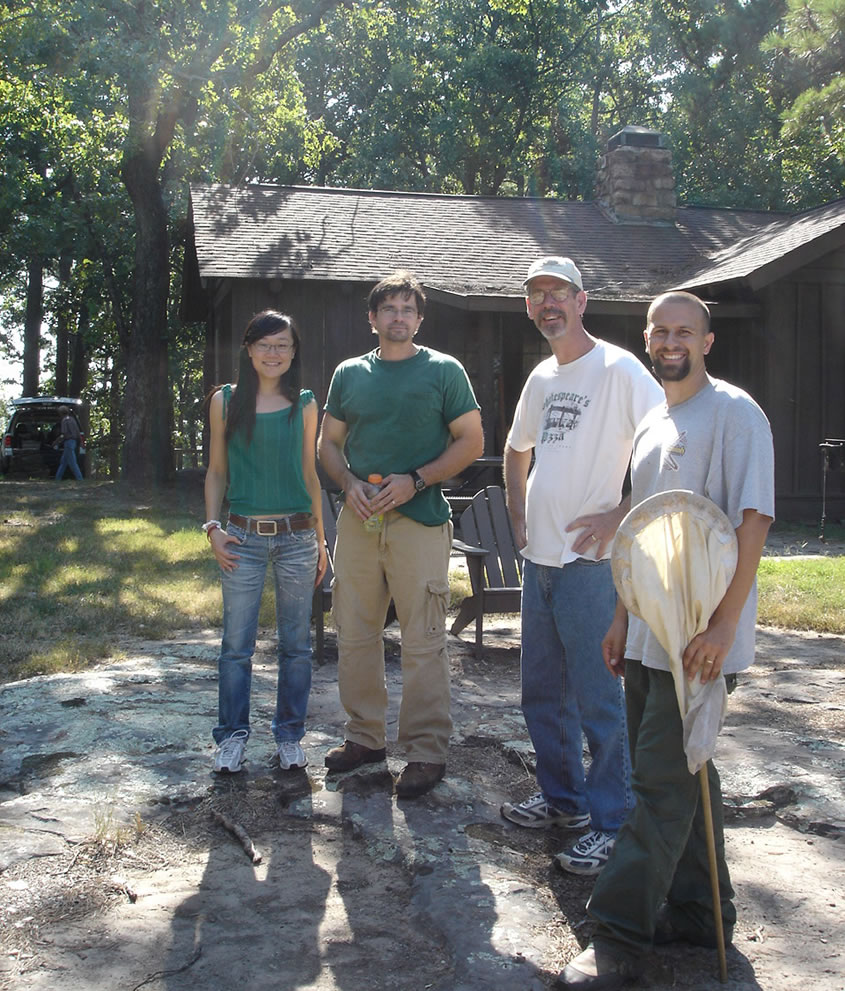 Xu Zhang, Joe MacGown, Bob Blinn, and JoVonn Hill-getting ready for some collecting.

     The next morning (5 August), Richard retrieved the box trap, which was full of insects. The sheer quantity of material in the trap kept him busy sorting for much of the day. Xu and SangMi stayed at the cabin with him that day pinning moths that they collected the night before. JoVonn and Bob took off early to beat the heat and collected in the glade at Seven Hollows. Terry and I (Joe) put out several traps that morning at three sites in the woods along highway 154. At site 1 (35°06'57"N 92°56'22"W), located in a deciduous forest near a rocky creek that flowed down from the ridge, we put up a malaise trap, a Lindgren funnel trap, and two barrier traps. At site 2 (35°06'56"N 92°56'33"W), which was located in a pine-hardwood forest up high on a rocky bluff, we put up one malaise, one barrier, and one Lindgren funnel trap. At site 3 (35°06'55"N 92°56'36"W), located in a pine-cedar-hardwood forest on a ridge, we put out one malaise and one barrier trap. After we got the last trap up, we headed back to the cabin for lunch. Following lunch, Terry, JoVonn, Bob, and I went to the Cedar Falls Trail to collect. HOT!! Man, it was hot! It was also quite dry and apparently this area had not received any significant rainfall recently. Nonetheless, we enjoyed the rugged trail, the beautiful rocky outcrops, the stream, and the waterfall at the end of the trail. Despite the dry conditions, we still collected some insects, mostly by beating vegetation or by litter sampling. In fact, in a small gully area created between two sets of rock formations, we found some deep, rich litter, which proved to have lots of diversity-especially of ants and beetles. We walked all the way down to the falls, which was not particularly difficult because it was downhill, but walking back was fun! On the way back, we took another branch of the trail, the Canyon Trail, for a bit. While walking along this trail, JoVonn noticed an extremely large blue centipede with orange-red appendages and head crawling on a tree. It took both of us to wrangle it into a jar. We later found out that this species was Scolopendra heros, the giant redheaded centipede.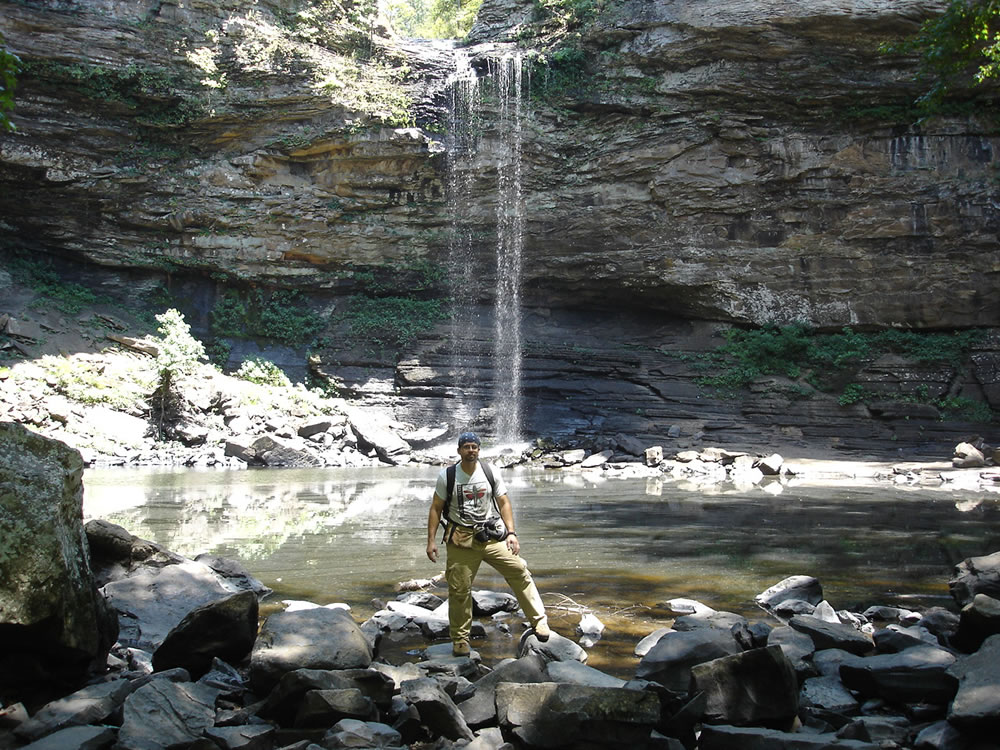 A view of Cedar Falls with me in the foreground. When the region is not so dry, this waterfall is sometimes quite majestic.
      When we arrived back at the cabin, we were a sweaty, dirty bedraggled looking bunch of collecting fools! We cleaned up and ate some supper. Most of the group ate at the lodge again, but I wasn't hungry enough, so I ate something lighter at the cabin. Apparently JoVonn was not overly hungry either, because he soon showed up. After supper at approximately 5:30 P.M., Terry noticed a column of Polyergus ants raiding a colony of Formica in an open area between the lodge and our cabin. He came sprinting back to the cabin to tell JoVonn and I about the raid. He knew we would be interested because we both are into ants and we don't get to see too many Polyergus raids. When we arrived at the site, the ants were still raiding the colony, which belonged to Formica subsericea. The raiding ants, Polyergus breviceps, were only observed taking larvae. We followed the raiding column approximately 36 meters back to its colony, which was in a bare spot in a mowed portion in front of one of the cabins. The colony was mixed with workers of both the Polyergus and Formica. By 6:00 P.M. the raid was over. We collected specimens of both species from the raided colony and the mixed Polyergus colony. This species of Polyergus typically occurs in more western or northern areas and has not been reported as occurring in Arkansas. Polyergus, sometimes called slave-making ants, are interesting in that they raid various species of Formica by stealing their larvae and pupae, which are then raised in the Polyergus colony. Upon becoming adults, these Formica then perform all of the work of the colony including foraging, building nests, and even feeding the Polyergus. Although we wanted to stay and observe the ants further, it was getting to be time to put out some more sheets for night collecting, so we pulled ourselves away from the Polyergus and headed out.
     Richard again put out a blacklight/boxtrap on the Seven Hollows Trail, but this time he walked farther down the trail and placed it in a deciduous forest down in a hollow. For our sheet collecting foray that evening, we went to the Rock House Cave Trail where we put out 3 sheets and lights along the ridge in a pine-hardwood forest. Although it was very dry in the area, there was good visibility and we hoped that the lights would attract things from afar, as well as nearby. As we walked along the trail, we enjoyed viewing the unique "turtle" rock formations, which truly resembled the shells of turtles. A beautiful species of lichen colored grasshopper, Trimerotropis saxatalis, was common on these lichen encrusted turtle rocks.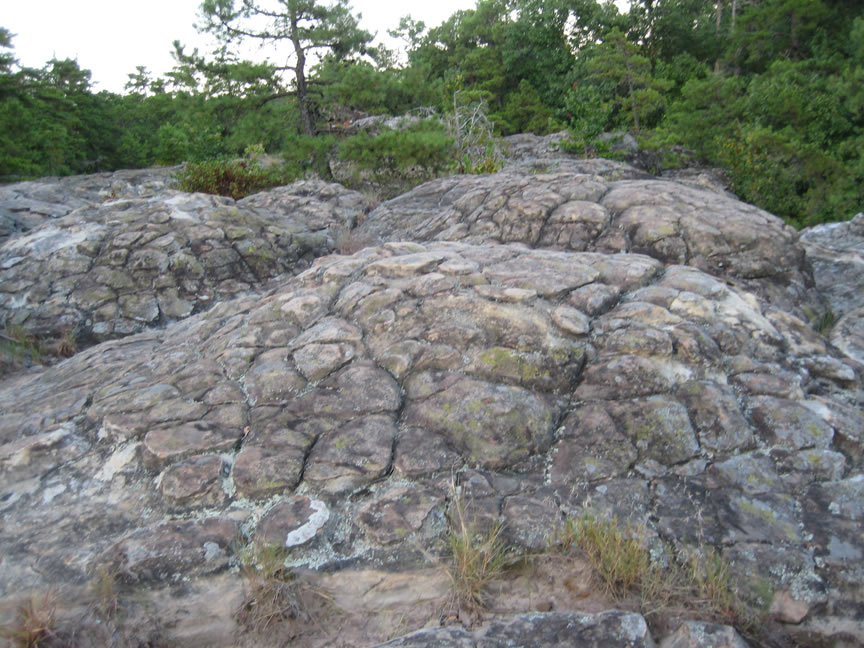 Turtle Rocks - unique rock formations resembling the shells of turtles.
     As we walked a bit farther down the trail, we viewed a large bluff shelter that was used by native Americans over a thousand years ago. Painted pictographs from these natives are still present on the cave walls. Eventually darkness enveloped us and we began our night collecting activities. Along the open rocky area, scorpions were observed running about, and two specimens were collected. A single male army ant, Neivamyrmex nigrescens, was collected at one of the sheets. Small beetles and hemipterans were plentiful at the sheets, but otherwise things were relatively slow. We collected until about 10:30 or so, then packed the lights up and went back to the cabin to collect. The light at the cabin actually had more insects present. This may have been in part due to the fact that we also had a mercury vapor lamp up there, which was quite bright.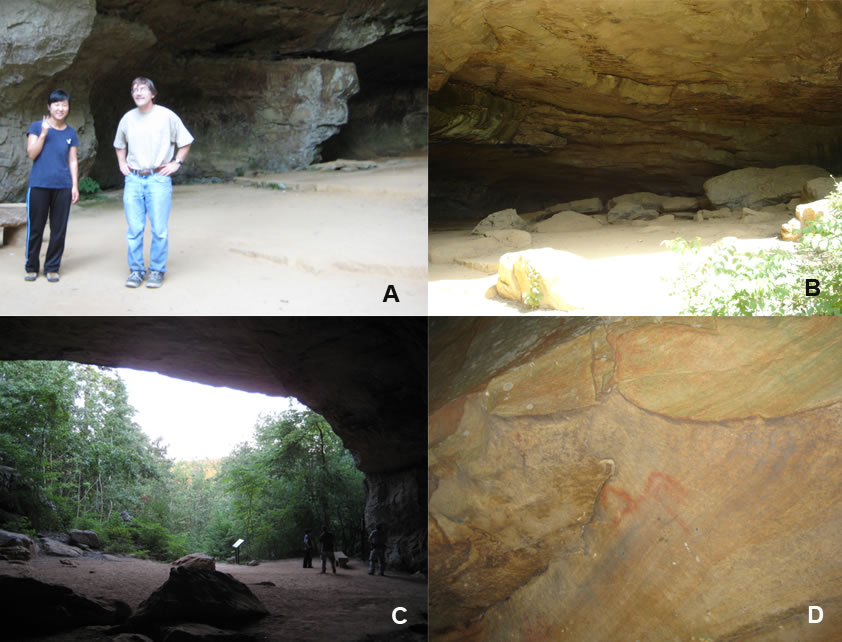 A. Terry and SangMI at Cave entrance, B. another view of cave entrance, C. inside the cave, and D. pictograph on wall.
     Early the next morning (6 August), Richard picked up the box trap from the Seven Hollows Trail. It was again full, and between sorting that and spreading moths from the previous two nights of collecting, SangMi, Xu, and he had their day planned! Terry stayed in to take care of his insects that he had collected the previous night, before he did some general collecting in the cabin area. Bob, JoVonn, and I went over to a nice little roadside prairie on Hwy 154 to collect. The site was actually quite active and we collected lots of grasshoppers, ants, bugs, bees and wasps, and assorted other creatures. We found a colony of the recently described Formica biophilica, which seems to prefer prairie-like habitat. After collecting at the site for a couple of hours, we picked up Terry, then went to the Rock House Cave Trail to do some day collecting. It was very dry, and although we did get some grasshoppers and various insects in litter and in rotting wood, it was not great for collecting. By 12:30 we had enough of the heat and went back to the cabin for lunch.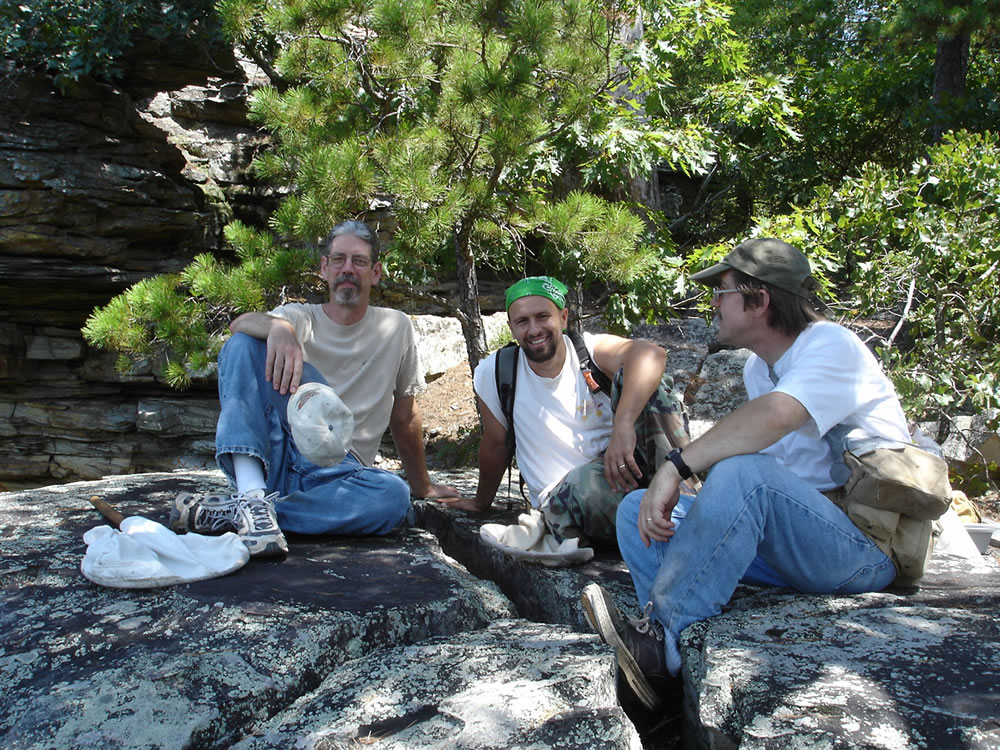 Bob, JoVonn, and Terry resting near the edge of a cliff.
     After lunch, Bob took a break from the heat, but JoVonn, Terry, and I went to the Seven Hollows Trail to collect down in one of the hollows. It was much different at this lower level than at the top, and the forest was deciduous, mostly oak-hickory, rather than the pine-oak mix seen on the ridge. Hemmed in between two giant rock formations, we found the area to be much more profitable for collecting, especially in the litter, which, despite its relative dryness, had many species of ants and other insects. Sometime near 5:00 P.M. we left the area and explored Cedar Creek Trail to see if it would be suitable for blacklighting that night. While we were there we found a colony of Pheidole bicarinata, a small ant species, in the soil near the parking area. We were not overly satisfied with the site and went back to the cabin. Richard had already decided to blacklight near the cabin area itself, so everything worked out! In addition to the sheet with MV and UV lights that we already had up, we put up two more sheets with UV lights. Collecting was pretty steady, but much of the material we had already collected, so we did not stay out too late.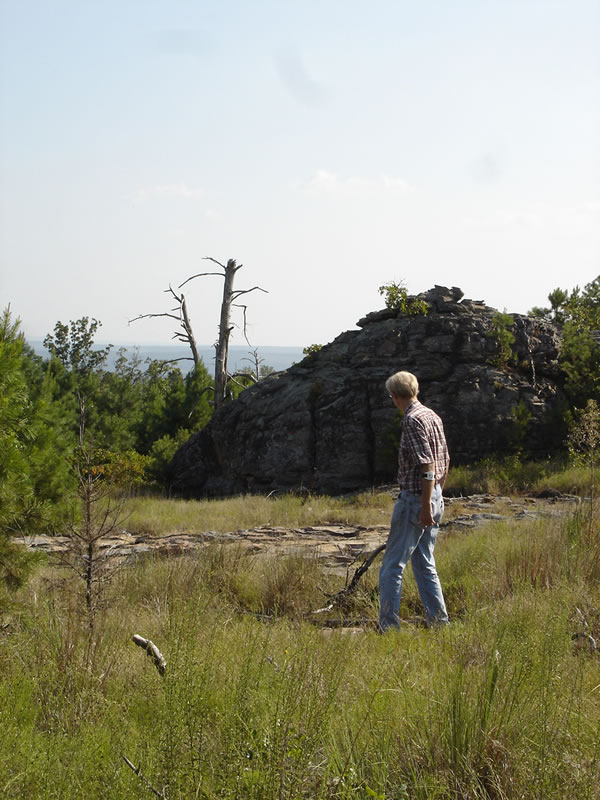 Richard, surveying the glade area at Seven Hollows Trail
     The next morning, 7 August, Richard, Xu, SangMi, and Bob packed up and headed back to Starkville, leaving Terry, JoVonn, and I for one more day and night of collecting. A storm system was moving in, which was wonderful because the area badly needed rain and cooler temperatures. Of course, it also dampened our collecting for a while. We did manage to get some collecting in early at the Hwy 154 prairie site until the rain drove us away. Since it was raining, we went into town to eat lunch at a Mexican place that I had spied when we picked up some grocery items one day. By the time we got back to the park, the rain had mostly subsided. Along the way we stopped at the Petit Jean Cemetery Overlook, which gave us a panoramic view of the lower areas including the Arkansas River. Supposedly, the legendary, possibly mythical, Petit Jean was buried in this area, and her grave site was even marked off. After leaving the overlook, we stopped at Lake Bailey. While we were there we found a colony of Temnothorax schaumii ants nesting under bark of a birch tree at the edge of the lake. We also collected some other insects in the area.
     At 4:00 P.M. JoVonn went back to the Hwy 154 prairie spot to collect. With the drop in temperature, the insect activity had increased almost exponentially. Terry and I then took down all of the malaise, barrier, and Lindgren funnel traps. Terry and I went back to the cabin to collect in that area. I dug into the Polyergus nest just a bit to collect more specimens. Winged males and females of the Polyergus were present only two inches below the surface. I put out some pieces of cookies (Pecan Sandies) on the ground to see if I could attract some ants. I was especially interested in finding majors of a Pheidole that JoVonn had noticed earlier. The bait proved to be effective and majors of P. tetra were collected. Additionally, Forelius mccooki, Aphaenogaster treatae, the fungus growing ants Trachymyrmex septentrionalis, and other ant species were collected JoVonn finally dragged in with a bunch of insects. That night, we just collected at the blacklight at the cabin. Insects were much less plentiful that night, which we attributed to the drop in temperature-good for day flying insects, but not so good for night flying insects. The following morning, 7 August, we loaded up the supplies and headed back to Mississippi State. For a complete list of ant species collected go to the ant species list, and for a complete list of grasshopper species collected go to the grasshopper species list.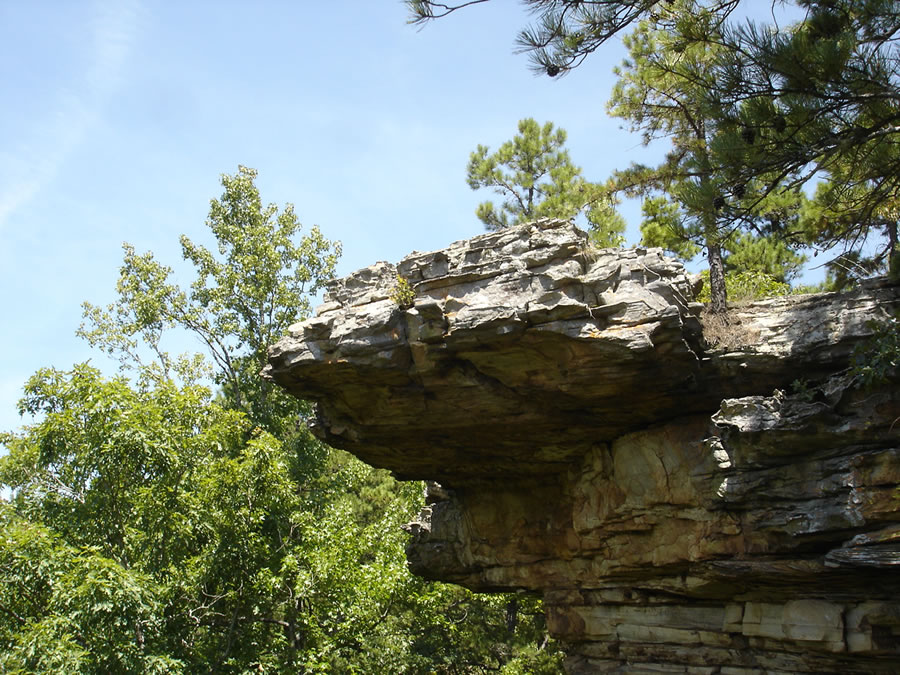 Rock outcrop.
LOCALITY DATA AND HABITAT INFO
Cabin area (cabin 7) Blacklight & MV lamp at sheet, 1 Lindgren funnel, general collecting
ARK.,Conway Co.
Petit Jean St. Park
35°07'07"N 92°56'16"W
open pine-hardwood forest on ridge
Seven Hollows Trail, right fork, glade area-box trap site 1 (4 Aug. 2008), general collecting
ARK.,Conway Co.
Petit Jean St. Park
35°06'47"N 92°56'59"W
rock outcrop/glade in pine-oak forest
Seven Hollows Trail, right fork, Hollow, hardwood forest area-box trap site 2 (5 Aug. 2008), general collecting, litter samples
ARK.,Conway Co.
Petit Jean St. Park
35°06'43"N 92°56'59"W
hardwood forest in hollow
oak-hickory forest (litter sampling)
Cedar Falls Lookout, black lights (4 Aug. 2008), general collecting
ARK.,Conway Co.
Petit Jean St. Park
35°07'08"N 92°56'04"W
pine-oak forest on ridge
or pine-hardwood forest on ridge
Hwy 154-Malaise Site 1 (5-7 Aug. 2008), 1 malaise trap, 1 Lindgren funnel trap, 2 barrier traps, general collecting
ARK.,Conway Co.
Petit Jean St. Park
35°06'57"N 92°56'22"W
hardwood forest beside rocky creek
Hwy 154-Malaise Site 2 (5-7 Aug. 2008), 1 malaise trap, 1 Lindgren funnel trap, 1 barrier trap, general collecting
ARK.,Conway Co.
Petit Jean St. Park
35°06'56"N 92°56'33"W
pine-hardwood forest on ridge
Hwy 154-Malaise Site 3 (5-7 Aug. 2008), 1 malaise trap, 1 barrier trap, general collecting
ARK.,Conway Co.
Petit Jean St. Park
35°06'55"N 92°56'36"W
pine-cedar-hardwood forest on ridge
Hwy 154-Roadside Prairie Site (5-7 Aug. 2008), general collecting
ARK.,Conway Co.
Petit Jean St. Park
35°06'55"N 92°56'16"W
roadside prairie
Canyon/Cedar Falls Trail (lat/long from near the fork where trail split into Canyon and Cedar Falls Trail (5 Aug. 2008), general collecting
ARK.,Conway Co.
Petit Jean St. Park
35°07'07"N 92°56'30"W
hardwood forest by rocky creek in hollow
Rock House Cave Trail (5 Aug. 2008), 3 blacklights general collecting, litter sampling
ARK.,Conway Co.
Petit Jean St. Park
35°07'22"N 92°56'11"W
pine-hardwood forest on ridge
Cedar Creek Trail (6 Aug. 2008), general collecting,
ARK.,Conway Co.
Petit Jean St. Park
35°07'15"N 92°55'46"W
pine-hardwood forest
Lake Bailey (7 Aug. 2008), general collecting
ARK.,Conway Co.
Petit Jean St. Park
35°07'43"N 92°54'45"W